Like so many other SPACs, post De-SPACing, Lottery.com's stock (NASDAQ:LTRY) has crashed (down 90%) through its original $10 starting price. Although the stock briefly traded up to $17.50, back on November 5, 2021, since then, LTRY shares have literally crashed, closing at $1.08, on July 12, 2022.
Remarkably, though, the company only has a market capitalization of $55 million, and yet, as of March 31, 2022, the company has $47.3 million in net cash and net working capital of $88.8 million (or $1.74 per share). Given this high net cash balance and strong net working capital position, I'm sure readers are quickly thinking this business must be burning a bunch of cash and that is surely the reason its market capitalization is lower than its net working capital position. Well, believe it or not, LTRY has actually posted positive Adj. EBITDA in FY 2021, $31.1 million in fact. And in Q1 FY 2022, LTRY posted $7.7 million of Adj. EBITDA. That said, the business really hasn't generated any real operating cash flow, at least not yet, as its accounts receivable balance has ballooned, landing at $35.8 million, as of March 31, 2022. On its Q1 FY 2022 conference call, management discussed this accounts receivable topic at length and said they should collect a lot of this balance by the end of Q2 FY 2022.
Here is a direct excerpt from the analyst Q&A from LTRY's Q1 FY 2022 conference call.
Since, at least so far as a publicly traded company, its operating cash flow hasn't tracked its Adj. EBITDA combined with the fact that most of the company's revenue generation has come from its affiliate marketing program, as a result, the company been placed in what feels like a permanent penalty box by Mr. Market. The other elephant in the room is that this management team is promotional, led by its Co-Founder and CEO, Tony DiMatteo. Quite frankly, Tony is clever marketing guy, but he hasn't really delivered on any of the company's publicly targeted goals and hasn't proven his mettle as a CEO, at least not yet. To add insult to injury, this past week, July 6, 2022, the market's strong skepticism of this promotional management team was confirmed in an 8-K filing disclosing that its then CFO, Ryan Dickinson, was fired for cause. See below:
The Audit Committee of the Board of the Directors (the "Board") of Lottery.com (the "Company") retained outside counsel to conduct an independent investigation that has revealed instances of non-compliance with state and federal laws concerning the state in which tickets are procured as well as order fulfillment. The investigation also identified issues pertaining to the Company's internal accounting controls. Following a report on the findings of the independent investigation, on June 30, 2022, the Board terminated the employment of Ryan Dickinson as the Company's President, Treasurer and Chief Financial Officer, effective July 1, 2022. Mr. Dickinson served as the Company's President and Treasurer since October 2021 and as the Company's Chief Financial Officer since March 2022. The Company is continuing to work with outside counsel with respect to the matters that are the subject of the independent investigation and to institute appropriate remedial measures.
Before I get too far off tangent and risk going down the rabbit hole, let me quickly explain the title of my article.
Despite how remarkably bad this management team is and how badly they fumbled the ball, at least during their initial tenure as a public company, there is an opportunity here, notably at this super low valuation.
And despite the stock price, I would actually argue Lottery.com has a compelling business model and should have years as growth ahead as this is one of the largest sectors, state run lotteries, that has been very slow to transition to the digital world. And yet, there is no reason why there shouldn't be much higher digital penetration as consumers have proven to be willing to pay a small convenience fee, in other businesses that offer the convenience of digital. For example, look at how popular online ordering and food delivery has become as consumers have clearly proven to be willing to pay a convenience fee.
Lo and behold, some extraordinary successful and wealthy investors agree that Lottery.com's business model has lots of promise as they recently just successfully completed a Series A round of $35 million for Lottery.com's competitor, Jackpot.com.
On June 22, 2022, Jackpot.com raised $35 million in a Series A round of funding.
If you look this list, its includes some really high profile names such as the Kraft Group and Haslam Sports. In case you didn't know, the Kraft's own the New England Patriots and other businesses and the Haslam Family owns Pilot Travel Centers and the Cleveland Browns. Both Bob Kraft and James Arthur Haslam III have net worth in the billions.
The round was co-led by Accomplice and Courtside Ventures, with participation from the Kraft Group, Michael Rubin, Haslam Sports Group, Elysian Park Ventures, Arctos Sports Partners, Sapphire Sport, Theo Epstein, Fenway Sports Group President Mike Gordon, DraftKings co-founder and CEO Jason Robins, NBA stars James Harden and Joel Embiid, NHL legend Martin Brodeur, musical artist Lil Baby, and Boston Red Sox President and CEO Sam Kennedy, among others.
Secondly, Mark Cuban is also involved with and an investor in Jackpot.com. See this November 9, 2021 Dallas Morning News article.
Mark Cuban backs rapidly growing Texas Lottery app Jackpocket in $120 million funding round.
Cuban, the billionaire owner of the Dallas Mavericks, joined celebrities Kevin Hart and Whitney Cummings in the app's $120 million investment round announced Tuesday. The capital raise was led by New York-based private equity firm Left Lane Capital and included participation by other previous investors in the company.
Jackpot.com vs. Lottery.com
Although we don't have the same level of details, as Jackpot.com is a privately held business and it hasn't filed to go public, the two businesses are very similar. Both are operating a courier model that enables consumers to purchase lottery tickets via the convenience of their smartphones. For this convenience, they are charging consumers a fee. Jackpot.com currently offers tickets in ten states, including both New York and New Jersey.
The distinction, though, is that they like the management team of Jackpot.com better so they have gone this route. That said, and we don't know what the overall implied valuation was for this $35 million Series A capital raise, but Mr. Market is literally giving away Lottery.com as it trades for far less than its net working capital balance, as of March 31, 2022.
Per this recent CNBC article that discusses the $35 million of Series A funding, Akshay Khanna, CEO says the following:
"What we are doing is really just allowing you to buy that lottery ticket without ever leaving your couch," Akshay Khanna, Jackpot co-founder and CEO of North America, told CNBC in an interview.

The $100 billion-a-year lottery business is still mostly cash-based, with buyers getting tickets at bodegas, convenience stores, gas stations and other locations.

Jackpot, which says it wants to transform the business to be more in sync with the online buying habits of today's consumers, will make its money by charging a convenience fee on purchases. The company added that it's currently working with local regulators in select states for clearance to roll out the service.
The risk to Lottery.com is the Jackpot.com has successfully courted well connected and wealthy investors so they have a longer business platform.
Worth $3 Per Share (or more) To Jackpot.com Or A Savvy Private Equity / Strategic Buyer
Given how badly Lottery.com's management team has fumbled the ball, I would argue that it is in the best interest of existing shareholders for Lottery.com's management team to simply put the business up for sale. We have clear and compelling evidence there is strong appetite to invest in this sector and type of business, given the Series A June 22, 2022 fund round at Jackpot.com. Moreover, with nearly $1 per share in cash and $1.74 in net working capital, the company now has some leverage and time to shop a sale.
Secondly, the company owns the lottery.com and sports.com domain names. No question, and I agree with Tony DiMatteo on this point that these domain names are extremely valuable, as will become more valuable as more lottery play / market share moves online as it would save a better operating company a lot of marketing expense dollars in the pursuit of attracting and acquiring new customers.
Lastly, and I would argue that Jackpot.com would be the front runner, if Lottery.com were to test the waters on a sale. By rolling up the industry, the strategic value of buying out your largest competitor is very valuable and worth a premium. So by my back of the envelope math, let's hair cut the net working capital balance and say that is $1.50 per share. Next, I think the lottery.com and sports.com domain names are worth another $25 to $50 million (or up to $1 per share). And then lastly, for Jackpot.com to get the opportunity to buyout its latest competitor, this could be worth $50 million (or perhaps more). Therefore, by my back of the envelope math, in the near term, LTRY might be able to fetch $3 per share, and possibly more, in a buyout scenario.
Lottery.com's Company Background
Lottery.com has been operating for 7 years and is a courier service currently operating in 11 states and with near term plans to enter / be green lighted in another 5 states by the end of calendar 2022 (note that this timeline has been pushed back). The company enables in state users with the convenience to digitally purchase lottery tickets for their favorite lottery games such as Powerball or Mega Millions. Users can select and purchase their favorite numbers or purchase randomly generated tickets, just like at brick and mortar stores, and Lottery.com manages the physical ticket in secured warehouses, located in each approved state. Any and all winnings are then credited to the users' digital wallet where they can elect to purchase additional tickets or withdraw the proceeds for cash.
In the U.S., the company charges a small convenience fee. Specifically, and per the company's S-1, they charge a minimum service fee of $0.50 for a $1 game, $1 for a $2 lottery game, and then 6% of the face value of all the tickets purchased, after the $1 fee.
So, for example, if someone purchases $10 worth of tickets, they pay $1.60 (the $1 flat fee plus $10 x 6%).
The amount of the service fee is based upon several factors, including the retail value of the lottery game purchased by a user, the number of lottery games purchased by a user, and whether such user is located within the United States or internationally. Currently, in the U.S., the minimum service fee is $0.50 for the purchase of a $1 lottery game and $1 for the purchase of a $2 lottery game; the service fee for additional lottery games purchased in the same transaction is 6% of the face value of all lottery games purchased. For example, the service fee for the purchase of five $2 tickets is $1.60, being the $1 base service fee, plus 6% of the aggregate value of the face value of all lottery games purchased.
The company has been very deliberate and methodical and this approach has enabled them to win approval of various states as they are offering a digital option (at no cost incremental cost to the states) that should enhance the overall size of the state's lottery program. They provide state residents with convenient and another option to play the lottery for a very nominal fee.
If you take a step back, American's love convenience and they love their smartphones. Although Amazon Prime, DoorDash (DASH), Netflix, and Stamps.com were widely successful, convenience was a big part of why they initial acquired new customers. And there is no question that if a company can provide the same experience (or better), but more conveniently then people have been shown and willing to pay a nominal fee given the hectic lives many American's lead.
So let's do some simple math. We are told the size of the U.S. lottery ticket market is roughly $80 billion. For simplicity purposes, let's assume the average dollar value purchase is $10. If Lottery.com were able to win 5% market share, given this digital purchase option, under its current service fee structure, this would translate to roughly $640 million in pro-forma revenue.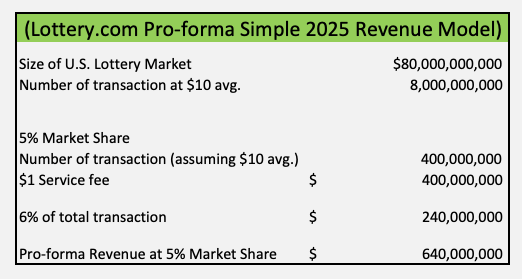 Now this excludes Lottery.com's ability to win any market share in the International Market. And in the International market, Lottery.com can charge a mark-up on the cost of the ticket as well as a service fee.
Internationally, we impose a mark-up on the cost to be imposed on the sale of each lottery game together with a service fee to be charged to the user. In 2020, our international B2C Platform users purchased an average of 2.1 lottery games per transaction at an average service fee of $2.27 per lottery game. We typically charge a higher service fee on lottery games in our international jurisdictions, and as a result, in 2020, the gross profit on these sales was 90% higher as compared to domestic sales. In 2020, our average gross profit per international user of our B2C Platform was $32.60, with a customer acquisition cost of $4.26. The year-over-year retention rate was slightly lower internationally, at 66%, resulting in a user lifetime value of $94.50. Although revenues from our international jurisdictions currently only comprised 3% of our total revenues in 2020, we are focused on the growth of this business organically and through the pursuit of strategic acquisitions and other synergistic opportunities.

Lottery.com's S-1
The key to this concept working and why I am excited about this opportunity is that the company has had a very low Customer Acquisition Cost, so their historical payback period from acquiring a new customer has been very low and very fast. Although the dataset/ sample size is very small, as Lottery.com is in the early innings of its growth, I have never seen better Customer Acquisition Costs compared to Customer Lifetime Value.
Now the company has additional plans beyond its current courier service in 11 states (and hopefully soon to be 16 states).
Risks
Like so many micro-caps there are a number of risks to consider.
The company has trouble collecting its account receivable balance. Now, on its Q1 FY 2022 conference call, then CFO, Ryan Dickinson, said this shouldn't be an issue, but they need to actually collect the cash to alleviate the market's fear.
The company has used its Affiliate Marketing Program as its primary source of revenue. It is unclear how much affiliate marketing credits the company still owns (from some of its pre-IPO investors/ partners).
Given the CFO's departure, this could slow the onboarding of new states.
The company's cash flow burn could accelerate after it uses its affiliate marketing credits.
Market adoption could be slower than anticipated and demand is lumpy and tends to be much higher around larger sized jackpots that attracts media buzz.
Management continues its promotional posture and the market never gets comfortable with the stock.
With the funding from its well capitalized backers, Jackpot.com could outspend Lottery.com and, ultimately, win the arms race.
Conclusion
At face value, Lottery.com has one of the best business models I have ever seen and indirectly the Kraft and Haslam family, both multi billionaires, appear to agree given their participation in the June 22, 2022 $35 Series A funding round for Jackpot.com. No question, Lottery.com's management team has fumbled the ball, multiple times, and hasn't executed or really hit any of its stated goals. This poor execution combined with a nasty bear market, notably more for so many SPACs as well as growth companies with no / little positive free cash flow has resulted in LTRY shares getting taken to the woodshed.
That said, in nasty bear markets, what frequently happens is the baby gets thrown out with the bathwater.
As of March 31, 2022, Lottery.com has nearly $1 per share in cash and $1.74 in net working capital and yet you can buy shares of this business for $1.08, as of yesterday's closing price. Secondly, Lottery.com owns its namesake domain name as well as sports.com. I would argue that these domain names alone could be worth upwards of $50 million given how much they should, ultimately, save a better management team on future marketing expenses / customer acquisition costs.
Lastly, I would argue that Jackpot.com is the most logical buyer of Lottery.com as in one fell swoop they would be able to roll up the industry, save on SG&A, and meet its growth objectives much faster, thus ultimately enhancing the overall private equity valuation of Jackpot.com.
Given the extremely low valuation, especially given Jackpot.com's June 22, 2022 Series A capital raise, it will be interesting if Mr. Market discovers this business. Frankly, I'm surprised an activist hasn't quietly amassed a 5% stake here and pushed for a sale.