Is your business generating leads from Facebook? If not, here are eight ways in which you can improve lead generation using Facebook and boost growth.
 In the fourth quarter of 2021, Facebook reported 2.91 billion monthly active users.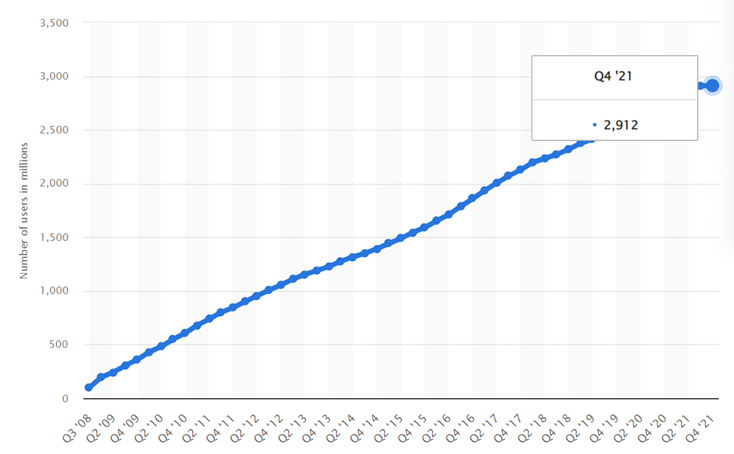 Image via Statista
So, if you're planning on generating leads from Facebook, you're on the right path. The platform's unprecedented reach and impressive growth opportunities make it valuable and essential for all businesses. 
Whether you are an enterprise or a growing startup, Facebook, the biggest social platform, is crucial for your social media strategy. 
Businesses have been using it to increase visibility, promote new products/services, and stay connected with their end-users. 
So, how do you go about generating leads from Facebook?
Let's find out.
How are Businesses Generating Leads from Facebook?
Here's how you can go about generating leads from Facebook to drive your business growth. 
1. Define Your Buyer Persona 
When you're building a digital marketing strategy, it's important to identify the target audience for your business. You need to ask yourself questions like: 
Who will possibly visit Facebook (for a platform-specific lead) and look for content from your company?
What type of content would they read, and how often would they show up? 
What are some of the pain points they look to address? 
You can even leverage digital marketing tools to figure out who's currently showing interest in your products or services.
Based on these, you can create various buyer personas for your business. Generating leads from Facebook requires a complete understanding of your prospects as you'd have to create content relevant to them. 
When you have a persona, building relevant posts becomes easy. You can now define a content strategy in sync with their needs. You can leverage the Facebook marketing tools to run persona development camping with robust content posting on Facebook.
2. Add Links to Your Posts
Adding links to your posts makes it easy for your audience to head to your website or landing page, from where you can easily convert them into leads. The key is to write an engaging caption and add the link to it. 
Facebook will scrape the link and generate a rich preview with an image automatically. That way, your audience will be able to reach your landing page even by clicking on the image.  
Note how Shop & Ship has shared the link following the caption. This will intrigue the prospect and make them click on the link.
Image via Facebook
3. Identify Lead Generating Blogs
When you're creating a content strategy for generating leads from Facebook, you should look for relevant blogs on your website that you can repurpose. These can play a major role in driving your lead generation efforts, especially if they're already generating leads for you. 
Using lead generation platforms, you can easily create and add sign-up forms to these posts so that some of those who visit the page from Facebook might become your leads. 
4. Caption it Well
When you write posts on Facebook, the caption is among the many factors that influence the chances of people engaging with it. The caption provides context to the other aspects of the post, like the image or video, and enhances them. 
So, it's crucial to ensure that the text nudges the readers to click on your link and head to the landing or product page. It should be well-articulated and captivating. 
The caption is the soul of your Facebook post, and if you do it well, it can maximize your lead generation ROI.
For instance, see how Coursera has clearly written its caption.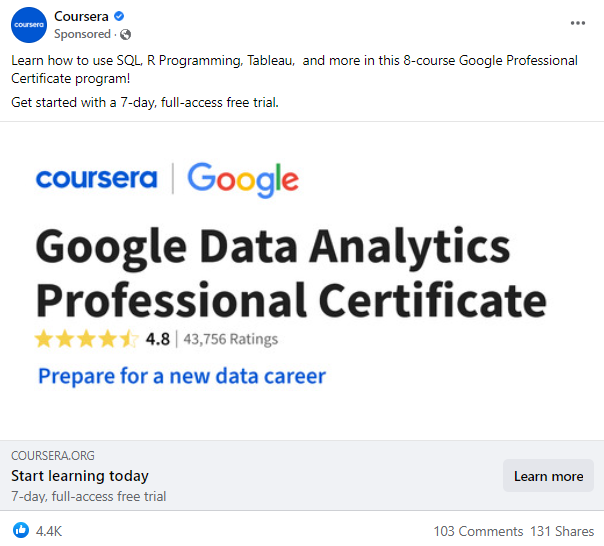 Image via Facebook
5. Post a Video
Videos are extremely engaging and can play a great role in generating leads from Facebook if you've got a strategy in place. You can pack a lot of helpful information in them within a short time and convince your prospects to become your leads. 
Considering the fact that 60.8% of users watch short-form videos on Facebook, videos can play a great role in helping you out here.
Image via eMarketer
You can create videos about your products or services and could even post a behind-the-scenes video to show real people in the organization who give the business a human touch. 
Shopify has used a video in the post below to showcase the best moments from an event to attract attention.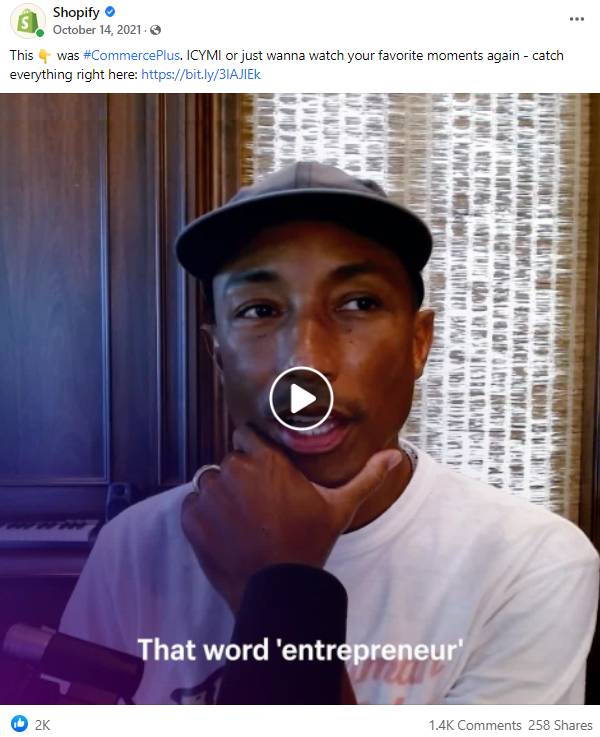 Image via Facebook
6. Run Contests Through Posts
One of the best ways of generating leads from Facebook is to run contests and giveaways. People get attracted by such posts, and there is a good chance they would visit the landing page to check the details to participate in these contests. 
You can then use email list management software to get in touch with these leads and move them further down your sales funnel. 
The key here is to get your audience to fill out a form on your contest landing page to join it. That way, you'll be able to generate leads from it. 
7. Customize Your CTAs
Driving action with your posts is an integral part of generating leads from Facebook. You don't want the user to read and move away from there; you want them to sign up for the ebook or content. It's only then that they'll become your leads.
Adding customized CTAs can push your audience to take action and move to the landing page. 
However, to get an idea of the number of link clicks that converted into leads, you should add UTM links that contain a tracking code. It will help you know the exact traffic that you received from Facebook.
Conclusion
Are you planning on generating leads from Facebook? You should pay close attention to your social media strategy and make it practical for lead generation. 
Create engaging images and videos to catch the audience's attention and get them to your landing page. Use contests to further increase this traffic to your landing page and get people to fill up the registration form. This way, you'd be able to generate loads of leads. You can then follow up with these leads using email marketing. 
With the right strategy and relevant content, you can maximize lead generation for your business.
Have any questions? Write them in the comments section below.