Create a solid social organization plan, simplify your workload and reach your social goals before all the big holidays are upon us.
The big holiday season is coming. How do you fit your social media marketing routine in with the constant family gatherings, holiday parties and fun time with kids?
Social Calendars
What tool do you have in place to keep you on track with posting? If nothing, let us suggest a social content calendar! Social calendars can seem tedious but with enough effort, they actually can be a well-organized host to hold your social content until it needs to be shared.
Holding a bunch of articles, graphics, and videos can be overwhelming. Create a plan, template, or sample calendar to fill in your content. Some social media specialists prefer to have a weekly calendar, but in time for the holidays, consider creating at least a month's worth of content.
I use an easy platform that hosts most of our social media management, Sprout Social, but there are many more options to consider.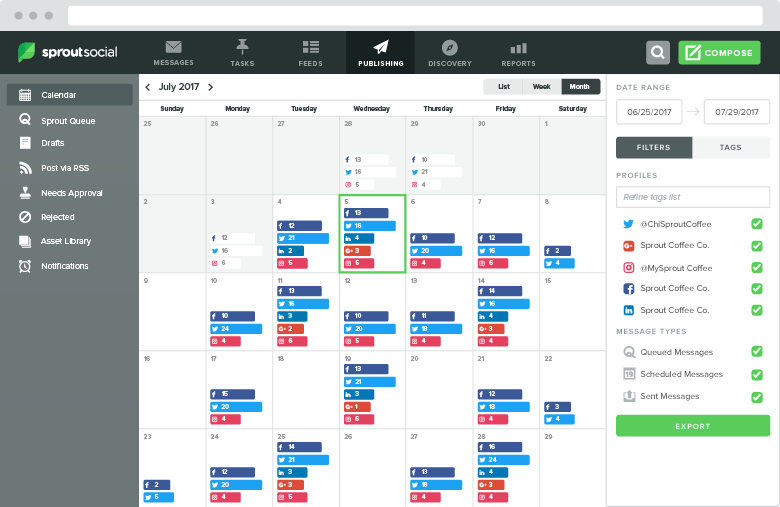 To make my calendars, I start by scheduling posts that have anything to do with the company. For example, product news, advertisements of their products or special sales. Next, I take time over the next couple of weeks to schedule trending articles and videos to keep content new and fresh.
How to Get Organized
Time management is very important for staying organized and simplifying your workload. I suggest scheduling out time dedicated to industry research, image creation, and management.
For example, I take about a half hour every morning to check social profiles and engage with users. Keeping a simple workload lets you and your company be flexible with upcoming campaigns or projects.
Sync Accounts: Spring and summer include vacations and other events that might take you out of the office. Start syncing your accounts to a user-friendly app to stay up-to-date with posting and engagement when you need to get away. Most social media calendar apps have easy apps to use for on-the-go posting.
Article/News Organization: I love tools that help us hold ideas and content. Having a solid stock of industry articles makes for easy content creation. I suggest using sites like Evernote, which include an app, and our personal favorite, Pocket! Pocket not only makes it easy to save by clicking one button, you can also search articles related to a certain topic, perfect for stocking up content.
Keeping your social content organized will make your life easier and not so stressful. Start this planning process this weekend, over the holiday break, and you'll thank yourself when the holiday season comes along!
As social commerce is booming, keeping a consistent social media presence over the holidays is a must. More and more customers are using social media to find gift ideas for the season. You need a consistent social media presence over the holidays!