Is Alibaba legit? This is a question that has been asked by many online shoppers ever since the company burst onto the eCommerce business scene in 1999. With its massive selection of products and rock-bottom prices, Alibaba has quickly become one of the world's largest eCommerce platforms.
But is it safe to shop on Alibaba? And are the products really as good as they seem? The short answer is yes, Alibaba is absolutely legit.
In this article, we'll take a close look at Alibaba and see how it compares to other eCommerce giants. We'll also explore some of the pros and cons of shopping on Alibaba, and how to protect yourself against the potential for Alibaba scams so you can decide for yourself whether or not it's right for you.
What is Alibaba?
Alibaba is the world's largest online and mobile commerce company, founded in 1999. It connects more than 900 million consumers and businesses around the globe per quarter. So, whether you're looking for products or suppliers, Alibaba is a great place to start your search.
Alibaba is a Chinese eCommerce giant that offers a platform for businesses to connect with buyers and sellers, so they don't actually sell their own products. It's a way for businesses to purchase products from Alibaba. The company has been expanding beyond China and now operates in over 190 countries.
The company has also invested in other businesses, such as media, cloud computing, and artificial intelligence. Alibaba is often compared to Amazon, but it is unique in its focus on business-to-business transactions. The company is headquartered in Hangzhou, China.
Alibaba Group's mission is to make it easy for anyone to buy or sell anything, anywhere in the world.
"As part of the Alibaba Group, our mission is to make it easy to do business anywhere. We do this by giving suppliers the tools necessary to reach a global audience for their products, and by helping buyers find products and suppliers quickly and efficiently."
Why is Alibaba so cheap?
Alibaba is an online marketplace that is known for being extremely cheap. The prices on Alibaba are so low that it is often hard to believe that the products are real. So, why is Alibaba so cheap? There are a few reasons.
First, many of the products on Alibaba are made in China. Labor costs are much lower in China than they are in developed countries like the United States. As a result, manufacturers can produce goods at a fraction of the cost.
Second, Alibaba sells in bulk. Because Alibaba suppliers offer discounts for large orders, buyers can save a lot of money by purchasing products in bulk.
Is Alibaba legit?
Alibaba is the world's largest online marketplace, connecting buyers and sellers from all over the globe. But with such a large platform comes a lot of responsibility – and a lot of potential for fraud. So, is Alibaba legitimate? Yes and no.
There are definitely dishonest sellers on the site selling counterfeit or inferior products. However, Alibaba does have a strict verification process for a supplier's company, and they offer buyer protection measures to help reduce the risk of fraud. In addition, Alibaba has a strong reputation for being a reliable source of goods and services.
Overall, while there are some risks involved in shopping on Alibaba, it is still considered a legitimate website.
Is Alibaba safe and reliable?
Is Alibaba safe and reliable? It's a question that's been on the minds of many shoppers, and it's one that's not easy to answer. There are some concerns about Alibaba, but there are also many advantages that make it a safe and reliable place to shop. Here's a look at the pros and cons of shopping on Alibaba.
The pros of Alibaba include the fact that it is a very large marketplace with a lot of sellers to choose from. This means that you're likely to find what you're looking for, and you can compare prices to get the best deal.
You can also read seller reviews before making a purchase, which is helpful in making sure you're dealing with a reputable seller.
Finally, Alibaba offers buyer protection, so if you don't receive your item or it's not as described, you can get your money back.
The cons of Alibaba include the fact that there have been some scams reported. These typically involve Alibaba sellers whose products aren't as described, or who never send the items at all.
There is also the risk of counterfeit goods being sold on the site. However, Alibaba is working to combat these issues, and they offer a dispute resolution process to help buyers and sellers resolve problems.
Overall, Alibaba is still considered a safe and reliable marketplace.
If you're careful and do your research, it's easy to avoid these types of scams. Overall, Alibaba is a safe and reliable place to shop, but there are some things you should keep in mind to make sure your experience is positive.

Tell me the best way to buy from Alibaba?
If you're looking for wholesale items to sell from home, you're in the right place. Alibaba is known for being a reliable source of quality products, but there are a few things to keep in mind when making any purchase.
It's important to check the seller's ratings and reviews before making a purchase. This will give you an idea of their reputation and whether or not they are a reliable Alibaba supplier. Take the time to compare prices between different sellers to get the best deal.
Always request a sample before placing an order. This will help to ensure that you are getting what you expect. And be aware of any scams or fraudulent activity by looking for red flags such as unrealistic pricing.
By following these tips, you can ensure a smooth and successful transaction on Alibaba.
Who should you buy from on Alibaba?
With so many trading companies selling online at Alibaba, it can be hard to know who to buy from. When you're conducting your Alibaba supplier search, here are a few things to keep in mind:
Find a supplier with a good reputation. You can check out reviews from other buyers on the Alibaba website to get an idea of what the supplier is like. If they have a high score, it's likely that they're a reliable and trustworthy Alibaba supplier.
Second, check out the terms of their warranty or return policy. This will give you some protection in case you receive faulty goods or if the product quality isn't as expected.
Make sure to communicate with your Alibaba supplier before placing your order. Ask them questions about the product and see if they're responsive. If they are, then you're probably dealing with a professional supplier. 
Make sure the supplier has a good understanding of your requirements both before and after the supplier accepts your order. This is particularly important in the case of custom products. Communication is key when working with such suppliers, so you'll want to make sure the supplier's company is able to understand your needs.
Get quotes from multiple suppliers. This will help you compare prices and find the best deal.
Many suppliers are honest and will provide you with quality products. However, as with anything, amongst the legit suppliers, there are always a few bad apples. By keeping these things in mind and running through the supplier assessment we've detailed above, you'll be able to find reliable suppliers on Alibaba that you can trust.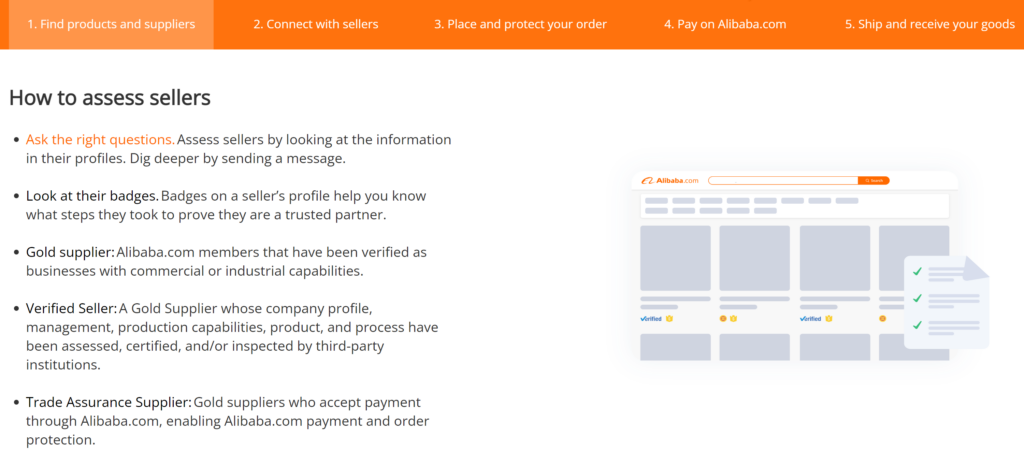 What is an Alibaba gold supplier?
Alibaba's gold suppliers have been verified by Alibaba. This means that they have passed Alibaba's verification process, which includes a review of their trading company business license and registration, and other information.
Verified gold suppliers also need to have a good reputation on the site, as well as meet certain quality standards. By achieving gold supplier status, sellers on Alibaba are able to build trust with buyers and show that they are a reliable source of quality products.
On Alibaba, gold suppliers are given multiple ways to market their products so they can get the most exposure for their online business.
When you are finding reliable suppliers on Alibaba, be sure to check if they have gold supplier status. This will give you peace of mind knowing that you are working with a trusted and verified supplier.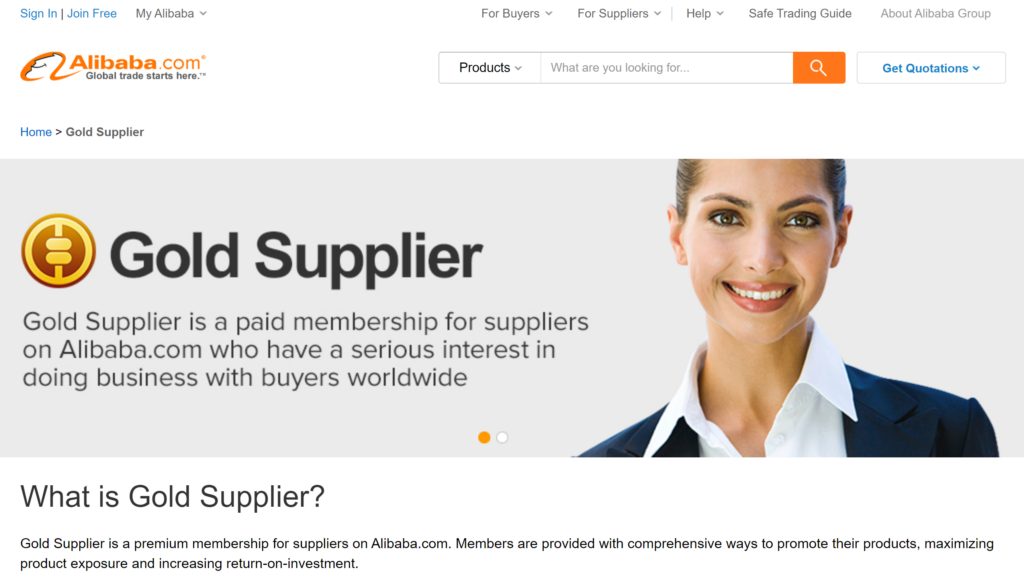 What is Alibaba trade assurance?
The Alibaba trade assurance program is a service that protects buyers in the event that they do not receive their order or if the order is not as described. Not all Alibaba suppliers offer trade assurance, but those who do will display the trade assurance supplier logo, so you'll know that they're a supplier you can trust.
If you only select suppliers who offer this service, you will have extra peace of mind. To qualify as a trade assurance order, you must pay via Alibaba's secure payment platform.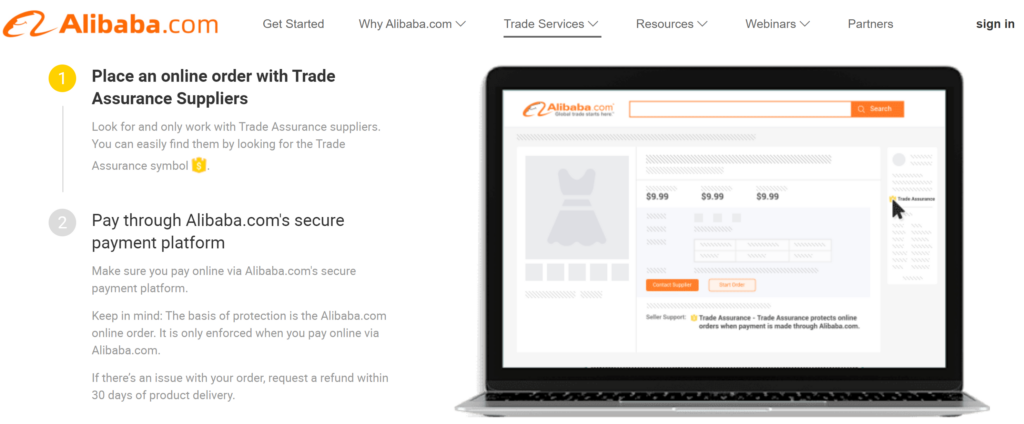 How can I buy from Alibaba without a company?
If you're looking to buy from Alibaba without a company, there are a few things you'll need to keep in mind. First, it's important to note that Alibaba is a wholesale marketplace and not really intended as online shopping for retail customers, so you'll typically need to order in large quantities – hence the wholesale price tag!
This can be challenging if you're only looking to purchase a few items for personal use and there's a minimum order quantity. However, there are ways to work around this. One option is to find a friend or family member who is also interested in purchasing from Alibaba and pool your resources.
You can also try reaching out to small businesses in your area who may be interested in placing an order. Finally, keep in mind that you may need to pay import taxes on your purchase, so be sure to factor this into your budget.
If you're not looking for large quantities of items, you might be better off considering AliExpress instead – check out our article Alibaba vs AliExpress to learn the difference.
With a little planning and research, you can easily navigate the world of Alibaba and make the purchases you need from a reliable supplier without any hassle.
What are people saying about Alibaba reviews?
Based on over 19 thousand reviews, Alibaba has a pretty great Trustpilot score of 4.2. 87% of those reviews are 4- or 5-star ratings. Generally, reviewers say that Alibaba is a great platform with a wide variety of products available at good prices.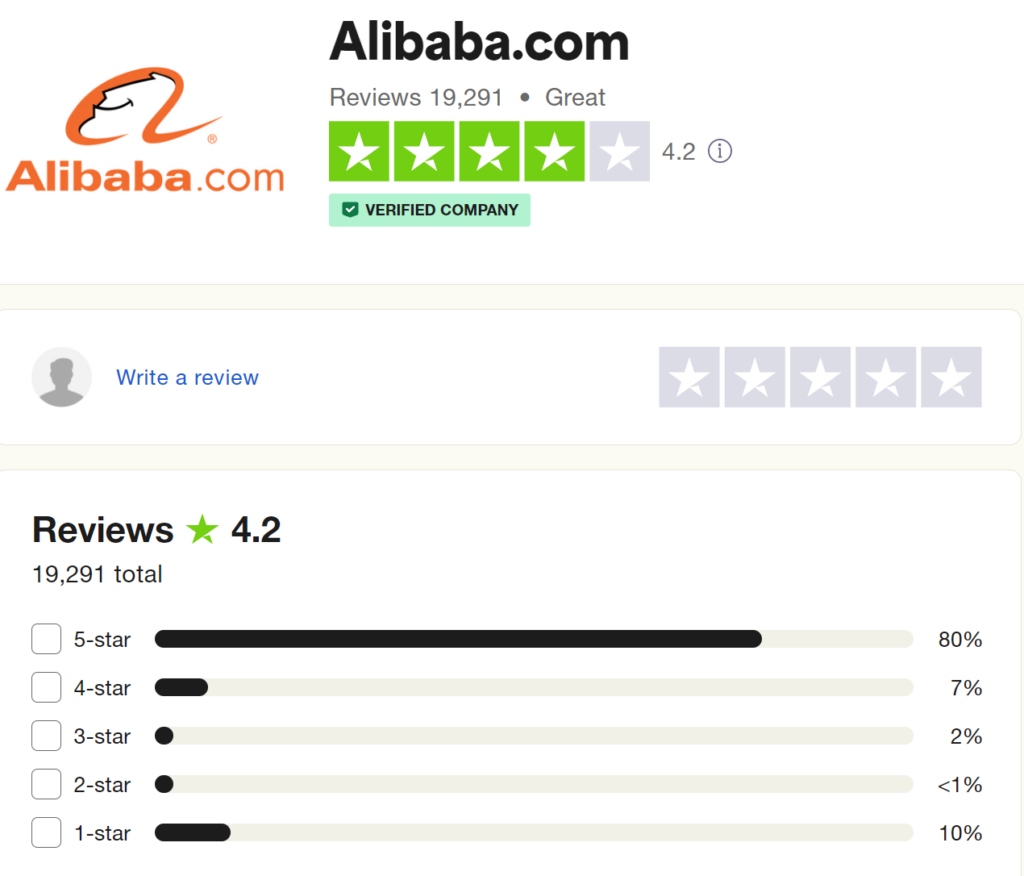 Many people have had positive experiences with Alibaba's customer service, and they appreciate the fast shipping times.
Negative reviews of the online store mention issues with Alibaba suppliers, poor quality products, and struggling to get assistance from Alibaba in their disputes.

A few people have also had issues with fake products or items that arrived damaged from their Chinese supplier. Overall, though, reviewers seem to be happy with their experiences on Alibaba.
If you're looking for a platform to buy wholesale goods, Alibaba is a great option. With a wide variety of products available and generally positive reviews, you can trust that you'll find what you're looking for on the site.
There are a few things to keep in mind, such as the minimum order quantities, potential import taxes, and how to assess a potential supplier, but overall, buying from Alibaba is a pretty straightforward process.
Alibaba alternatives
If you're looking for an alternative to Alibaba, there are a number of other Chinese trading companies available.
Made-in-China
Made-in-China is a similar platform that offers a wide range of products from Chinese suppliers. This company has a number of features that may be appealing to users.
By collaborating with trustworthy organizations such as SGS, Bureau Veritas, and TÜV Rheinland, they can verify the authenticity of all premium suppliers on Made-in-China. In this way, buyers can trade without worry or stress, knowing that the trading companies on this platform are verified suppliers.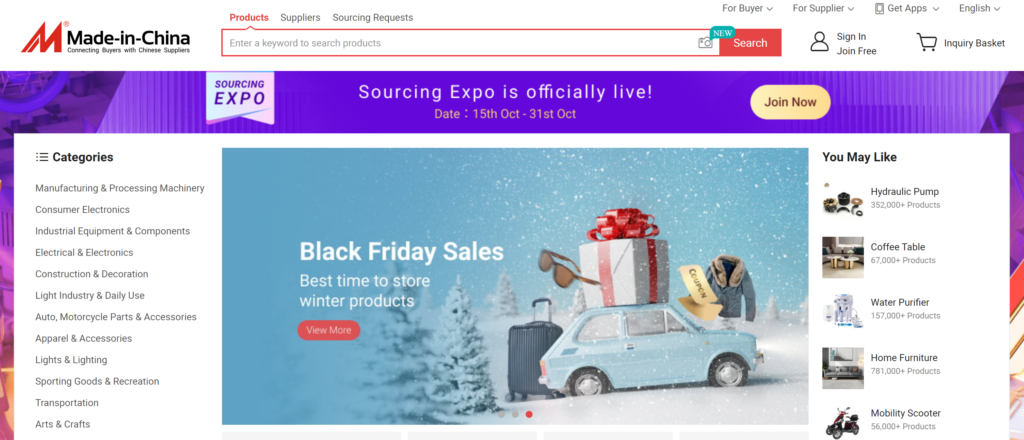 DHGate
If you're looking for an alternative to Alibaba, DHgate is a great option. DHgate is a Chinese online marketplace that offers a wide variety of products at wholesale prices. You can find anything from electronics to clothing on DHgate, and the prices are sometimes lower than what you'll find on Alibaba.
DHgate doesn't pay out to the seller until you have received and checked your order, so you're protected against fraud. So if you're looking for a great alternative to Alibaba, definitely check out DHgate!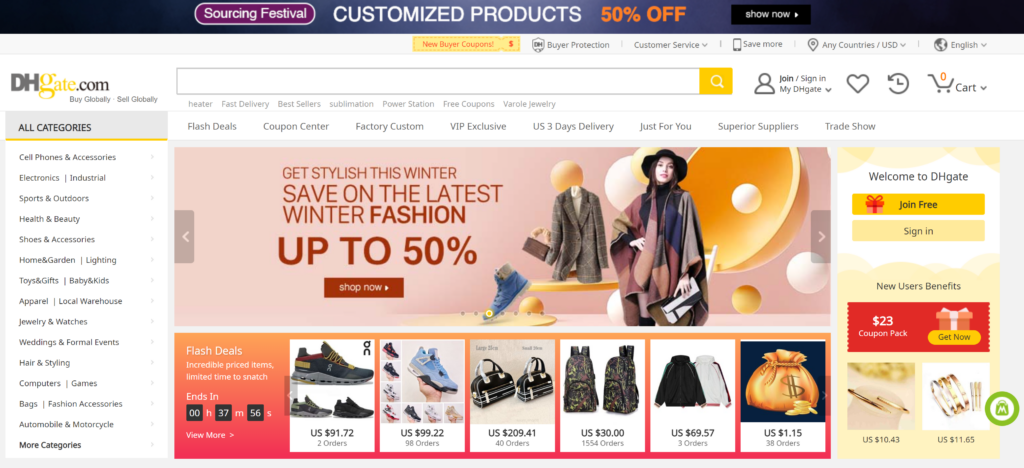 Is Alibaba legit? Final thoughts…
Yes, Alibaba is a legitimate platform that connects buyers and suppliers from all over the world. It's a great option if you're looking for a wide variety of products at wholesale prices. However, it's important to do your research before working with any supplier.
Although most suppliers are legit, there are a handful of buyers who have had their fingers burnt on the online store, and there are always some risks involved in ordering goods from overseas. But as long as you take the necessary precautions, you can easily find a reputable supplier on Alibaba that you can trust.
So there you have it! Everything you need to know about Alibaba and whether or not it's a legit platform. We hope this guide has been helpful and that you now feel confident ordering from Alibaba. Thanks for reading!