Despite an endorsement from corrupt government officials, Ghana's Attorney-General Godfred Dame has prevailed against QNet.
In an only recently reported on July 2022 judgment, QNet has been ordered to get out of Ghana.
Describing QNet's business model in filed court documents, Ghana's Attorney General claims the MLM company
operated in a manner akin to a Ponzi scheme by luring clients to make deposits and investments with the company, which they eventually lost.

Mr Dame indicated that Q-NET mainly operated in the Ashanti, Western, Eastern and Ahafo regions and engaged in various "fraudulent schemes", such as inviting the public to buy products for outrageous and non-existent profits.

He further said investigations indicated that Q-NET also took money from people with the false representation that the company could help them find jobs.
BehindMLM reviewed QNet in 2017. Based on QNet's business model, we identified it as a product-based pyramid scheme.
Dame identified QNet scammers operating in Ghana as hailing from Nigeria, Burkina Faso, Côte d'Ivoire, Mali and Togo. He claimed ill-gotten claims stolen from Ghanaian victims were then laundered out of the country.
"The widespread criminality and illegality in which the respondent is being operated has grossly undermined its existence in the Ghanaian community," he added.
For its part. QNet has ignored the Ghanaian AG's attempts to regulate the scam.
Despite the petition and all hearing notices and documentary evidence being duly served on Q-NET, the company failed to enter appearance and did not file any answer to the petition.
Instead, QNet sought to undermine the AG's investigation. In 2021 Joe Tackie, Chief Director of Ghana's Ministry for Business Development, stated he was 'glad to have QNET in Ghana for the long haul.'
How much that endorsement cost is unclear.
As per the court's July order, QNet's Ghanaian shell company has been ordered into dissolution. QNet and its executives have also been permanently barred from operating in the country.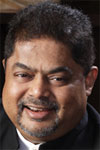 QNet is operated by Vijay Eswaran (right) from Malaysia.
Malaysian authorities have turned a blind eye to QNet's fraud, which mostly takes place outside of the country, since 1998.
SimilarWeb currently tracks top sources of traffic to QNet's website as India (26%), Pakistan (11%) and Turkey (8%).