Email marketing is an important component of any business's marketing plan. The first step in getting started with email marketing is to develop an effective email list for your company.
Email marketing is an important component of any business's marketing plan. The first step in getting started with email marketing is to develop an effective email list for your company.
Well-curated email lists of present or future customers make it simple to stay in touch with individuals who are interested in your company while not disturbing others who do not want to hear from you. This puts you at the top of your customers' minds — and inboxes — and keeps them engaged and informed about new goods, deals, and other relevant information from your company.
However, trying to figure out how to develop a contact lists from scratch might be intimidating, especially if you want to accomplish it quickly and efficiently. However, it is well worth putting in the effort early on because your email database will be your most significant investment.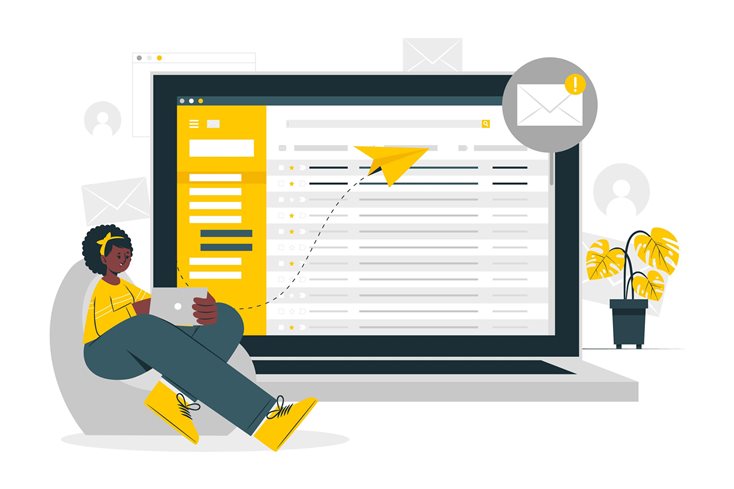 What is the Significance of List Building?
Before diving deep into the tactics on how to generate your verified email list, let us first understand the importance of lists building.
According to DMA Marketer Email Tracker, the average projected return on investment for email marketing is $42. When compared to the return on investment of other channels, such as PPC advertising, which returns just $2 for every $1 invested, emails' strong ROI makes them a desired, if not mandatory, marketing channel.
Prospects on an email list for marketing, regardless of the size of the company, can be critical in defining the effectiveness of your marketing activities. Simple performance measures like emails' open rate, click-through rate, and conversion rate all provide useful information to marketers about what they're doing properly and what needs to be tweaked.
Marketers, for example, can determine whether their audience is interested in the content they're generating by analyzing email click-through rates or open-to-click ratios. A/B testing your email subject lines such as "20% Off" vs. "Free Shipping" might provide more information about what type of value proposition resonates most with your customers and so on.
The 5 Most Effective Methods for Building an Email List From Scratch
Fortunately, Although creating a solid list of emails to use may seem like a daunting task but it is actually very simple and easy if done the right way. Whilst accurate email lists cannot be built overnight, there are quick and successful techniques to build a targeted email list that goes beyond typical email signup forms. Among the most prevalent approaches are:
1. Make use of Incentive
Let's face it: the main reason anyone will give you their email address is because they desire something you're providing. Find out what are your customers looking for?  
How does it relate to what you're selling? Perhaps it's a pattern for how you do something or a time-saving checklist that will save your reader time and frustrations. It could be a free ebook or a tangible item. Every great list-building strategy begins with the creation of something your customers value. There is no lead generation without a lead magnet.
2. Deploy Pop-ups and Overlays
According to studies, pop-ups have a conversion rate of 3.9% on average, with the top 10% converting at roughly 9.8%. While these statistics are enticing on their own, you must exercise caution when using pop-ups.
You can use three types of pop-ups, such as,
Welcome pop-ups – Welcome pop-ups are typically used to greet visitors to the site within the first 15 seconds of their arrival on the landing page. A strong call-to-action is essential for a welcome pop-up to avoid being dismissed as intrusive.
Exit-intent pop-ups – Exit-intent pop-ups work on the idea that they lessen the likelihood of a visitor exiting or bouncing by capturing their attention and providing a compelling incentive in return for their information.
Timed Pop-up forms – Timed pop-ups are excellent for generating leads since you only present your lead generation offer to visitors who have been on the site or page for a specific amount of time.
3. Create Calls To Action (CTAs) for Your Website/Landing Page
It's understandable that very few individuals will look for a means to join your email subscription list. Therefore, you need to provide customers with a variety of opportunities to do so via your content or web pages in general.
For that, you need to leverage quality resources; for example, assume you've written a beginner's guide on list building, and you're getting a lot of traffic. In such a situation, enticing consumers to subscribe to your email newsletter with a CTA like "Get this ebook on Best List Building Strategies for FREE !" is essential.
4. Make use of a Signup Button on Social Media Platforms
No matter what your marketing platform is, if you're not making use of everything simultaneously, then you are losing out on various opportunities. In other words, if you are building your list for email marketing, then getting leads from social media could be an easy and faster way to generate your email addresses list.
For that, you must make use of signup button on various social media platforms. Although, not all platforms are 'link friendly,' there are usually workarounds. On Facebook, you can directly put the signup button below the cover photo, whereas on Twitter and Instagram, you can directly paste the link in the bio with a keyword such as "subscribe here."
5. Build with your Blog
Your blog is an excellent approach to establish a personal interaction with consumers and prospects — as well as collecting their email addresses. End posts with a call to action that encourages readers to sign up for your email messages on a regular basis.
Moreover, make it a requirement for blog visitors to enter an email address in order to leave comments. However, make it so that they must actively opt-out if they do not want their email address to be sent to your mailing list.
What Benefits can you Earn with the List you Just Built?
Now that you have built your own list and know the importance of emails list. Let's look at some exciting benefits you can earn from the email list that can make your email marketing more effective.
Save Money with Low-Cost Marketing
Email marketing is one of the very few cost-effective methods of communicating with your users and encouraging them to visit your website. When compared to traditional marketing platforms, growing your email list for your business and getting additional email subscribers is extremely cost-effective in email marketing.
Moreover, Email campaigns generate a 4300 percent return on investment (ROI) on average for firms in the United States.
Segmentation
With the help of an emails database, you can segment your list based on the interests of your users. Once that is completed, it is simple to send more targeted emails that are very relevant to your readers, increasing your chances of converting them into paying clients.
Personalization
Having a contact list allows you to communicate directly with your consumers. Since these emails are more personalized, your users can clear up any confusion by emailing you back. This is an excellent method for establishing relationships that are based on trust.
Maintain Ownership of your Email List
Your email domains list is entirely yours. If you utilize social media to market your business, you risk losing all of your marketing efforts if these platforms change their policies. However, if you have an emails lists, you don't have to rely on other channels to reach out to your subscribers. You can utilize your email list whenever you want because it is yours.
Wrap-Up
Building an email list from the ground up takes time. However, by employing the above-mentioned simple and successful strategies, you increase your chances of growing your new email list in half the time! Some strategies will sound more effective than others. However, what matters most is that you mix them to achieve the best possible result for your company.