FutureNet Ponzi co-founder Stephan Morgenstern has been arrested in Greece.
Morgenstern's arrest was part of a joint operation that took place on October 26th.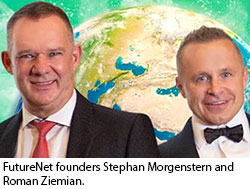 Both Morgenstern and Ziemian were arrested on international arrest warrants issued by South Kore
As reported by Khan (auto-translated from Korean);
As a result of the coverage of the Kyunghyang Shinmun on the 15th, Interpol arrested A (49), a Pole, in Italy, and Mr. B (61), a German, in Greece, who are suspected of taking part in stealing 40.7 billion won from about 2,100 Koreans through multi-level financial fraud.
"Mr.B" refers to Stephan Morgenstern.
E-Thessalia reports that Morgenstern was apprehended attempting to board a flight from Greece to Dubai.
Ziemian was arrested in Italy following a race win at a local Ferrrari event.
Formerly Polish residents, Morgenstern (a German national) and Ziemian (a Polish national), fled to Dubai to avoid prosecution.
Dubai's authorities are unlikely to have assisted South Korean authorities with apprehending Morgenstern and Ziemian.
Due to a lack of extradition treaties and non-regulation of MLM related securities fraud, Dubai is a crime haven for MLM scammers.
Following complaints from around 950 victims, South Korean authorities began investigating FutureNet in 2020.
FutureNet losses in Korea have been pegged at around 16 million euros. South Korean authorities claim to have or be in the process of freezing Ziemian's and Morgenstern's ill-gotten gains.
Both suspects are expected to be extradited to South Korea at some point, where they have been officially charged with "aggravated fraud, money laundering and high-tech criminal association."