Having a good and creative bio is essential if you want to make the right first impression. However, coming up with a great bio can be a time-consuming process.
Fortunately, modern technology can help you construct an eye-catching one quickly and easily. In this blog post, we look at five of the best bio-generator tools out there.
Are you looking for an easy way to devise an impressive personal or professional bio that stands out from the crowd? Do you want to make sure your profile is as unique as possible but don't have much time or experience in writing?
Don't worry! With the right tools, you can design and construct a persuasive professional bio that can do wonders for your online presence.
Bio generators are a great way for any entrepreneur or business owner to craft an engaging and persuasive summary of their personal brand, website, or side projects.
Best bio generators
Depending on your chosen tool, you'll typically be asked to input your personal information and answer various questions about yourself and your relevant industry experience.
This data is then analyzed by the generator and used to craft a unique personal or company bio tailored to your specific needs. The end result is a professional-looking, easy-to-read bio that will make an impact and take your online presence to the next level.
The best bio generators make creating an awesome bio simple in just a few easy steps, saving time and effort and achieving results without so much hard work.
Here are some examples of the technology available at present to help shoulder the responsibilities of crafting a professional bio:
Jasper.AI
Jasper.AI's bio template is packed with features to help you produce the perfect personal or professional bio.
After you input your data, Jasper's AI-driven algorithms will analyze it and recommend changes to ensure that your bio reads smoothly and accurately reflects who you are. Check out our Jasper review to learn all about it!
Rytr
Rytr has an easy-to-use bio-generator that allows you to build a compelling professional bio in just a few minutes. Just select the tone and use case from the dropdown menu, answer a few questions about yourself, and Rytr will generate a bio tailored to your needs. Check out our full Rytr review here.
Copy.AI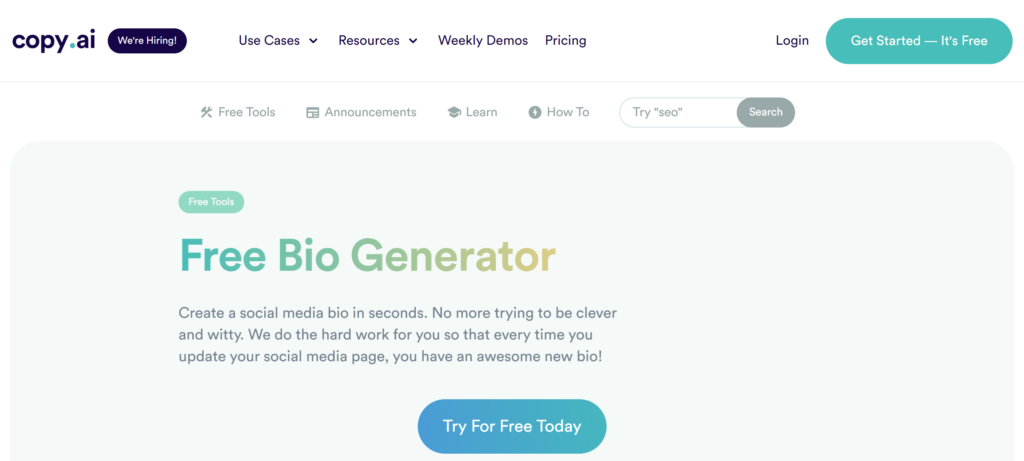 Copy.AI has a free bio generator that uses artificial intelligence to generate high-quality bios. Just answer a few questions about yourself, and Copy.AI will generate an engaging, personalized bio in minutes. Don't miss our Copy.AI review here to learn!
Picsart
Picsart social media bio generator is designed to help you create enticing bios in just a few clicks. The intuitive interface makes it easy to craft captivating bios that are sure to stand out from the crowd.
Starter Story
Starter Story free Instagram bio generator helps you construct an outstanding bio for social media platforms in no time. Just answer a few questions about your goals and experience, and Starter Story will generate a unique 150-character description tailored to your needs.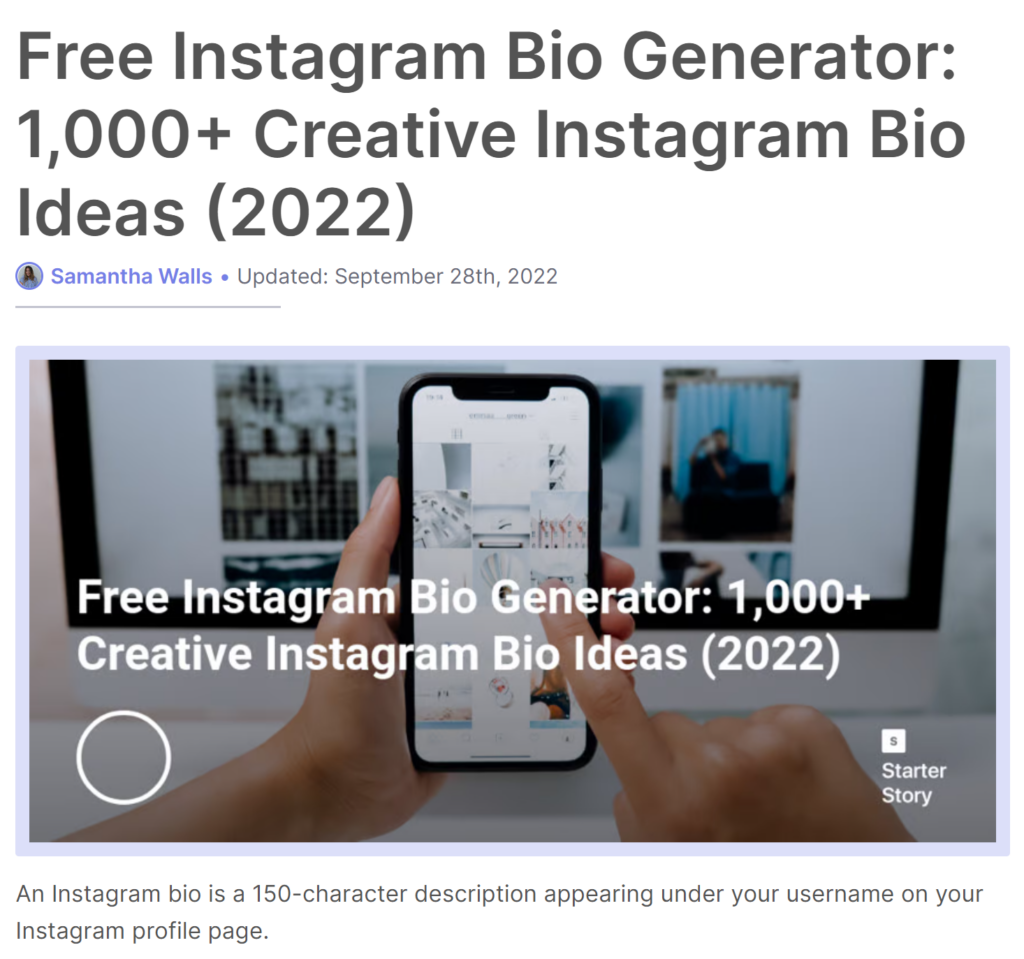 What Is a Bio?
A bio is a short, professional-looking description of yourself that typically sits at the top of your website or social media page.
It's an opportunity to showcase your accomplishments and experience in one concise paragraph. And with the help of a powerful bio generator, you can make sure this paragraph quickly captures attention.
But if you're looking for help with a company bio, make sure to read our article on About Us generator tools.
What do you need a Bio for?
A bio can be used for many purposes, including introducing yourself to potential employers or clients. It's also a great way to provide an overview of your industry skills and experience when applying for jobs or speaking engagements.
A compelling personal or professional bio can be a powerful marketing tool for your brand or company, helping to put you in a position to stand out from the competition and generate interest in your services.
What should I write in my bio?
When creating a professional bio, it's important to highlight your job accomplishments and qualifications clearly and concisely.
Introduce yourself with your full name, profession, and details of any business credentials that set you apart from others in the field.
The next thing is to explain any relevant experience or awards you have earned, as well as any industry memberships or professional organizations you are part of.
Include a few cool personal details to add personality and color to your profile.
With the help of a bio generator, you can quickly build a persuasive bio that gives a glimpse into who you are as a professional.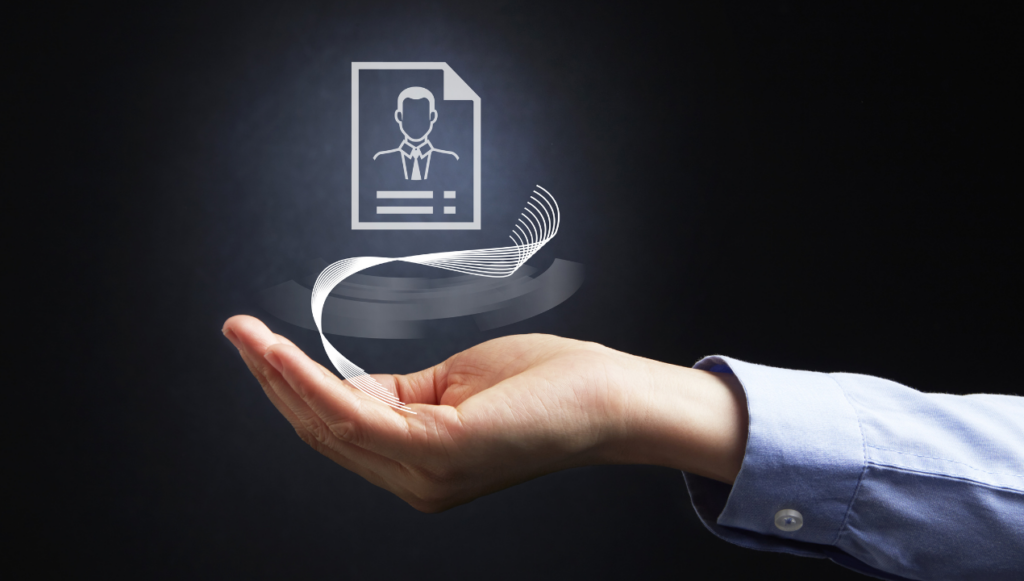 How do you write a killer short bio?
A killer short bio starts by focusing on the most important information about yourself.
Keep it concise, and think about what words will best capture your unique skills and experience.
Use simple language that's easy to read, and focus on achievements rather than simply listing your job title, responsibilities, company name, or educational background.
Be sure to include any awards you have earned, showcasing successes and industry expertise by providing case studies that highlight achievements.
Finally, add a personal touch by including a few fun facts about yourself to make the bio more memorable.
It's important to remember this isn't a resume. Writing a bio is simply a quick way to introduce yourself, your skills and experience, and your related accomplishments in a familiar position.
How do you write a 3 sentence bio?
Writing a 3 sentence bio starts with choosing the most important points you want to include.
Focus on key accomplishments, awards, and experiences that make you unique. Keep it concise and tell an interesting story about yourself that will capture readers' attention.
Consider using active verbs to give your bio more energy, and avoid using technical jargon or long-winded phrases.
Finally, add a personal touch by including a few fun facts about yourself or something that sets you apart from the competition.
Writing a bio is all about developing an interesting story about yourself and putting your unique skills, experience, and niche in the spotlight.
An example of a 3 sentence bio:
Jeanne Doe is a seasoned professional with 10+ years of experience in the healthcare industry. She has an MBA from Harvard and is an award-winning speaker. In her spare time, she loves to indulge her passion for traveling the world searching for new culinary experiences.
What is the best IG bio?
For businesses and individuals alike, crafting a great example of an attention-grabbing bio is essential to establish your online presence and making the most of powerful social platforms.
When you're writing a bio for social media, you've got just 150 characters to play with on Instagram or 160 on Twitter, so making every word count is crucial. Keep your introduction short, sweet, and to the point while still conveying who you are and what you do.
When crafting your Instagram or Twitter bio, don't forget to include a link to drive traffic and engagement to your website or other social media channels.
Using a bio generator can help you quickly produce an attention-grabbing profile within the character limit that will impact followers and take your social media presence to the next level.
An example of a great Instagram bio:
John Doe: Award-winning writer & digital marketer. Crafting content to help brands stand out. Exploring cultures & playing guitar in my free time. 🎶🌍✏️
For more on making the most of your social media profile, check out our article on Linktree alternatives.
Benefits of Using a Bio Generator
Bio generators offer several key advantages over crafting a personal or professional bio from scratch:
They save you time and effort while ensuring that your bio remains error-free.
They'll ensure you don't miss anything important such as your full name, job title, and company name to ensure your audience has all the relevant information they need.
Additionally, they allow you to adjust the tone and style of your bio, choosing from a selection of professionally-crafted templates.
This makes it easier than ever to grab readers' attention when describing your professional experience, ensuring you make a great first impression.
Above, we listed 5 examples of amazing bio-generator tools that will save you time and ensure that your bio is the best it can be. So what are you waiting for? Join the growing trend of entrepreneurs, freelancers, and small companies turning to bio generator technology. Go ahead and give them a try!
Summary – Bio Generators
With the right tips and some advance planning, you can easily create a compelling and engaging personal or professional bio that will help you stand out. Talk to colleagues, friends, and family members about what makes you unique, and use those insights to build your profile.
With careful thought and creativity, you can easily craft a bio that will help you build your brand, link to new connections, and advance your life or business career. So don't be afraid – get started today!