When you hear the word marketing, the first thing that pops up in your head is an advertisement through which people can reach a large audience. Old advertising techniques are long gone with ever-changing technology.
With the rapid evolution of technology, having a solid digital presence has become critical for any business. For this, a branded app is a powerful way to advertise an organization effectively. They can serve significant benefits as brand marketing tools.
By the year 2022, there will be approximately 7 million apps. Furthermore, over 84% of the world's population owns a smartphone, and users spend 5 to 6 hours daily on their phones. These figures demonstrate the significance of businesses going towards mobile app development.
Understanding the various marketing options for your app is critical to developing your overall strategy. Consequently, you will thoroughly understand how these methods can help create a successful app marketing strategy. It applies to all app marketers, regardless of app vertical, budget, or target audience.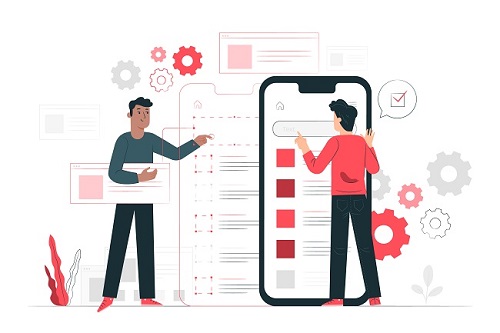 Brand Apps Marketing Strategies
Brand apps' advantages are to enhance customer loyalty, raise brand awareness, and get appropriate market visibility. You can also make use of mobile app marketing tools to attract customers. Some key strategies to promote your business using brand apps are as follows.
Viral loop
SEO strategy
Landing pages
Social media platform
Viral Loop
Making a viral loop referral is one of the most significant mobile app marketing tactics. You have to make your app different from others so that people prefer your app over others. Try to provide them with offers like time-limited deals, cashback, discounts, and other things.
Viral loops are excellent tools for increasing the number of people who use your mobile app. Create something worth sharing, such as high scores or shared experiences, and make it simple for users to tell others how excellent your app is.
Dropbox grew its user base by more than 3,900%.  Thanks to a viral loop referral program that it developed. Organizations like PayPal, Uber, and Airbnb have also benefited from the viral loop.
SEO Strategy
Not all mobile app success can be attributed to paid channels. If you're just starting, consider producing material that addresses any queries that users might have. Just keep in mind to capitalize on traffic once it arrives on your site. Include an email capture form or make your blog posts into CTAs for app downloads.
SEO strategies and creative blogs result in organic traffic that leads to app downloads. Therefore, developing a successful SEO strategy is crucial for business marketing. You can also use keyword research tools to find relevant topics for your apps.
Landing Pages
Mobile apps should not make you mobile-centric. As your website is often the first impression of your business for many users, a strong landing page for your app is essential. It is a low-cost method to attract new users.
When designing your app's landing page, it's critical to include a visual representation of what users can expect if they install it. It benefits those who are interested in your brand.
Social Media Platforms
It is a plus point if one knows how to promote an app on social media. It is a good idea to post on your social media channels regularly and to use them for more than just raising product awareness. For example, social media is an excellent way to build a community and solicit feedback from users who would not be motivated to contact you in-app or via your website.
Social media platforms help a lot to reach your audience. Platforms like Facebook, Twitter, and Instagram, let you grow your web presence and allow you to engage with your potential prospects.
Blog posts, competitions, discussion threads, and user-generated content can help as content for your social media channels. Your audience will be just a click away from you through social media platforms.
Benefits of Mobile App Marketing
Mobile app marketing comes with several benefits. In addition to keeping users interested, it increases conversion rates.
User-friendly apps help to improve the target audience as well as the visibility of the business. Users of a business app will see the brand's logo whenever they use their mobile device after installing it. The more customers use a brand app, the more they purchase things and use services.
Another benefit of digital marketing is rewarding loyal consumers. Getting customer loyalty is a tricky thing to do. The ideal instrument to improve user loyalty is a mobile app. It also motivates the end users to make more purchases and increases the likelihood that they will recommend your company to their friends.
Conclusion
Brand apps are a powerful source of marketing. It is crucial to recognize the value of mobile app marketing. You can reach a larger audience by knowing how to use mobile apps, and practically everything becomes accessible with only a finger tap on the phone. A well-thought-out strategy effectively encourages users to download and use your app.