Energy Spas fails to provide ownership or executive information on its website.
Energy Spas' website domain ("energyspas.com"), was first registered in 2007. The private registration was last updated on February 4th, 2022.
Energy Spas' domain was dormant until late 2022, wherein the current website was uploaded in or around November.
This strongly supports the current owners of Energy Spas' domain taking possession of the domain in or around February 2022.
The original November 2022 version of Energy Spas' website reveals it was designed by GoodLayers (click to enlarge):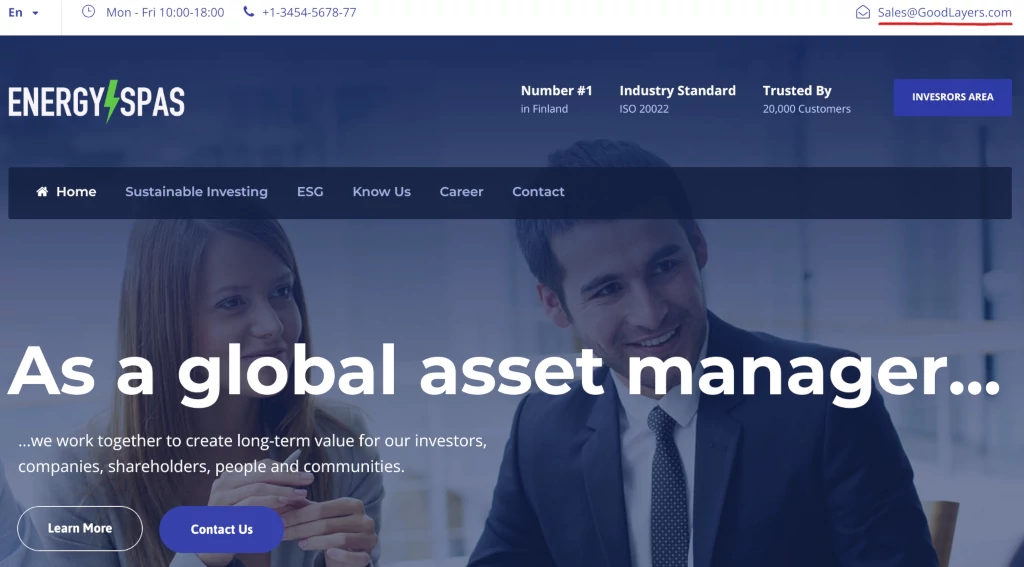 GoodLayers primarily market WordPress themes. The specific theme Energy Spas uses is "Financity":
The Financity theme costs $64.
Despite not existing until a few months ago, Energy Spas falsely claims it has been around since 2007.
Since 2007, Energy spas has been the leading provider of venture capital to the independent sector of the European energy industry, real estate, global infrastructure, and worldwide.
This appears to be based on the original domain registration date. As we've established, this had nothing to do with Energy Spas in its current form until Q1 2022 at the earliest.
At the top of Energy Spas' website the registration number "FM0334520" appears. This same number appears on the website for GlobalHubAsset.
Since 2007, Global Hub Asset has been the leading provider of venture capital to the independent sector of the European energy industry, real estate, global infrastructure, and worldwide.
Sound familiar?
GlobalHubAsset is a Ponzi scheme pitching returns of up to 10% a day. The domain "globalhubasset.com" was privately registered in August 2022.
Whether GlobalHubAsset already launched and collapsed, or is waiting dormant for a launch is unclear.
What is clear is Energy Spas appears to be the work of serial Ponzi scammers.
In an attempt to appear legitimate, Energy Spas provides two corporate addresses on its website; one in Canada and one in Dubai.
The Canada address also appears on GlobalHubAsset's website. Dubai is the MLM crime capital of the world, so any contact details there provided are assumed to be false.
While we can't rule it out completely, it's unlikely Energy Spas has ties to either Canada or Dubai.
SimilarWeb currently tracks top sources of traffic to Energy Spas website as the US (83%), Sweden (10%) and Thailand (6%).
As always, if an MLM company is not openly upfront about who is running or owns it, think long and hard about joining and/or handing over any money.

Energy Spas' Products
Energy Spas has no retailable products or services.
Affiliates are only able to market Energy Spas affiliate membership itself.
Energy Spas' Compensation Plan
Energy Spas affiliates invest USD equivalents in cryptocurrency. This is done on the promise of advertised returns:
Core Benefit Package – invest $798 to $9549 and receive 0.9% a day for 6 months
Scale Up Package – invest $9550 to $449,999 and receive 1.1% a day for 6 months
Elite Premium Package – invest $450,000 to $5,000,000 and receive 2% a day for 6 months
Energy Spas affiliates can press a button to turn on "staking". This increases
the Core Benefit Package daily ROI to 1.13%
the Scale Up Package daily ROI rate to 1.48% and
the Elite Premium Package daily ROI rate to 2.9%
The catch is invested cryptocurrency can no longer be withdrawn till the end of the investment period.
Energy Spas pays referral commissions on invested cryptocurrency on up to three levels of recruitment (unilevel).

Referral commission rates are determined by how much an Energy Spas affiliate has invested:
Core Benefit Package and Scale Up Package tier affiliates earn 5% on level 1 (personally recruited affiliates) and 2% on level 2
Elite Premium Package affiliates earn 7% on level 1, 4% on level 2 and 2% on level 3
Joining Energy Spas
Energy Spas affiliate membership is free.
Full participation in the attached income opportunity requires a minimum $798 investment.
Energy Spas solicits investment in bitcoin, ethereum and litecoin.
Energy Spas Conclusion
Pretty much everything on Energy Spas website is baloney – including laughable nonsense like this:
We manage $649 billion in assets, spanning various business segments and 715 investment vehicles, investing wisely and responsibly over the long-term.
If Energy Spas already has $649 billion to play with and can generate up to 2.9% a day, what on earth do they need your money for?
2.9% of $649 billion is $18.8 million – a day.
Behind the purchased website template and nonsense said website has been populated with, Energy Spas is a simple MLM crypto Ponzi scheme.
Affiliates sign up and invest, and this is done for the sole purpose of hoping to steal subsequently invested funds.
As with all MLM Ponzi schemes, once affiliate recruitment dries up so too will new investment.
This will starve Energy Spas of ROI revenue, eventually prompting a collapse.
The math behind MLM Ponzi schemes guarantees that when they collapse, the majority of participants lose money.