On January 25th the brokerage BDSwiss confirmed it never had a partnership with GSPartners.
On January 30th BehindMLM learned of BDSwiss' announcement and covered GSPartners' deception. It wasn't the first time owner Josip Heit had been caught lying about business partnerships.
Following BDSwiss' announcement, GSPartners is now covering up its lies through a new Skyground Group partnership.
When it launched its "metaverse certificates" Ponzi scheme in May 2022, BDSwiss was presented as a trading partner.
Purportedly through trading done by BDSwiss, GSPartners investors were offered a 300% return over 18 months on up to $100,000.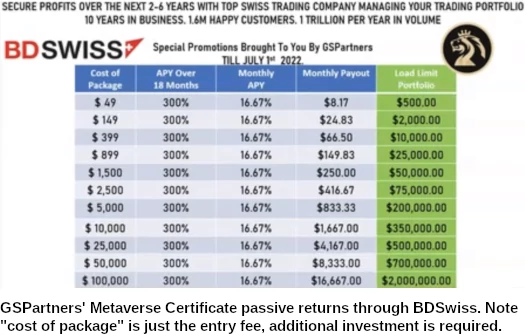 Up until BDSwiss confirmed it had never had anything to do with GSPartners, returns of 4.15% a week on up to $200,000 in tether were still being offered (click to enlarge):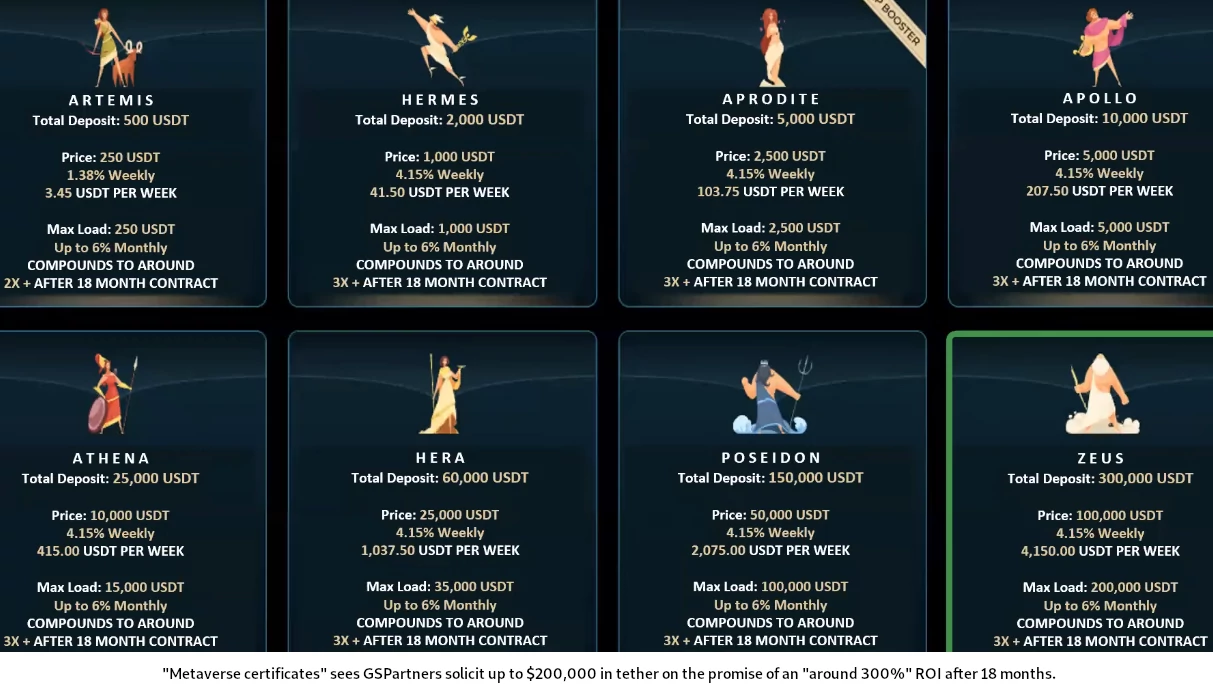 The metaverse certificate investment plans haven't changed, but now ROI revenue is purportedly generated through Skyground Group.
Skyground Group's website domain ('skyground.group"), was purchased on May 3rd, 2022. Skyground Group was then launched in September 2022.
Skyground Group is run by Alexander and Konstantin Oelfke.

The Oelfke brothers used to work for BDSwiss but left in October and August 2021 respectively.
BDSwiss has financial regulatory licenses in multiple jurisdictions. In announcing its fake partnership with the brokerage, GSPartners incorporated this into their metaverse certificate marketing: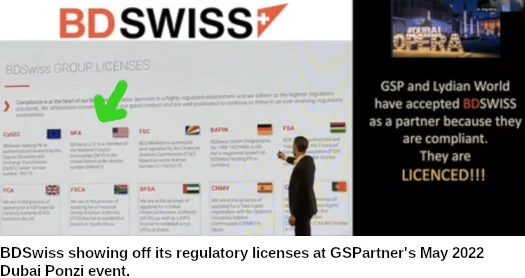 As opposed to BDSwiss and its financial licenses, Skyground Group exists only as "Skyground Services Ltd."; a shell company incorporated in Cyprus.
The Oelfke brothers reside in Germany, and it is from there Skyground Group actually operates. This ties into Josip Heit, believed to be a Croatian national, spending his time between Dubai and Germany.
GSPartners' covering up its BDSwiss partnership lie has been presented to investors as a "new" partnership announcement by Alexander Oelfke.
Alexander Oelfke, CEO of SKYGROUND Group, exclusively announces exciting new Partnership in the Metaverse Sector

After a successful six-month trial period, where multiple companies participated, SKYGROUND is now an official technology partner of lydian.world Metaverse.

As a technology provider, SKYGROUND supports many major online brokers worldwide with first-class technology modules, using similar trading technology, such as MT4 and MT5, also used by established traditional brokers like IG Group, Swissquote, and BDSwiss.
The headline is a bit of an odd choice, seeing as the press-release doesn't actually quote Oelfke.
And the last paragraph I've quoted is pretty deceptive. It's inferred that Skyground Group is using "similar trading technology" to BDSwiss.
"MT4" and "MT5" references MetaTrader 4 and MetaTrader 5. MetaTrader software is developed by MetaQuotes, who provide MetaTrader for free to the public or licensed to brokers.
MetaTrader itself is just trading software, it requires input from a third-party to do any actual trading (either the end-user or automation through a bot).
Skyground Group pretending having access to MetaTrader equates them to BDSwiss, when anyone can access MetaTrader, is a weak attempt to cover up GSPartner's deception.
If I can simply the deception; it's like running a business and pretending you're the same as a competitor because you both run Microsoft Windows in your offices.
GSPartners' Skyground Group press-release (which has been syndicated to a bunch of paid press-release spam sites), was submitted by Berliner Tageszeitung.
In 2021 Josip Heit, through GSMedia, bought Berliner Tageszeitung and two other defunct German online news portals.
Since then Berliner Tageszeitung has been used to publish content syndicated from elsewhere – as well as the odd GSPartners press-release.
At time of publication, SimilarWeb tracks negligible traffic to Berliner Tageszeitung's website.
Why use Berliner Tageszeitung for the Skyground Group press-release? It's a comical attempt to pretend it isn't GSPartners and Heit blowing their own horns.
GSPartners' amusing BDSwiss cover ups aside, we're left with the question of securities fraud.
GSPartners offering investors a passive weekly return, now purportedly through Skyground Group, is quite obviously a securities offering.
Neither Skyground Group, the Oelfke brothers, GSPartners or Josip Heit are registered to offer securities in any jurisdiction.
This means that, at a minimum, GSPartners and Skyground Group are committing securities fraud.
Based on website traffic analysis by SimilarWeb, at present top sources of traffic to GSPartners' website are the US (71%), Portugal (11%) and Canada (7%).
Securities in the US are regulated by the SEC. To date the SEC hasn't taken any action against GSPartners and Heit for defrauding and continuing to defraud US residents.
In Germany, authorities have been asleep at the wheel since Josip Heit's Karatbars International disaster in 2019.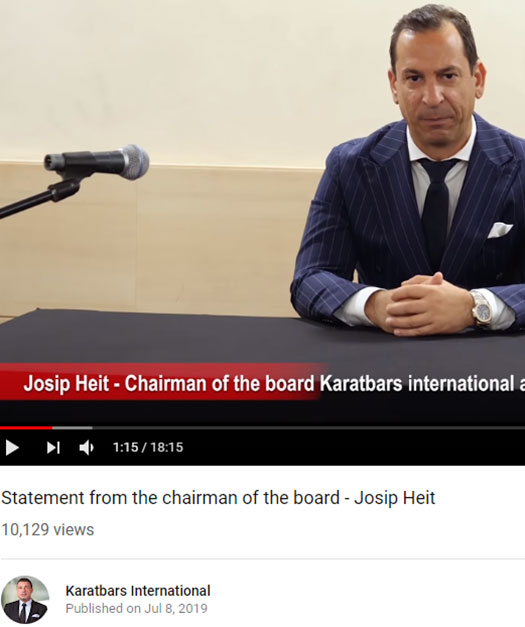 Pending any further Skyground Group "metaverse certificates" updates, we'll keep you posted.