AiProFX fails to provide ownership or executive information on its website.
AiProFX's website domain ("aiprofx.com"), was first registered in November 2020. The private registration was last updated on January 30th, 2023.
In an attempt to appear legitimate, AiProFX provides a corporate address in the UK on its website. This address doesn't appear to have anything to do with AiProFX.
SimilarWeb currently ranks top sources of traffic to AiProFX's website as Malaysia (93%) and the US (7%).
While not conclusive, this strongly suggests whoever is running YunikonFX is based out of Malaysia.
One thing to note is references to YunikonFX on AiProFX's website: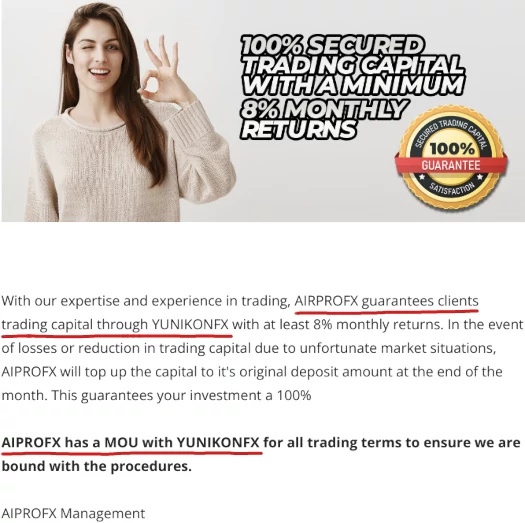 YunikonFX is another forex-themed Ponzi scheme, also suspected of being operated from Malaysia.
It is highly likely the same person or group of people running YunikonFX are also behind AiProFX.
As always, if an MLM company is not openly upfront about who is running or owns it, think long and hard about joining and/or handing over any money.
AiProFX's Products
AiProFX has no retailable products or services.
AiProFX affiliates are only able to market AiProFX affiliate membership itself.
AiProFX's Compensation Plan
AiProFX affiliates pay a fee to gain access to a passive investment opportunity.
Basic – $20 fee lets you invest up to $100
Advance – $70 fee lets you invest $100 to $1000
Pro – $120 fee lets you invest $100 to $2000
Diamond – $400 fee lets you invest $100 to $5000
Emerald – $700 fee lets you invest $100 to $10,000
AiProFX states affiliates can expect "a profit range between 8% to 15% or more in a month."
AiProFX affiliate fees are charged annually, with a discount applied after the first year:
2nd year affiliate fee attracts a 20% discount
3rd year affiliate fee attracts a 30% discount
4th and subsequent year affiliate fees attracts a 50% discount
The MLM side of AiProFX pays on recruitment of affiliate investors.
Referral Commissions
AiProFX affiliates earn 20% of fees paid by personally recruited affiliates.
Residual Commissions
AiProFX pays residual commissions via a binary compensation structure.
A binary compensation structure places an affiliate at the top of a binary team, split into two sides (left and right):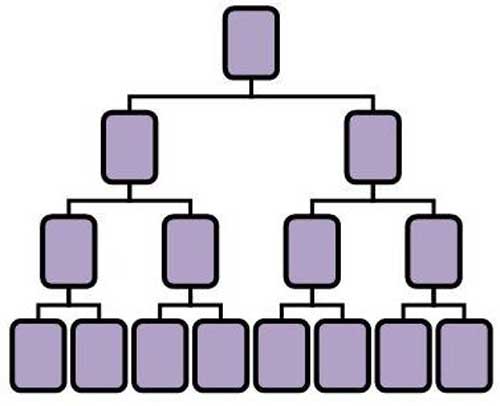 The first level of the binary team houses two positions. The second level of the binary team is generated by splitting these first two positions into another two positions each (4 positions).
Subsequent levels of the binary team are generated as required, with each new level housing twice as many positions as the previous level.
Positions in the binary team are filled via direct and indirect recruitment of affiliates. Note there is no limit to how deep a binary team can grow.
At the end of each day, AiProFX tallies up new fees paid by affiliates recruited into the binary team.
Residual commissions are paid as 10% of fees paid on the weaker side of the binary team.
Note that AiProFX caps how much can be earned in daily residual commissions, as 150% of how much an an affiliate has paid in fees.
E.g. If you sign up at the Pro tier and pay $120, you can earn $240 a day in residual commissions.
The more service package you purchase, the more income you will get.
As per the quote above, taken from AiProFX's website, the daily residual commission cap can be increased by paying more in fees.
Joining AiProFX
AiProFX affiliate membership is free.
Full participation in the attached income opportunity requires payment of $20 to $700 in annual fees.
AiProFX affiliate fees and investment are solicited in bitcoin, litecoin and tether.
The more an AiProFX affiliate pays in fees, the higher their income potential.
AiProFX Conclusion
Worryingly, AiProFX claims its investment opportunity is "aimed in helping many who have lost in the market due to the market uncertainty."
This recovery is supposed to take place via "automated forex trading".
AiPROFX is a professional fully automated forex trading system for professional traders.

EA is an expert advisor that has been programmed to provide an ultimate automatic trading without you having to do anything but reaping the profits from trading.
No evidence of AiProFX generating external revenue via forex trading, or any other source, is provided.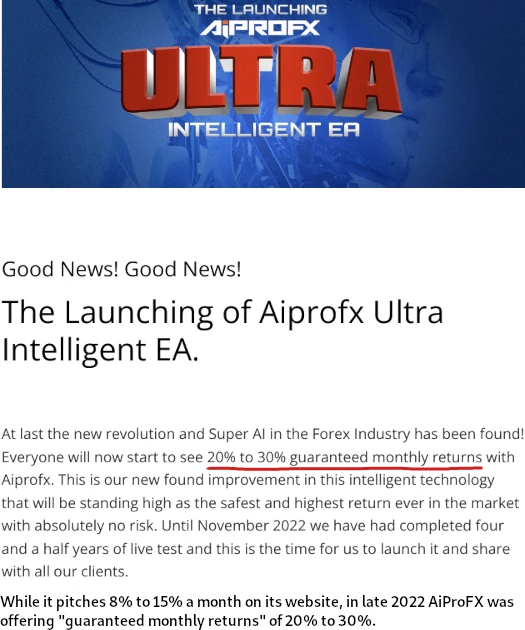 Furthermore, having advertised "guaranteed" returns of up to 30% a month, AiProFX's business model fails the Ponzi logic test.
Anyone capable of legitimately generating a guaranteed 30% a month on a consistent basis, is going to quietly generate infinity money for themselves. What do they need your money for?
On the regulatory front, AiProFX's passive investment opportunity clearly constitutes a securities offering.
AiProFX provides no evidence it has registered with financial regulators in any jurisdiction.
In Malaysia securities are regulated by the Bank of Malaysia and the Securities Commission of Malaysia. In the US securities are regulated by the SEC.
Registering with financial regulators would require AiProFX to periodically file audited financial reports.
These reports are the only way to verify that AiProFX is generating external revenue via forex trading as claimed.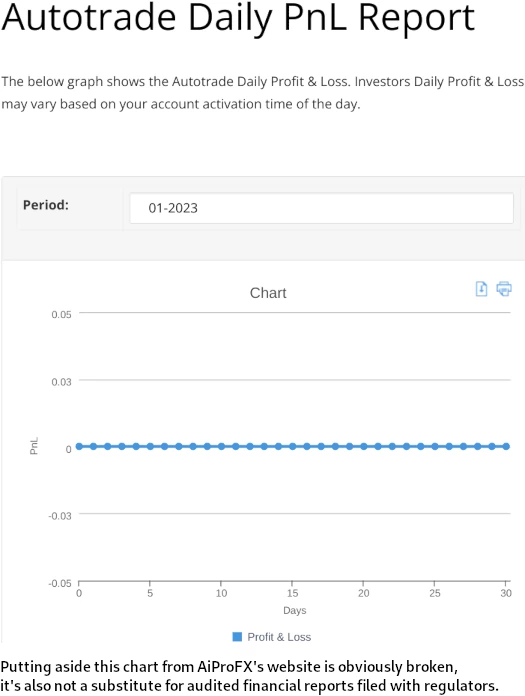 As it stands the only verifiable source of revenue entering AiProFX is new investment. Recycling newly invested funds to pay ROI withdrawals makes AIProFX a Ponzi scheme.
Additionally, recycling affiliate membership fees to pay commissions adds a pyramid layer to the scheme.
As with all MLM Ponzi schemes, once affiliate recruitment dries up so too will new investment.
This will starve AiProFX of ROI revenue, eventually prompting a collapse.
The math behind Ponzi schemes guarantees that when they collapse, the majority of participants lose money.