The Traders Domain isn't an MLM company. It is however linked to several MLM companies, all of which have since collapsed.
In this article we go down the The Traders Domain rabbit hole and link everything together.
The Traders Domain is run by Ted Fredirick Joseph Safranko (aka UncleTed, right).
Safranko is a Canadian national and was a registered FINRA broker until 2013.
So the story goes, The Traders Domain origins date back to 2017. The Traders Domain is purportedly a white label offering run through B2Broker.
B2Broker is run by CEO Artur Azizov out of Dubai.
Various trading opportunities have been made through The Traders Domain over the years. Starting in 2021, Safranko began offering monthly "high risk" investment opportunities.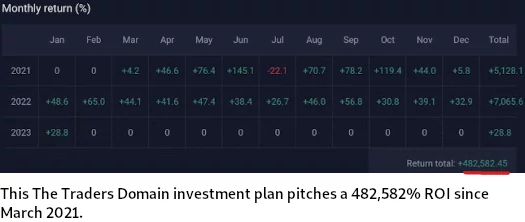 In the example above The Traders Domain represents that if you invested back in March 2021, you'd have a 482,582% ROI today.
While The Traders Domain does solicit investment in USD, as I understand it the vast majority of investors have invested through cryptocurrency.
For reasons we'll shortly get into, The Traders Domain's website traffic has fallen of a cliff since late 2022.
SimilarWeb currently tracks top sources of traffic to The Traders Domain's website as the US (35%, down 44% month on month), Canada (28%, up 41% month on month), and Australia (10%, up 1063% month on month).
Total The Traders Domain website traffic was pegged at 29,200 visits for January 2022.
With a clearly majority US investor base and the offering of monthly passive returns, purportedly derived via forex trading, The Traders Domain is required to register with both the SEC and CFTC.
Neither The Traders Domain or Ted Safranko are registered with either regulator.
To that end, the CFTC added The Traders Domain to its RED List in July 2022.
A firm is added to the RED List when the CFTC determines, from investigative leads and public inquiries, that it is not registered with the Commission and appears to be acting in a capacity that requires registration, such as trading binary options, foreign currency (forex), or other products.
A few months after the CFTC added The Traders Domain to its RED List, investors began reporting withdrawal problems.
From what I've been able to peace together, The Traders Domain withdrawals began slowing down in late Q3 2022. Withdrawals stopped altogether on or around November 2022.

Since then a few selective withdrawals appear to have gone through, albeit mostly small amounts.
Today The Traders Domain website is still online and soliciting new investment, despite nothing much being paid out on the back end.
While it's not an MLM company, The Traders Domain does have an affiliate program. This financially incentivizes recruitment of new investors.
That brings us to the MLM companies that are tied to The Traders Domain.
Batched is a collapsed Ponzi scheme that launched as Uulala in late 2021.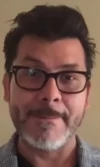 Oscar Garcia (right) relaunched Uulala following an SEC securities fraud settlement a few months prior.
By the end of 2021 the Uulala brand had been dropped, with Garcia opting to continue the scheme as Batched. Up until that point Batched had been presented as a payment processor service within Uulala.
Following months of dramatically declined returns and withdrawal delays, Batched collapsed last month.
In the lead up to Batched's collapse, Garcia claims he was hospitalized with appendicitis in October 2022.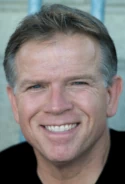 While he was in hospital, Garcia claims Batched COO Frank DiCrisi (right) "sold the company".
I don't fully understand the particulars of this claim as I don't have access to the state-level lawsuit filed in Orange County Superior Court.
With respect to The Traders Domain however, an excerpt posted to the TradersDomain subreddit suggests funds were laundered through Batched.
Bear in mind the context for this excerpt, as told by Oscar Garcia, is Batched collapsing in late 2022.
Frank and our compliance team (Tracey Wallace and Maria Garcia) kept having commissions and communication issues.

These issues boiled over after September 2022 when myself and one of our top agents kept asking for a full audit and report of the accounting.

I kept asking for the audit and bank records but Frank claimed he could not get the bank account statements from Evolve (Bank). He claimed they did not provide that to him, only reports.

This was clearly not the case once I reviewed his emails showing that he had been able to pull electronic bank statements earlier in the year.

I kept telling Frank on text messages and on the phone that we need to resolve the accounting issues (i.e. what we owe and to whom) fast.

I explained to him that I was afraid that several people were going to sue us for all these delays.

During these text exchanges in or around October 28, 2022 I learned about "The Traders Domain" program.

In that text exchange, Frank told me had a way to make money and pay off our obligations to sale agents. When I asked how, he explained the program to me.

He claimed that if I place $20,000 into the program I could take out 1% to 2% a day almost immediately.

In my text message I told him that it sounded unsustainable and like a lot of the illegal programs that were shut down before.

He claimed that he was already seeing great results with his family participation. He claims on text that he controlled $4 million of their money and could make us whole if something went wrong.

I told him I would call him later to talk about it.

During the call he explained that his son and he, along with Plaintiff Gregory "Tuffy" Baum and his son, were having great results.
Remember the name Gregory Baum. We'll revisit the Baums as part of another MLM company tied to The Traders Domain.
When I asked about who brought "The Traders Domain" in (to Batched), Frank informed me that Mr. Baum and Plaintiff Savvy Wallet brought in the client.

I told him I was not willing to risk involvement in an illegal program. I was worried about my SEC settlement and the SEC current investigation request.

By November, during a review of my emails I found a strange email from Frank to Fireblocks, our crypto wallet provider.

In sum, during my investigation I found that Batched system was changed by Plaintiffs to allow the Traders Domain to conduct business in the United States.

This activity is confirmed with some of the transactions we have uncovered that over $20,841,697.519 in USDT alone was transferred in and out of our Fireblocks service within November and December of 2022.
Fireblocks is cited in Garcia's filing as a "crypto wallet provider".
Once I learned of the Ponzi scheme, I had no choice but to shut down activity on the Fireblocks account.

I did it to stop the illegality that had been occuring tand to protect Plaintiffs' clients' funds that were wrapped up in the Ponzi scheme.

By deactivating the platform, we were able to temporarily stop the unlawful use of Plaintiffs' clients' funds in the Ponzi scheme and allow for an audit.
Based on Garcia's purported investigation, Batched and The Traders Domain investor funds were co-mingled through Batched's Fireblocks account – to the tune of at least $20 million.
Frank DiCrisi appears to be knee-deep in crypto Ponzi fraud, both through Batched and The Traders Domain.
We'll switch gears now and move on to Gregory Baum, his son and Savvy Wallet.
Savvy Wallet pitches itself as a crypto offramp;
With the click of a button you can convert your Crypto to Fiat to spend at over 53 million merchants worldwide where ever Visa is accepted.
As per a FAQ provided on Savvy Wallet's website, its VISA cards are issued through Evolve Bank & Trust.

This is the same Evolve Bank Garcia referenced in his filing. Whether Batched and/or The Traders Domain investor funds were laundered through Savvy Wallet and Evolve Bank & Trust is unclear.
Gregory Baum is based out of Utah and, while his son isn't named by Garcia, I believe it's Jake Baum. If not then Gregory and Jake Baum are probably still related.
In October 2012 Gregory Baum signed on as COO of the defunct MLM company Ocean Avenue. Jake Baum, who is also based out of Utah, worked as a Brand Specialist for Ocean Avenue.
Both Baums then worked at Hyten Global. Gregory Baum's LinkedIn profile has him signing on as President of Digital Profit in March 2020.
Digital Profit was a quad-layer mega Ponzi run by Travis Bott, Jeremy Reynolds and Dan Putnam.
Digital Profit predictably ended after the trading bot it was built around collapsed in August 2021.
That same year BehindMLM reader Theo Morton claimed Gregory Baum was behind the Onyx Lifestyle Ponzi scheme.
BehindMLM linked Onyx Lifestyle to Dan Putnam's and Jean Paul Ramirez's Eyeline Trading and WealthBoss Ponzi schemes in 2019.
The SEC sued Putnam and Ramirez for Ponzi related securities fraud in 2020.
Jake Baum and Dan Putnam are tied together through LurraLife. Putnam launched LurraLife in late 2019.
There's no mention of LurraLife on Jake Baum's LinkedIn profile, but at some point he signed on as Vice President of Marketing.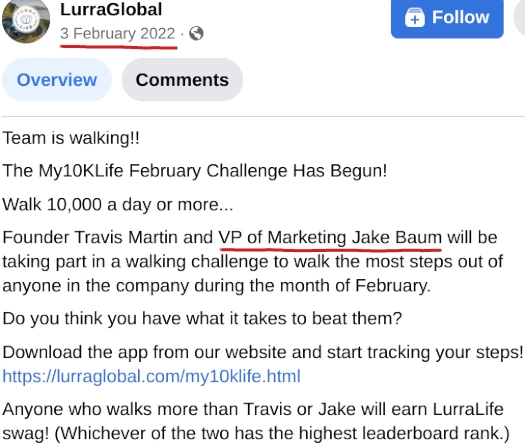 LurraGlobal was a rebranding attempt as LurraLife headed towards collapse in mid 2022. On July 19th 2022 Putnam announced he was merging what was left of LurraLife into B-Epic, another MLM company he owns.
That eventually fell through, leaving Putnam to try again with Against All Odds in January 2023.
Fun Fact: Putnam settled his SEC securities fraud lawsuit last month – but we'll otherwise leave him there.
In LurraGlobal's dying months, Jake Baum was busy funneling affiliates into The Traders Domain.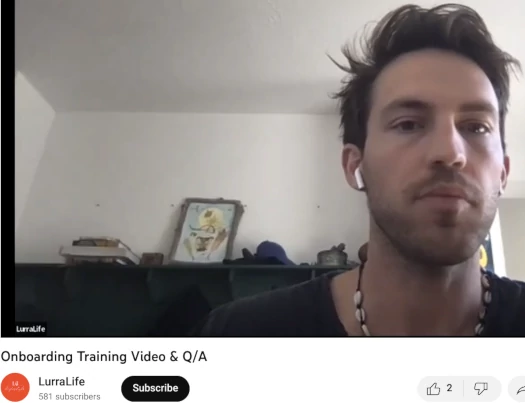 Baum appeared on two The Traders Domain "onboarding" videos, uploaded to LurraLife's official YouTube channel in June 2022.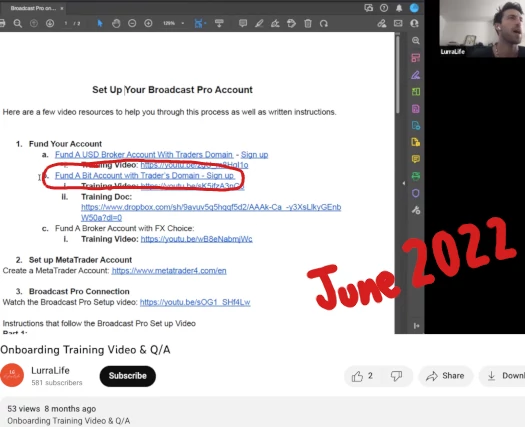 LurraLife affiliates were instructed on how to deposit into The Traders Domain. On FaceBook Baum coordinated LurraLife affiliates in the FaceBook group "100% Digital Lifestyle".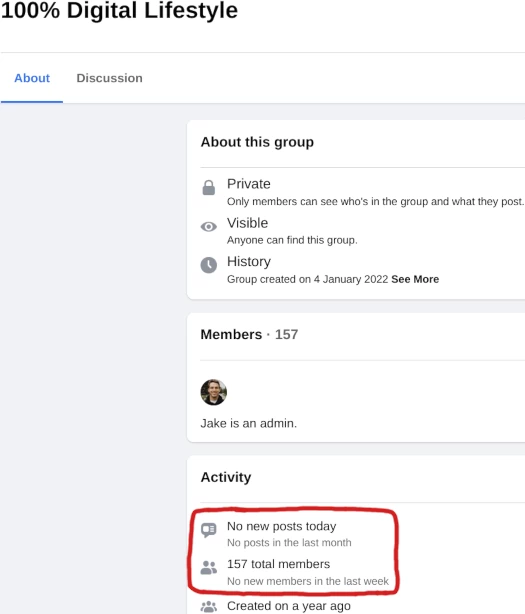 Cross referencing Garcia's OC Superior Court filing, Baum (and his father Gregory?) were still invested and promoting The Traders Domain circa October 2022.
I'd assume the reason the "100% Digital Lifestyle" is dead today pertains to The Traders Domain's collapse.
The third MLM company we can tie to The Traders Domain is Holton Buggs' Meta Bounty Hunters and Meta Bounty Huntresses Ponzi schemes.
Buggs is believed to have launched his Meta Bounty Hunters and Huntresses Ponzi schemes with the help of Travis Bott.
That's the same Travis Bott behind the previously referenced Digital Profit quad-layer mega Ponzi (funny how the same names keep popping up hey).
Meta Bounty Hunters/Huntresses are built around cartoon NFTs that rip off Star Wars. Affiliates invested $2000 and $2500, and in return received a weekly ROI – referred to as a "reflection".
In October 2022 BehindMLM reader Shiraz claimed that Holton Buggs was pumping Meta Bounty Hunters and Huntresses investor funds into The Traders Domain.
What their not telling you is the funds in the liquidity pool are being traded by 2 firms. The traders domain & FX Winning.

There are keeping the majority of the profits and paying out a small fraction as reflections.
I didn't think too much of this at the time. Meta Bounty Hunters and Huntresses were obviously a Ponzi schemes – and I couldn't verify The Traders Domain attachment either way.
What jogged my memory was a post on the TradersDomain subreddit I came across today. Attached to that post, representing how Ted Safranko runs The Traders Domain, was this slide: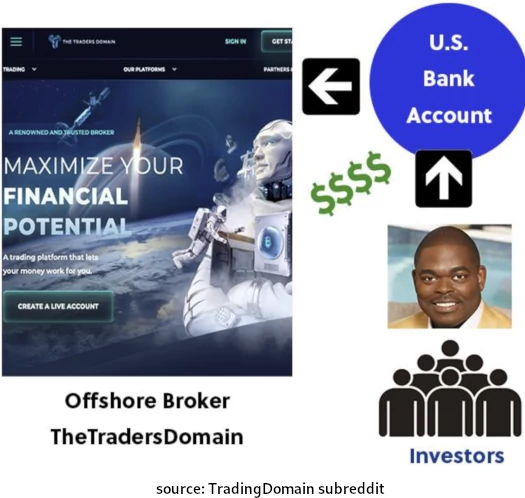 Buggs isn't mentioned by name but I obviously recognized the face. That prompted me to revisit our Meta Bounty Hunters and Huntresses and revisit Shiraz's comment.
Interestingly enough if you follow the linked comment thread, on October 31st Daz posted;
Traders Domain are delaying withdrawals. this will now affect Meta Bounty hunters paying out to the members soon.
On January 28th Sam confirmed that Meta Bounty Hunters and Huntresses weekly returns were "slowed down" towards the end of 2022.
This was in response to "Just a guy", who on January 27th reported that weekly returns stopped altogether about two weeks prior.
This fits The Traders Domain's collapse timeline (withdrawal problems throughout Q4 2022 and then the January 2023 collapse).
Since Meta Bounty Hunters' and Huntresses' collapse, there has been a coordinated effort to block complaints from investors.

I can't confirm this but I also believe The Traders Domain might have been pushed directly onto iBuumerang affiliates through their Elev8 forex offering (specifically Diamond and higher ranked affiliates in a private WhatsApp group).
iBuumerang is another MLM company Holton Buggs owns. Although not specifically a Ponzi scheme itself, these days iBuumerang is used as a vehicle to push crypto related securities fraud onto unsuspecting affiliates.
Whether, like Frank DiCrisi, Holton Buggs and Travis Bott were involved in the money laundering side of The Traders Domain is unclear.
What is clear is we have documented MLM company owners profiting off funneling their affiliates into The Traders Domain Ponzi scheme – thus committing securities fraud themselves.
Batched is a little bit questionable, but it's likely Frank DiCrisi was also pitching investors. At the very least he appears to be part of The Traders Domain's money laundering chain.
Because I know this is a hell of a rabbit hole to follow (I have the headache to prove it), here are the bullet point takeaways from this Ponzi mess:
Batched investor funds appear to have been commingled with The Traders Domain investor funds, through Savvy Wallet, Fireblocks and possibly Evolve Bank accounts;
Oscar Garcia, whilst committing securities fraud through Batched, is claiming ignorance of The Traders Domain integration;
Batched COO Frank DiCrisi appears to have been running the money side of Batched and overseeing the Ponzi side of the business (what Garcia refers to as "accounting");
Gregory Baum and (son?) Jake Baum were/are knee-deep in The Traders Domain Ponzi fraud;
by virtue of being a plaintiff in the OC Superior Court Batched case, Gregory Baum appears to have ties to the Batched Ponzi scheme;
Jake Baum is/was in bed with Dan Putnam's Ponzi exploits, going so far as to recruit whoever he could into The Traders Domain as LurraLife collapsed;
Holton Buggs and Travis Bott, an associate of Dan Putnam, used The Traders Domain to run their own Meta Bounty Hunters and Huntresses Ponzi schemes through;
iBuumerang affiliates (Diamond and higher) have likely been recruited into The Traders Domain directly;
The Traders Domain, which pitched returns as high as 482,582% in under two years, began to collapse in mid to late 2022; and
The Traders Domain collapse in turn collapsed Oscar Garcia's Batched,  Jake Baum's LurraLife recruitment efforts and  Holton Bugg's and Travis Botts' Meta Bounty Hunters and Huntresses Ponzi schemes
The regulatory fallout from The Traders Domain and associated MLM companies and owners has yet to play out. All we know for sure at this point is the SEC is actively investigating Batched and Oscar Garcia.
I suspect at some point Frank DiCrisi will be a named defendant, or voluntarily start cooperating with the SEC. That will likely provide an inroad to The Traders Domain, which in turn could kickstart a broader investigation into Holton Buggs and the Baum family of scammers.
Dan Putnam might also get a revisit, although his Ponzi fraud SEC settlement post-dates Jake Baum's LurraLife crossover with The Traders Domain.
And of course this assumes the SEC and/or CFTC aren't already investigating The Traders Domain, which we can't confirm.
Outside of the Ponzi schemes, Evolve Bank & Trust might also have a case to answer to if they failed to detect and report suspicious activity.
There's no timeline for what happens next but we'll keep you posted on any updates.