A successful content strategy is essential for businesses looking to engage with their target audience and achieve their marketing goals. From defining your target audience to creating and distributing content, there are several key steps to developing an effective content strategy.
In this article, we'll outline these steps and provide tips and tools to help you create a winning content strategy.
The steps covered here are:
Target Audience
Content Goals
Formats
Keywords
Calendar
Distribution
Measurement
Improvements
Engagement
Ready to create a successful content strategy? Let's get started!
But first, have you considered who your target audience is? 
Understanding your ideal customers, their pain points and how they consume information is a critical step in the content creation process. 
How Can You Define Your Target Audience? 
You should start by performing market research and analysing data from your current consumer base to identify your target audience. 
You may use this information to better understand your consumers' demographics, requirements, and purchasing motivations.
For instance, by examining the demographics of your clients, you could find that the majority of them are young professionals between the ages of 25 and 35 who are seeking a practical, cost-effective answer to their problems.
You can modify your material to match your target audience's particular requirements and preferences after you have a firm grasp of who they are. By properly addressing their pain points, you can develop content that connects with your audience and increases the probability that they will engage with it and convert.
Depending on your business, you could have as few as one or two personas or as many as 10 or 20. 
What Do You Want Your Content to Achieve?
Next, let's focus on your content goals. 
Defining the goals you want your content to achieve is an important step in creating a successful content strategy. Make sure your targets are measurable, to ensure your content is aligned with your overall business objectives and supports your marketing efforts. 
Plus, you can track and optimise your content strategy based on your defined goals.
Establishing goals for content is similar to setting a compass to guide you on your journey. You need to know where you want to go and in which direction you should travel in order to reach your desired destination. 
Just don't forget to pack a snack or two so you don't get hungry on the way there!
Examples of content goals include:
Lead generation: Focus on content that generates leads and drives traffic to your website, such as whitepapers, webinars and case studies.
Brand awareness: Creating content that raises awareness about your brand and its values, such as brand storytelling and influencer marketing.
Thought leadership: This will position your business as a thought leader in your industry, such as expert interviews, research papers and opinion pieces.
Engagement: Creating content that encourages interaction and engagement with your audience, such as social media posts, quizzes and polls.
Now that you have defined your content goals, it's time to choose the right content format. 
Choosing Content Formats
Different formats are better suited for different goals and target audiences, so pick formats that resonate the most with these. 
Using a mix of formats can help you reach a wider audience and keep your content fresh and interesting.
That said, too much variety can also be confusing for your audience. You don't want to overwhelm people with too many choices, so it's important to find a balance that works for you and your audience.
Examples of content formats include:
Blog posts: Long-form written content that can be used for thought leadership, brand storytelling and lead generation.
Videos: Engaging visual content that can be used for product demos, customer testimonials and thought leadership.
Infographics: Visual content that presents information and data in a digestible format, ideal for thought leadership and brand awareness.
Social media posts: Short-form content that can be used for brand awareness, engagement and lead generation.
Identifying Keyword Opportunities
Research keywords and phrases relevant to your target audience, and optimise your content for search engines to improve visibility and drive organic traffic.
To identify keyword opportunities, you can use tools such as Google Keyword Planner, SEMrush and Ahrefs to research keywords and phrases that are the most relevant.
For example, with the Google Keyword Planner, you can enter a seed keyword and the tool will generate a list of related keywords and phrases, along with cost-per-click (CPC) estimates and the search volume for each keyword.
Don't forget to optimise your content titles, headings, subheadings and meta descriptions, making it easier for search engines and users to understand the content and its relevance.
According to research, 53 percent of all website traffic comes from organic search.
Develop a Content Calendar
Establish the themes, formats and goals for each piece of content and plan your creation and publishing schedule. 
Developing a content calendar ensures that you have a mix of content types and that you're consistently publishing fresh, relevant content.
Just make sure you don't get too caught up in the planning process, or you'll never actually create any content!
Additionally, planning your content in advance can help you stay organised and ensure that you're not missing any important deadlines or opportunities.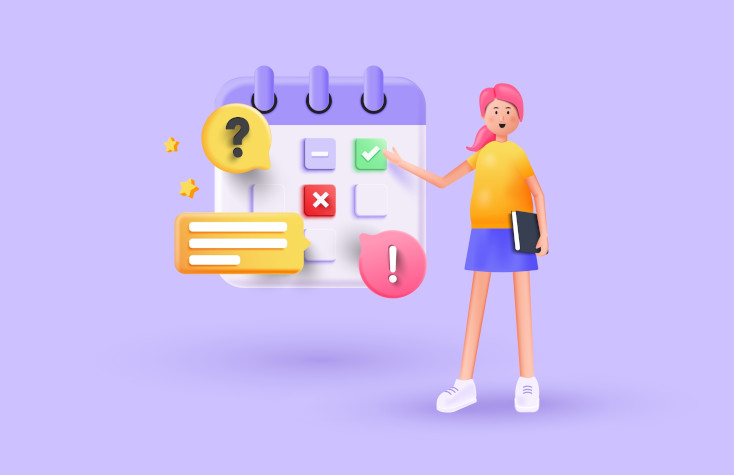 Create and Distribute Your Content
Finally, it's time to create and distribute your high-quality content. Utilise tools like Canva, Adobe Creative Suite and Hootsuite to help with the design and distribution. 
By sharing your content through relevant channels, you can reach a wider audience and improve your online visibility.
For instance, when using Hootsuite, you can easily share your content across several platforms, such as Facebook, Twitter and Instagram, with just one click.
Measure and Evaluate Performance
This step involves tracking key metrics, such as traffic, engagement, leads and conversions. You can use tools like Google Analytics, SEMrush and Hootsuite to track and analyse key metrics. 
This data can then be used to make informed decisions about your content strategy, optimising your content for better performance and continually improving your results over time.
Content enables the sales cycle and the data suggests that 47% of buyers view 3-5 pieces of content before they talk with a sales rep.
Continuously Improve
Creating a successful content strategy requires continuous improvement and optimisation. Regularly revisit and refine your content strategy, testing new approaches and formats, and making informed decisions about your content creation and distribution.
Additionally, you can experiment with new approaches and formats, testing and refining your content strategy until you find what works best for your business and target audience. 
The three main types of content marketing strategies are thought leadership, lead generation and SEO.
Engage with Your Audience
Encourage interaction and engagement through calls to action, comments and social media interactions.
Engaging your audience through your content involves building relationships with them. So, don't be afraid to reach out and start a conversation, because you never know who you might meet…online, of course.

Here are some ways you can do that:
Ask for feedback: Ask your audience for their thoughts and opinions on your content and actively engage in discussions with them.
Respond to comments: Respond to comments on your content, especially on social media. This shows your audience that you value their opinions and are committed to engaging with them.
Create interactive content: Create content that encourages your audience to engage with your brand, such as quizzes, polls and contests. This can help increase engagement and build stronger relationships.
Chat with your audience on social media: Regularly engage with your followers on social media by responding to comments and messages, sharing their content and starting conversations. 
Additionally, you can gather valuable insights about your target audience, which can inform your content creation and distribution efforts.
Conclusion
By following these key steps and using the tools and strategies outlined in this article, you'll create a successful content strategy that drives engagement, conversions and overall success for your business.
Remember to also conduct regular evaluations and make adjustments as needed to ensure that your content strategy continues to meet the changing needs of your target audience and business.
According to HubSpot, 82% of companies report using content marketing.
However, it is important to note that no two businesses are the same, and what works for one business may not work for another. After all, one size does not fit all, even when it comes to content marketing!