AMZDoge surfaced on or around September 2022.
The scheme operated both as AMZDoge and GeoDoge, operating from two primary domains:
geodoge.com – private registration last updated on December 12th, 2022
amzdoge.com –  privately registered on September 14th, 2022
Following AMZDoge's collapse earlier this month, both previously accessible websites have since been disabled.
AMZDoge's Ponzi premise was the usual automated trading nonsense.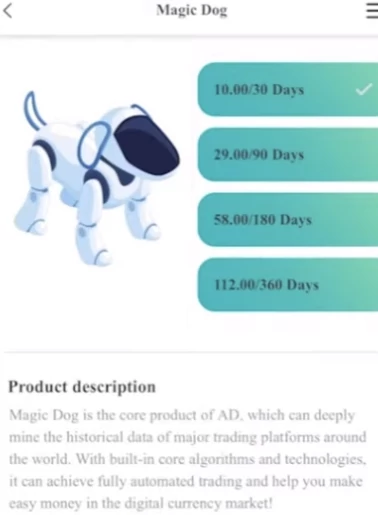 In line with its website theme, AMZDoge named its fictional trading bot "Magic Dog".
Magic Dog is the core product of AD, which can deeply mine the historical data of major trading platforms round the world.

With built-in core algorithms and technologies, it can achieve fully automated trading and help you make easy money in the digital currency market!
AMZDoge charged $10 a month to access its Magic Dog investment scheme. Once that fee was paid, affiliates were able to invest tether (USDT).
AMZDoge marketing videos represented affiliates could expect 25 USDT every 2 hours on a 10,000 USDT investment. This comes to roughly 3% a day.
AMZDoge charged a 30% fee on all withdrawals.
On the MLM side of things, AMZDoge paid referral commissions down five levels of recruitment:

AMZDoge's referral commission rates started at 10% on level 1 (personally recruited affiliates). This dropped to 2% on level 5.
On or around February 13th AMZDoge disabled withdrawals. On February 14th AMZDoge came up with a "tax audit" exit-scam ruse:
Because AMZDoge is conducting a tax audit, after the audit is passed, you can withdraw money!

Thank you for your cooperation.
Withdrawals remained disabled, up until AMZDoge's websites went down on or around February 24th.
AMZDoge was run via an app interface, which strongly resembles similar Ponzi schemes originating out of Asia. Language AMZDoge communicated in also suggests non-native English speakers were behind the scam.
Traffic analysis from SimilarWeb reveals AMZDoge peaked shortly after launch. Recruitment then promptly collapsed.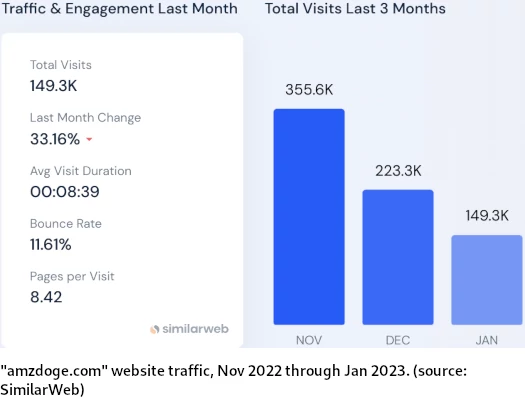 GeoDoge's website had far more visits. December 2022 saw a 50% slump, which then picked up again in January.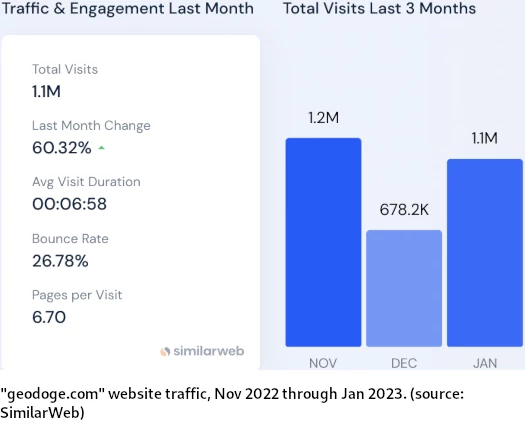 If I had to guess February was likely down again, which prompted the collapse and exit-scam.
Total AMZDoge victim numbers and how much they lost remain unknown.
SimilarWeb tracked top sources of traffic to "amzdoge.com" as Australia (47%), Lithuania (15%) and Greece (8%).
Traffic to the "geodoge.com" primarily originated from Spain (23%), the US (12%), the UAE (10%) and Belarus (9%).