Following months of financial uncertainty, Isagenix has been sold to a group of undisclosed investors.
Isagenix's financial troubles have been brewing in the background for a while.
This is from a September 2022 Moody's report;
Moody's believes a deterioration in member base and weakening consumer demand is contributing to revenue declines, which combined with inflationary cost pressures is leading to significant EBITDA erosion.

Isagenix's cash on hand of $19 million as of June 2022 is insufficient to repay the $29 million of revolver borrowings and term loan amortization of $18.8 million over the next 12 months.

Moody's anticipates ongoing headwinds in the company's recruiting efforts to continue.

Isagenix's current capital structure is unsustainable, prompting Moody's expectations of a rising likelihood of near-term restructuring and that the company will unlikely be able to raise sufficient new funds to refinance the maturing debt at a manageable interest cost.
That predicted restructuring was announced by Isagenix on February 27th;
Isagenix International … announced today that it has reached a definitive agreement with an ad hoc group of the Company's investors to secure the long term future of the business.

This agreement, also known as a Restructuring Support Agreement or "RSA," marks the positive culmination of discussions between the Company and its key financial stakeholders to recapitalize and support the business, eliminating approximately $130 million in senior secured debt.

Under the terms of the RSA, the Company's investors will take a controlling stake in the business. (The) Coover family … will maintain minority ownership.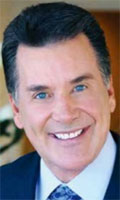 In addition to the cash injection, Isagenix co-founders Jim (right) and Kathy Coover are contributing
$95 million of value through the combination of new contributed cash and the forgiveness of debt.
Isagenix has also secured an additional $130 million in debt reduction from other secured lenders.