For small businesses looking to improve their CRO in the new year, it could be time to head back to the drawing board. Investing time into getting to know your demographic and retesting your strategy in a modern market could drive future success.
22% of businesses are not pleased with their conversion rate in 2023. With an influx in ecommerce competition rendering it harder to make customers stick, it's no surprise that conversions are low and bounce rates are high.
For small businesses looking to improve their CRO in the new year, it could be time to head back to the drawing board. Investing time into getting to know your demographic and retesting your strategy in a modern market could drive future success.
Stick with us as we jump into the benefits of prioritising user testing and market research in a CRO strategy and reveal why it shouldn't be overlooked.
Addressing CRO Struggles in 2023
It's no secret that ecommerce competition is on the rise. In a post-Covid landscape, there is no such thing as a 'new idea'. In fact, it's almost guaranteed that any product or service you can think of is already being manufactured and sold by at least ten companies.
Increasing conversions has become a top priority for all online marketers, especially in a mobile-first era. As online retailers battle it out against social media shopping and an online generation that will bounce off of a site in just 3 seconds, it's no surprise that lead generation has become tricky.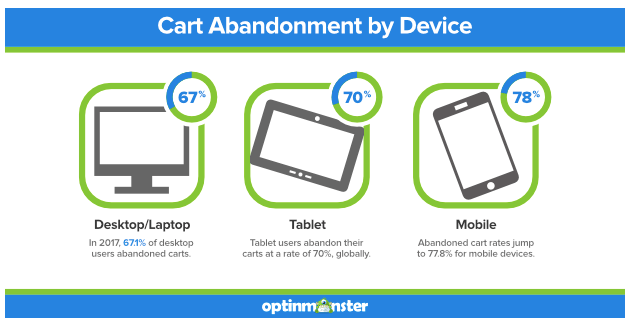 (Image Source: Optin Monster)
In fact, cart abandonment rates for mobile users alone, are at 78% in 2023. With more people tapping into the internet via a smartphone device, the ecommerce sites of the future must be fast loading and quickly grab a consumer's attention if you want to be in with a chance of a conversion. 
Going Back to the Drawing Board
For many, it's time to go back to the drawing board. By that, we mean it's time to take a step back from campaigning, SEO keyword searches and social media content creation and look at the big picture.
What does your market currently look like? Who are your consumers? And how can you use these two factors to your advantage? 
82% of marketers claim that they struggle to track and test their conversion rates against market trends. This is often down to a lack of research conducted and little to no knowledge of their ever-changing demographic. Staying ahead of the market curve is everything in the current ecommerce climate. 
Taking time to test products on a personal level and conducting research that generates the perfect consumer profile makes it easier to create targeted campaigns that will draw in conversions. If you know what your market and consumers want, you'll be able to give it to them and reap the benefits.
What is Market Research?
So what is market research? In short, market research is conducted by a company to find out more about its target market and target consumers. Using this information, businesses can design products that are likely to appeal to their consumers' needs and craft a lead-generating strategy that is likely to boost conversion potential.
There are two types of market research, qualitative, which focuses on a more human, behavioural approach such as user experience, and quantitative, which looks directly at the data such as website clicks and engagement stats.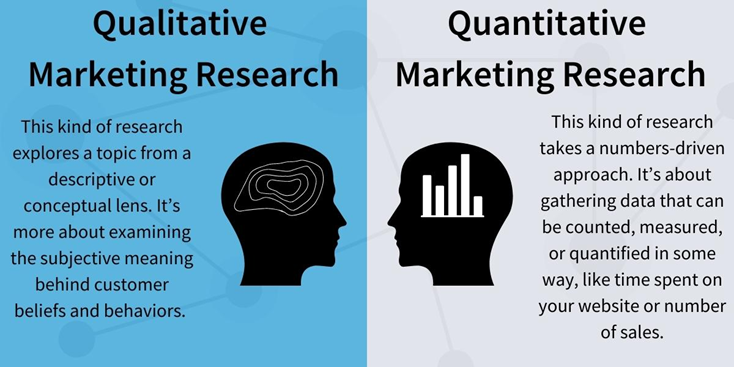 (Image Source: Demand Jump)
Without researching your market, it's impossible to connect with your users. Driving conversions is all about creating the best experience for your consumers. Without a consumer-centric approach, campaigns fall flat, and products stay on the shelves.
"Whoever gets closer to the customer wins," says Bernadette Jiwa, Founder of The Right Company.
The Benefits of User-Targeted Market Research
Taking market research one step further, user-targeted testing has become a cost-efficient fast-pass to better conversion rates for many marketing teams. 
While quantitive methods are still valuable, it's vital that you delve further into your demographic profiling if you want to see them as more than a number. User-targetted research favours a behavioural, 1-2-1 approach that aims to directly connect with target consumers and learn more about what they are looking for from your brand.
Although it may take longer, these types of research can be conducted on a less frequent basis than analytic tracking, for example, but they are still essential steps that shouldn't be forgotten about during the research process.
Here are some of the key user-targeted research methods your company should be incorporating into their CRO strategy. 
The 1-2-1 Interview 
1-2-1 interviews allow a company to sit down with a random selection of consumers from their target market and receive detailed feedback on a product/service and their approach to the industry market.
This form of user-targeted research is one of the easiest, cost-effective strategies for companies that are just starting out. Exploring your consumer's concerns in a focused environment is a great way to get the ball rolling.
The key here is to talk like a journalist rather than a business leader. Don't ask leading questions, and allow the consumer to steer the conversation in their own direction. This will ensure that your own biases don't infiltrate the interview, leading to a more natural result. 
Speaking directly to a consumer can build a new level of empathy for their experience with your brand. Whether you meet in person or via video chat, this is one of the most insightful research methods a business can use.
Site Surveys
One qualitative research method you will have heard about is site surveys. Feedback forms may appear dated, but they still exist for a reason. As an inexpensive and easy research campaign to conduct, they are one of the most common market research techniques. 
Surveys allow you to ask your site customers open and closed-ended questions about anything you'd like. This can range from their user experience or a review of a particular product you're selling. 
Today, an astounding 90% of market researchers claim that they use online surveys on a regular basis.
However, as we step into a mobile-first generation, it's vital to make sure your surveys are fast loading and optimised for smartphone users.
(Image Source: Statista)
As you can see here, 60% of marketers use mobile surveys on a regular basis, and that number is quickly climbing.
In order to serve large influxes of mobile traffic, make sure your mobile surveys prioritise user experience. If they are not optimised for a smartphone screen, many users will bounce before they fill in the first question. Before creating a mobile-based survey, make sure your site is hosted on a secure web host server and can maintain a large bandwidth. 
Observational Research
The 'fly-on-the-wall' approach is also perfect for a company looking to circle in on product-based research. Conducting a customer observation session is a great way to see how someone would interact with a product before putting it out on the site.
This can offer a company the purest data that informs the manufacturing process and even the marketing process. If user issues are detected early, a product/service can be tweaked so that when it goes live, it will perfectly address the needs of its target consumers.
This alone is an excellent way to boost conversion potential. Taking time to perfect a product will mean that its release will draw in more good reviews, encouraging higher levels of sales within its desired market.
"Data is really good for discovery and validation, but there is a bit in the middle where you have to go and find the human." Says Kristina Wagner, Interaction Designer at Smallpdf.
Is it Time to Take a Step Back?
As companies move forward within the market, it becomes even more important to keep taking a step back and reviewing their target demographic's needs and gratifications.
Online consumers are constantly evolving, which means your CRO strategy must keep maturing in line. Pouring focus into user-led qualitative and quantitative research will always put your business ahead o the curve and, more importantly, its competitors.
The company closest to its consumer always wins.