How can marketers use heatmaps to take their strategy to a new high? While analytic programs feed us with numbers, it's time to start visualising that data if you want to quickly pinpoint what needs to change.
According to Search Engine Journal, half of all marketers report that organic search drives more ROI than any other marketing channel. 
On the back of 2022's rising competition for site engagement, search engine optimisation should not be forgotten when constructing an effective marketing strategy for your startup. From content call-to-actions to traffic-driving keywords, SEO remains essential in the battle to boost site ranking.
The question is, how can marketers measure their success? While analytic programs feed us with numbers, it's time to start visualising that data if you want to quickly pinpoint what needs to change.
Stick with us as we jump into the world of heat mapping and reveal why it could take your SEO strategy to the next level. 
Addressing SEO Competition in 2023
It's no secret that SEO competition is on the rise. With over 1.72 billion functioning websites on Google's search engine in 2023, the chances of standing out as a small business startup don't look great.
In fact, there are now a whopping 4.9 million searches per minute, compared to just 3.8 million in 2016. The post-pandemic digital push has seen more consumers and companies move online than ever before. Driving mobile commerce trends and a new remote future for the corporate sector, it's no surprise that 1 in 5 sites now fail within their first year of operation.
(Image Source: Edge Of The Web)
As you can see here, over half of all Google searches now come from a mobile device alone.
Moving forward, SEO strategies must adapt to a smartphone-centred future and be constantly changing to meet consumer trends and demands. 
This change all starts with tracking your site analytics. Using data visualisation tools such as heatmaps, marketers can quickly identify what areas of the site their users are engaging with, and which areas are receiving no clicks at all. 
Heading back to the drawing board is the key to making informed strategic moves and seeing those ranking scores rise. 
Could Heat Mapping be the Key to Site Success?
Did you know that the first listing in a Google search receives up to a third of all user clicks? If you want to make sure your site is in with a chance, it's imperative that you know what your users are looking for.
Using a heat map, marketers can quickly highlight areas of densely populated clicks and site pages that have been left untouched.
As explained by Search Engine Journal, "heatmaps measure user behaviour on a scale from red to blue, with the warmest colour indicating the highest level of engagement and the coolest indicating those areas with the lowest engagement levels."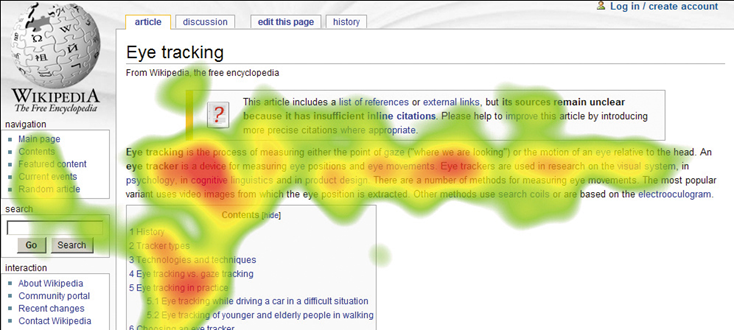 (Image Source: Return On Now)
From scroll maps, to click maps to hover maps, you can measure anything from content clicks, to how long a consumer hovers over site text. 
Not only is this a great data visualisation tool, but seeing warm and cool site spots can help highlight keywords performing well, the success of site imagery and visual content and even the products/services your target demographic loves the most.
Using this data to inform your next steps for UX design, content creation, and keyword curation could see your site engagement on the rise and your conversions skyrocketing.
In fact, ecommerce giant, Amazon, has raked in over 70% of its conversions using a heat mapping method. Monitoring user behaviour and intent, the retailer quickly identifies the products with the most engagement, strategically placing them on a customised consumer landing page.
Want to learn more about how you can use heatmaps to boost your own conversions? Here are some of the easiest ways to use heatmaps in your marketing strategy.
Learn About User Intent
If you're taking your SEO strategy back to the drawing board, your audience is the first place to look before jumping into content creation and site structure.
Taking time to learn more about your demographic's values and behaviours will put your business in a great position when creating content targeting their demands. Whether you engage in social listening or choose to consult analytics, heatmaps are a great addition to a consumer-focused SEO strategy.
Using heatmaps to your advantage, you can quickly learn about user intent. What do your consumers care about? Where are they dropping off? Heatmaps can help you answer these questions simply by highlighting areas of increased and decreased engagement.
For more interactive sites, click maps are also a great source of consumer information. Highlighting areas of button-based engagement, marketers can easily highlight the call-to-action click points performing well and insert more of them sitewide.
This data is essential when planning PPC campaigns, UX design strategies, and of course building an online store. Knowing what your consumer wants is the single most powerful factor in any SEO strategy and will keep those engagement scores rising.
Optimise Your UX Design
Once you've learnt about your key targets, it's time to build a site that prioritises a seamless, user-focused experience, especially if you want to see more red than blue on a heat map.
The problem is, there are hundreds of factors that can contribute to a poorly performing or highly engaging UX design. From a complex navigation flow to a lack of a decent web hosting platform, learning how to design a website that'll make users stick can be tricky.
This is where heatmaps come into play. When playing around with a landing page structure, heatmaps are great tools to use in the A/B testing stages. As you mess around with image positioning and heading placement, using a heat map to measure the success of a design side by side can visually highlight what is working and what is not.
Take this site as an example. As you can see below, the first version of this ecommerce landing page has a front-facing picture of a baby, which quickly becomes the most powerful element on the page.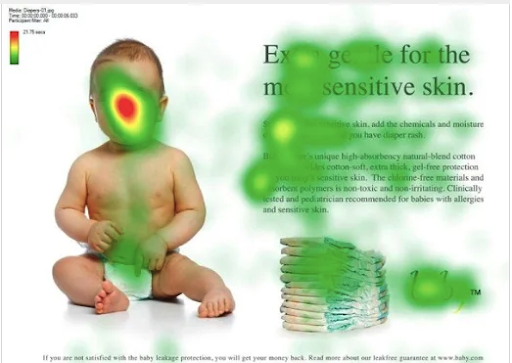 (Image Source: VWO)
Using a heatmap to discover the greatest source of engagement, landing page number two instead uses a picture of the same baby looking directly at the text. Using this method, you can see the engagement quickly falls on the page information, which will be full of consumer call-to-actions and site keywords.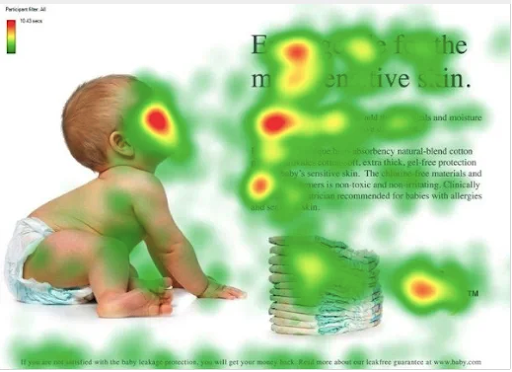 (Image Source: VWO)
Using side-by-side heatmaps is a great way to boost your UX potential. As you continue to prioritise user experience design, you'll quickly see your clicks climbing and your SEO score rising.
Combine Heatmaps with Your Feedback Findings 
Heatmaps are great at identifying points of friction in a site's design. Combining your heatmap findings with your audience feedback will quickly build a robust SEO strategy.
The key here is to first highlight your site issues using a heatmap sensor. After identifying the pages that need the most work, use your heatmap findings to inform the questions you could ask on an on-site survey.
Ask questions about what your user would change about their experience. What might they add? What content did they find the least engaging? 
At least 75% of all consumers revealed that they were happy to answer survey questions about their site experience. Gathering work-of-mouth feedback is one of the best sources of data for future strategic planning. Using heatmaps to enhance the questions you ask is a great way to make sure your feedback is useful moving forward.
The SEO Trends of Tomorrow 
As we step into an online future, a marketer's SEO strategy is their ticket to site success. With over 90% of all consumer clicks attributed to just the first five results in a Google search, it's vital that your site ranks highly for a niche category or keyword.
Moving forward, mobile optimisation looks to be the trending focus for smart marketers. Jumping into a new era of smartphone-centred design and content, heatmaps will continue to play a key role in gathering important site analytics.
Those that stay on top of their site data and user engagement trends will be able to adapt much quicker to the ever-changing SEO strategies of tomorrow.