VidiLook's collapse has gone from bad to worse, following news over 10,000 investor accounts have been disabled.
KYC has also been implemented to keep disabled accounts inactive.
VidiLook collapsed on April 21st, following disabling of withdrawals. Owner Sam Lee's initial ploy was acquiring VidiLook from himself.
To that end an audit was announced, with an open ended timeframe. In an April 22nd announcement, VidiLook additionally informed investors it had disabled thousands of accounts.
Over 10,000 accounts have been disabled due to suspicious activity.

If you have a disabled account, you will have 14 days to correct all violations.

If you are found to still have violations after 14 days, or if you have violations in the future, you will be permanently banned from utilizing the VidiLook platform.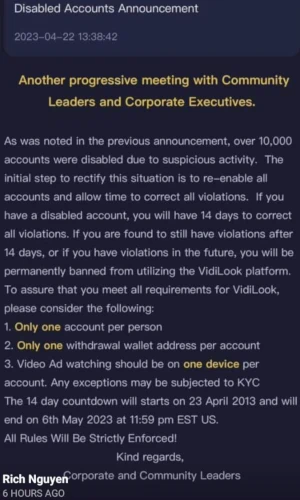 VidiLook's claimed "violations" appear to pertain to investors having multiple accounts. This wasn't a problem until VidiLook began running out of new investment to pay withdrawals.
Also not a problem is KYC, which VidiLook has only now implemented for investors wanting to claim an "exception".
Starting April 24th, VidiLook has given investors 14 days to either lose their accounts or provide KYC.
Handing over personal credentials presents its own problems, as VidiLook is run by Sam Lee and scammers in Dubai.
My take on VidiLook's recent announcement is they're hoping to cut out a chunk of withdrawals attached to disabled accounts. The intention is probably to reboot VidiLook at some point.
The problem for Sam Lee is disabling accounts doesn't solve new investment not coming in fast enough to pay out. Like all Ponzi schemes, VidiLook is juggling an impossible mathematical equation that inevitably leads to collapse.
Pending any further developments on VidiLook's collapse we'll keep you posted.