The HyperNation Ponzi scheme has collapsed.
Circa February 28th, the scheme was rebooted as Satoshi AI.
HyperNation collapsing didn't come as a surprise. As one of two direct Hyperverse Ponzi reboots (HyperOne collapsed in September 2022), HyperNation was mostly filled with HyperFund and Hyperverse victims.
HyperNation was built around the HNT shitcoin, which went about as well as you'd expect: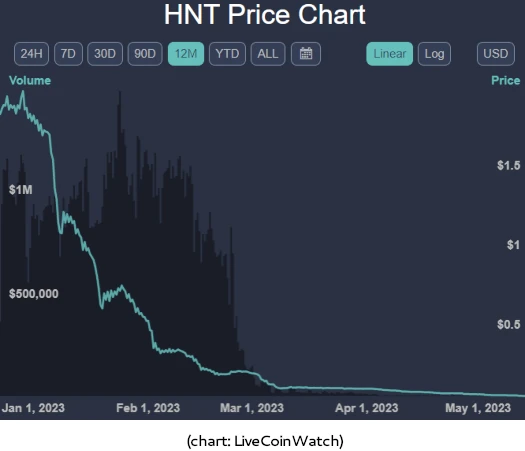 The last post to HyperNation's official FaceBook page is dated February 12th.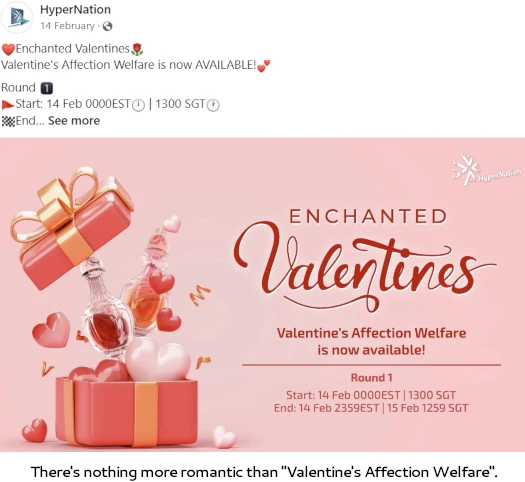 Satoshi AI's website domain was privately registered a week later on February 19th.
There is no mention of HyperNation on Satoshi AI's website.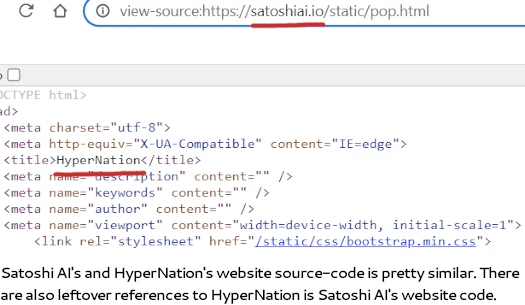 Instead of just being honest about HyperNation collapsing and Satoshi AI being a reboot Ponzi, the scammers framed the reboot as an "acquisition" of HyperLab.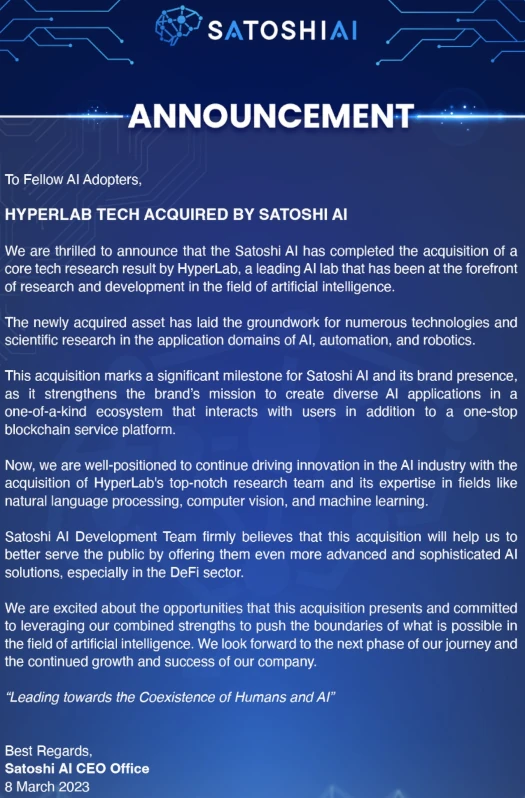 We are thrilled to announce that the Satoshi AI [sic] has completed the acquisition of a core tech research result by HyperLab, a leading AI lab that has been at the forefront of research and development in the field of artificial intelligence.
HyperLab was originally part of HyperNation's Ponzi ruse;
Technology taken from HyperLab is applied into every object within HyperNation, take for example, the physics of motion, the effects of pressure, and the rise and fall of temperature.

For those who don't know, HyperLab is a virtual research and development laboratory in HyperNation.
HyperLab now appears to have been retconned into HyperNation's parent company.
As the name suggests, Satoshi AI is an attempt to grift onto the AI hypetrain. Although that hype has died down a bit since, keep in mind Satoshi AI launched back in late Feb to early March.
Gone are HyperNation's "Mr. H" and clowns in masks: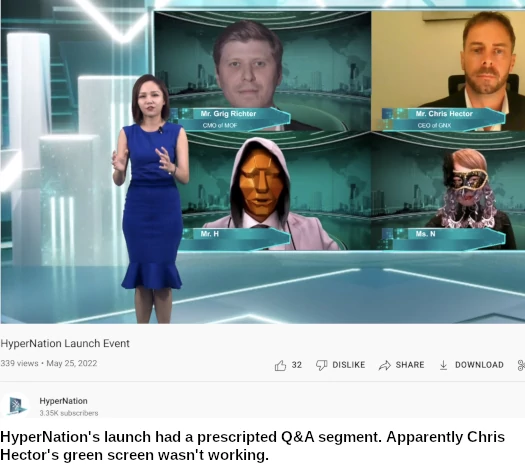 With Satoshi AI we've got a much more traditional Boris CEO setup with "Lars Lewis Haliburton".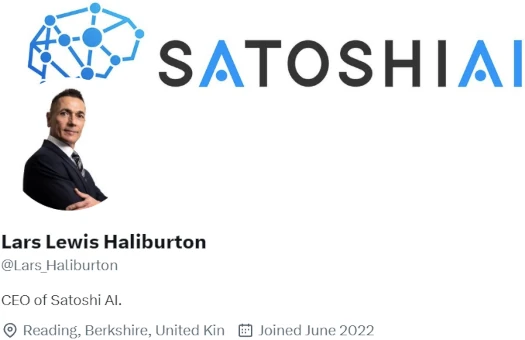 Naturally Haliburton doesn't exist outside of Satoshi AI's marketing. He has a few social media accounts, purchased/hacked on or around March 2023.
As best I can tell, the Haliburton is played by some UK expat living in Singapore.
Haliburton is flanked by "Nick Jing", purportedly an "independent board member of Satoshi AI".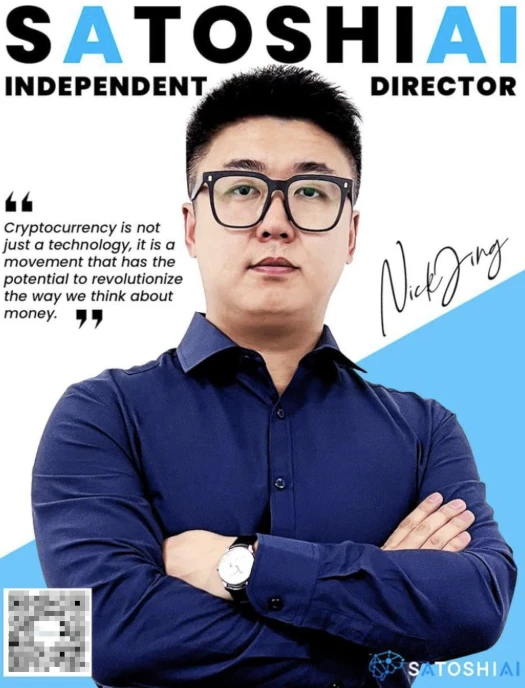 Jing, played by what appears to be a Singaporean local, also doesn't exist outside of Satoshi AI.
Jing's FaceBook profile was only created on April 15th, so it's likely also a bogus persona.
Satoshi AI are presenting Haliburton and Jing as going through a bromance: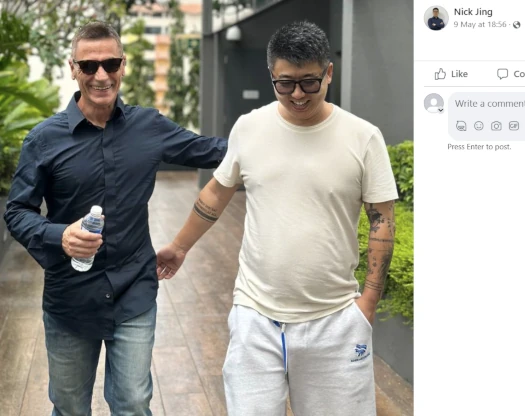 If that strikes you as odd, again I have to remind you these are the same scammers who thought clowns in masks to sell NFTs was a good idea.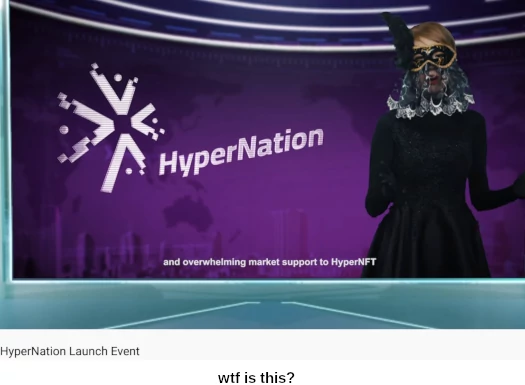 Satoshi AI's investment scheme is simple. Early investors, migrated over from HyperNation, invest in "delegate" positions: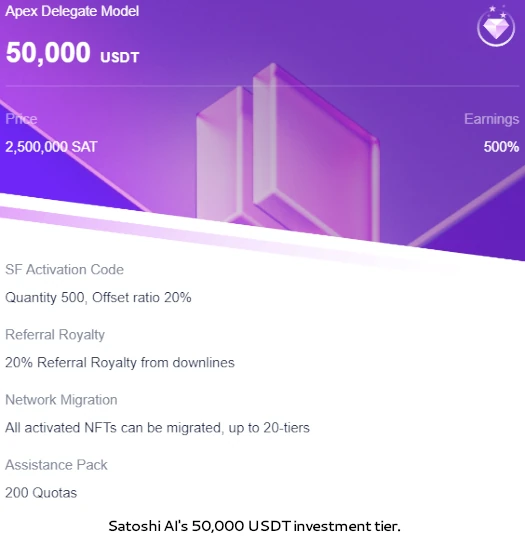 Quantum Delegate – invest 5000 USDT on the promise of a 350% ROI, receive 250,000 SAT and HyperNation victims imported down ten levels of recruitment
Nexus Delegate – invest 20,000 USDT on the promise of a 400% ROI, receive 1,000,000 SAT and HyperNation victims imported down fifteen levels of recruitment
Apex Delegate – invest 50,000 USDT on the promise of a 500% ROI, receive 2,500,000 SAT and HyperNation victims importe down twenty level of recruitment
"SAT" refers to Satoshi AI token, of which Satoshi AI has created 20 billion out of thin air.
Referral commissions are paid on recruited HyperNation victims down three levels of recruitment (unilevel):

Quantum Delegate tier affiliates receive 16% on level 1, 3% on level 2 and 2% on level 3
Nexus Delegate tier affiliates receive 18% on level 1, 3% on level 2 and 2% on level 3
Apex Delegate tier affiliates receive 20% on level 1, 3% on level 2 and 2% on level 3
As of yet, Satoshi AI affiliate investment tiers have not been made public.
Also unclear are whether imported HyperNation downlines are compressed into three levels, or whether a twenty-level compensation plan will be released at some point.
Beyond different investment tiers, the only other change with Satoshi AI is swapping out HyperNation's NFT metaverse utopia bullshit for an AI grift.
Satoshi AI is committed to democratizing access to the benefits of AI and DeFi. As part of this commitment, the platform will be open to all during the beta and pre-testing stages.

The goal is to gather feedback and insights from a diverse community of users, which will be used to fine-tune the platform's functionality and features before the full product launch.
It's a ruse to facilitate investment into SAT, which is done on the promise of a passive "up to" 500% ROI.
Satoshi AI has been put together by the same team of scammers operating out of Singapore. Sam Lee's gone off with his collapsing StableDAO Ponzi schemes, so we can rule out his involvement.
Ryan Xu hasn't been seen since early 2021 – if he's behind HyperNation and now Satoshi AI, that information hasn't been made public. Personally I'm doubtful.
What I am confident in putting out there is who is behind HyperNation and Satoshi AI, quite obviously had ties to HyperFund and Hyperverse. The grift continues, targeting victims who lost money in both.
Whether Singaporean authorities make a move against Satoshi AI remains to be seen.