While it is still a relatively new phenomenon, the idea of socialising within an immersive environment has been brought to life by the metaverse.
Social VR has become of the key applications of immersive technology. Drawing people together from across the globe, VR's ability to transport users into their very own realistic virtual arena is quickly becoming a game changer in the online world. 
In fact, according to a report by Marketing Insights, the social VR market is tipped to grow at a 14% CAGR between 2023 and 2027, rendering it an essential player in the immersive tech revolution.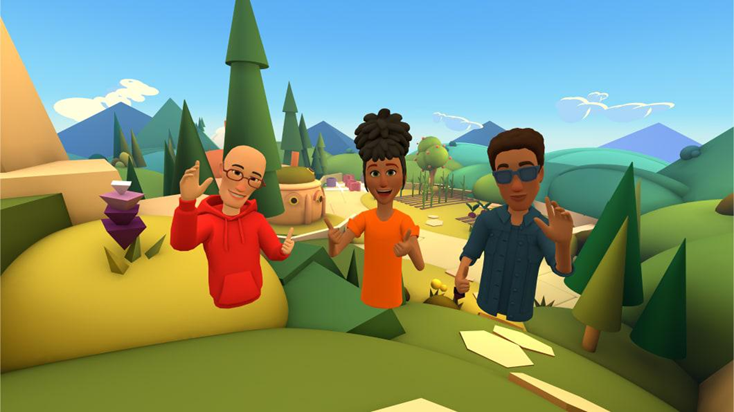 (Image Source: Forbes)
From removing divides of physical distance to aiding remote working, counselling and education, metaverse experts claim that the positives of social VR continue to outweigh the challenges.
The question is, could the ethical concerns surrounding social VR become the downfall of its success? Opening up users to harassment, discrimination and cyberdpendacy on a whole new scale has become a key talking point within the tech world.
Unlocking VR-Powered Socialisation
So what is social VR? While it is still a relatively new phenomenon, the idea of socialising within an immersive environment has been brought to life by the metaverse. Made up of platforms like Roblox, Fortnite and Minecraft, the metaverse may have sprouted within the gaming community, but it has since bloomed to become a social arena, holding live events, branded experiences and, of course, room for social interaction.
Social VR is defined as a VR experience that primarily focuses on socialisation. Acting as a hyper-realistic intersection between the physical and virtual world, users can jump into an immersive environment and feel as if they are socialising with their peers in person. 
"I believe the next phase of social media is presence," says Horizon Worlds developer Navah Berg. "Imagine a place where a brand can invite its brand ambassadors to try out a product without hopping on an airplane? A place brand can launch a press release without writing a press release but actually being there and sharing the news with a community of journalists in a get-together in social VR. There are so many opportunities for brands and content creators. I can't wait to see what happens next."
Today, users can become whoever they want to be in a VR world. With the ability to take self-expression to the next level, it's no wonder that the metaverse has become so popular. Without traditional social constraints, users who may feel isolated in the real world can quickly connect with like-minded peers from across the globe without having to reveal their true identities. 
In a VR-powered space, you can participate in social events, collaborative gameplay and even host a private meeting with a select group of users.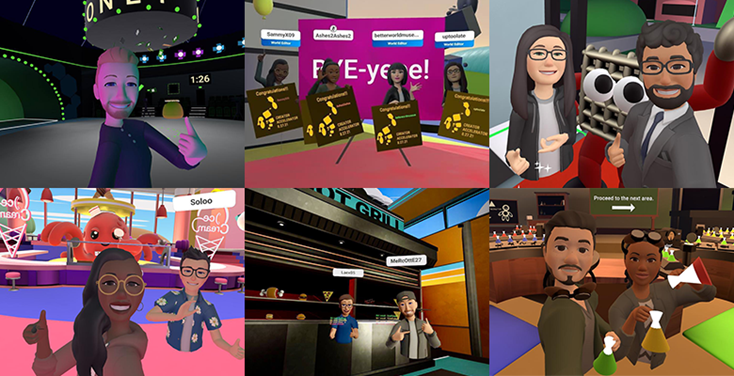 (Image Source: VR Scout)
This has opened doors for a number of industries. Take the platform AltspaceVR for example. Now acquired by Microsoft, this platform was a pioneer in social VR. Allowing any user to create a virtual space to bring a group of people together, it quickly changed the game during the pandemic. 
From remote workspaces, such as Microsoft Mesh's VR Campus, to LGBTQ+ friendly churches that allowed vulnerable groups to come together in a safe space. AltspaceVR really took social connection to the next level. 
The question is, as VR continues to open new doors for communication, could it also let in a whole host of unregulated dangers?
Are VR Socials Ethical? 
The idea of an ethical metaverse has become a wide topic of conversation within the VR/AR community. 
From data privacy to sexual harassment, just because we're socialising in a virtual world doesn't mean that we can't be victims of real-life ordeals. Take this 2018 study by Extended Mind as an example. 
A whopping 36% of males and 49% of females have reported experiencing sexual harassment in a VR-powered environment. 
With the ability to create an identity from scratch, VR socialisation takes traditional social media catfishing to a whole new level. If you can pose as any 'character' you want, how do we regulate innocent users from online predators?
Here are some of the key ethical concerns associated with the rise of social VR. 
A Concern for Child Safety
On the back of a recent report released by Common Sense Media, there are rising concerns surrounding the safety of children when using Meta's VR-powered headsets.
The report, titled 'Kids and the Metaverse' revealed that children are more than twice as likely to experience abusive language, sexually explicit content and even VR addition in the metaverse compared to adult users. 
On platforms such as Horizon Worlds and Fortnite, there is an open space for communication. Ppsiung as an avatar, it has never been easier for potential predators to achieve one-on-one communication with a minor. 
A Rise in Cybersickness
There has also been a rise in 'cybersickness'. As social environments become more immersive, so do their side effects. With the ability to physically interact with your surroundings and quickly transport yourself to a virtual world, it's no wonder that concerns for user addition are surfacing. 
Due to the fact that VR is so immersive and the stimulus on the brain is heightened due to it being a simulation, the possibility of getting addicted does increase," says VR Focus writer Callum Moates. "Users can become isolated and dependent on the use of VR. They can become antisocial and lose basic social skills, which can then form into social anxiety and other mental health problems."
With a rising mental health crisis shaping a social-media-driven generation, VR socialisation could only exasperate the negative effects of technology.
A Platform for Discrimination 
Just because users are socialising in a virtual space doesn't mean that they don't carry their own biases over to a digital platform.
With the ability to enter the metaverse as an avatar and construct your own perception of the 'ideal identity', virtual platforms instantly create a space for digital discrimination.
For example, a report by The Nifty found that female and dark-skinned avatars are less in demand by users across a range of social VR platforms. This raises concerns about equal representation in the metaverse.
In a world where you are encouraged to choose what you look like, users are able to hide behind insecurities and allow predisposed biases to navigate how they identify themselves. Not only does this echo real-world inequality but increases the probability of cyberbullying in a social VR environment. 
A Future of Ethical VR Socialisation
Could we be looking at an ethical future of VR socialisation? While there are many challenges to overcome, VR developers such as Meta are pioneering new platforms that aim to mitigate some of the effects of VR socialisation.
Introducing a new Horizon Worlds platform for teens ages 13-17, they hope to remove dangers for young users wanting to communicate in a virtual world.
"We're rolling out to teens slowly so that we can carefully examine usage and are taking a phased approach before expanding more broadly," says Meta. "We can't wait to see everything these new members of the community bring to Worlds."
While child-first innovations could help bring solutions to several privacy-based metaverse concerns, there is still a long way to go in terms of discrimination within a virtual environment.
As an extension of the real world, it may be impossible to create a platform that doesn't echo at least one physical concern. The question is, can the communication capabilities outweigh the challenges? Only time will tell.