Want to improve the productivity of the mobile app development process? Definitely go for outsourcing! Yes, this is true. Outsourcing is a trend in this digital competitive world. To take the benefit of skilled developers, and optimize the development process, outsourcing is one of the good ideas. What's better than saving time from designing, developing, and testing work and using that in the business core?
As everybody is well aware of the fact that mobile apps are the heart and soul of any online business. If you ask about the numbers, you will get shocked. Alone, the Google Play store has over 3.5 million apps with most of the market share of applications. And on the other hand, its competitor, Apple Store has over 1.6 million iOS apps. 
Huge… right!
Thereby, it is not hard to know 'how important mobile app development is?' If you really want to beat your competitors and survive for a long in this digital business world, having a great mobile app is a must. 
But this is not as easy to achieve as it looks. You have to get a tough mobile application to crack the market as everybody wants to shop online these days. Only with a fantastic-looking and strong working app, you can get good sales. But actually 'what is the business impact of mobile apps?' 
There are many answers to this question: 
It increases the business revenue.

It increases your market recognition. 

Make your business flow smoothly.

Enhances customer engagement. 
To achieve all this, you need a great mobile app. And outsourcing is one of the best solutions for it. Here, we will discuss 'why outsourcing mobile app development is a good idea?'
So, let's dive in to read some important reasons!
Why Outsource Mobile App Development?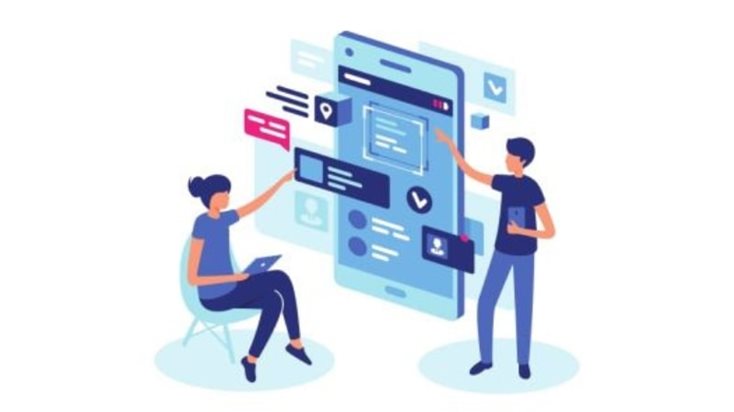 Outsourcing simply means getting the right company comprising experienced developers to develop your mobile application. There are many great benefits of outsourcing the mobile app development process. You can easily cut costs, save time, fasten the development process, and many more reasons are there. Let's read the 8 best reasons to know if outsourcing is right for your business.
Wide Area for Extensibility and Flexibility
Extensibility in terms of technical changes and flexibility in the form of staff is a great concern for businesses, especially smaller ones. Outsourcing will sort out this issue to a great extent in the coming years of your business. It lets you easily adjust the schedule of the developers as per the changes required.
You can also set the economic values of your business as per the need of the project. For example, if your company is going through a challenging period, you can hire developers as per occasional development needs. You can always get the required changes implemented in your project according to flexible requirements. 
You Can Get Your Project Done Before the Time
Speedy completion of app development projects is one of the good benefits associated with outsourcing. You can get instant developers and testers to work on your projects instead to waste your time on training them. You can make a smooth flow of the process as you can get professionals whenever you need. 
One of the most important aspects of outsourcing is lesser turn-around time (TAT) because of the deployment of maximum sources. Outsourced skilled professionals will deliver on an urgent basis as they earn per project. 
The main areas where you will save the maximum of the project's time are hiring and training of staff. The outsourced time-optimized development process can lead you to improvements in the follow-ups of the project. 
You Can Keep an Eye on the Primary Business
As per the last discussed benefit of outsourcing, you can save a lot of your precious time. And you know, 'time is money.' Consequently, you can use your time to keep an eye on your central business. This will definitely help you to manage the sustainability of the business.
If you are a business owner, whether naive or experienced, you very well know you can't balance multi-works. If you try to handle the app development issues, you can divert your mind from core business. 
Thus, if you outsource mobile app development, you can keep yourself away from recruiting, training, and development process. And you can focus only and only towards the expansion of the business. 
You Can Access a Larger Talent Pipeline
When you plan to outsource the app development project, trust me, the sky is the limit. This is true because when you search for temporary professionals, you can search worldwide, not only in your country. 
The only thing that you need to take care of is the potential of such workers, and here you are to catch a larger talent pool. They will work for you as soon as they like your project despite any employee benefits. They can work very efficiently and before the project's deadline. 
One more important benefit of this bigger talent pool is the advanced knowledge of tools and technologies as they work on global projects. This can clearly raise the standards of your mobile application. 
You Can Save Yourself to Purchase Software Licenses
As the world is getting more advanced day by day, there are numerous technologies and software to work with. And if you lack in using any of the desired software in your projects, you can fail at customer satisfaction. 
But the problem is purchasing all of this software. This can be a bit expensive when you develop your project on your own. That's why, outsourcing is the answer to this. 
When you outsource your projects, you are giving every responsibility to the developer's group or the company managing that team. They will deploy all the needed technologies, and software and their licenses as the advanced ones come with some premium. This will automatically save a lot of your time and money. In order to do this, outsourcing is cheaper comparatively.  
Post-Launch Services and Support Benefit
One of the greatest reasons to opt for outsourced mobile app development is getting support after the launch of the app. Every single thing in this world requires constant support and maintenance to work effectively whether it is a mobile app or a human body. If you can't supply healthy food and exercise, then surely the human body will suffer. The same is the case with computer or mobile applications. 
Your work doesn't end just after launching your mobile app in the market. You have to constantly update and maintain it as per customers' requirements. If you can't supply your customers with desired support and service, they may give negative feedback. This can be a major loss for your app. 
The good part is, outsourcing provides you with all such solutions. You can get continuous support and service even after the project deployment. The maintenance part of the whole development process will tackle this for you effectively. 
Take the Edge Off Any Kind of Risk
Avoiding risk is one of the benefits of outsourcing that usually go unnoticed. Risk is a usual part of any process or business. You can't save yourself from facing any kind of risk. But yes, you can protect yourself in advance to take the edge off of the risk. 
The team of third-party developers can save you in any risky situation as part of any unforeseen issues. Whenever you sign any contract with such parties, your risk is automatically transferred to them. They are solely responsible for mitigating the risks. 
They will overcome every problem coming in the way of the development process. They will tackle money constraints. They will tackle timelines and many more such things. The center point is, the outsourced team has to give you the best results besides having so many problems on their way. 
Make Your App More Secure
Lastly but most importantly, the more security of your mobile app. Security is one of the major concerns in this cyber attack time. And to provide security to the mobile app is necessary as it is a bridge between your business and users. 
Every business has some confidential data and it is super important to protect that information to save the company. 
As the thing associated with security is very serious, the team will try its best to protect it to any extent. Profit-oriented trading apps are more prone to hacking. And only a major and trustworthy outsourcing company can save you from such cases. 
So, if you are a business mobile app owner, outsource your development project to a reliable company. They not only provide you with strong security terms but also legal documentation that is up to the mark. They will surely keep a keen eye on your project. 
Parting Thoughts
Hope, all these reasons are enough why outsourcing mobile app development is a good idea. The overall benefit of giving your project in the hands of outsourced professionals is to create a more dedicated app. Because they are experts in their respective fields.
You just have to tell your requirements to them and you are good to go to have a great mobile app for your company. And most importantly, you will save money and time rather than wasting it on the things you don't know about!
Expecting you had a good read!