Three QNet executives have been arrested on pyramid scheme fraud charges in Hyderabad, India.
As reported by India Today on May 30th;
The arrested persons are G.Rajesh Khanna from Bengaluru, Maneesh from Himayathnagar and Syed Ajmal Mehdi Sajjad from Malakpet, who were found to be associated with two different companies including QNET (Vihaan Direct Selling India Pvt. Ltd), engaged in deceptive investment schemes.
An investigation by Hyderabad Police has led to twelve suspects being booked. The other company promoted is V-Empire, which Hyderabad Police claim is "Qnet's sister agency".
Qnet, a Hong Kong-based multi-level marketing (MLM) company, has been doing business by floating different companies to avoid coming under the scanner of security agencies.
So far 150 victims and Rs. 30 million in losses have been identified (~$362,745 USD).
Hyderabad's Police managed to trace 35 QNet related bank accounts containing Rs. 540 million (~$6.5 million USD). Those accounts and funds have been frozen.
In addition to QNet executives, Hyderabad police also arrested two QNet promoters.
In a separate case, Maneesh Katti and Syed Ajmal Mehdi Sajjad, who worked as marketing in-charges for the company and promoted two fraudulent schemes, was arrested.
The two scammers duped 44 victims out of ~$30,000 USD each. Hyderabad's Police have managed to track and freeze $786,030 tied to the promoters.
QNet operates in India through shell companies under Vihaan Direct Selling (India) Pvt Ltd.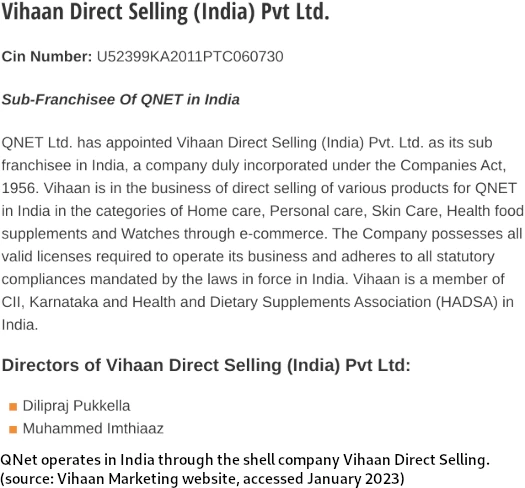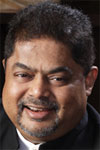 The company is run out of Malaysia by Vijay Eswaran (right).
Indian authorities began cracking down on QNet following civil protests in 2018.
Since then there have been multiple QNet arrests and millions seized, yet Indians continue to be roped into the pyramid scheme.
As of April 2023, SimilarWeb still tracked India as the primary source of QNet web traffic (41%). Recruitment into the pyramid scheme is also on the rise in Syria (7%), Germany (7%), the UAE (5%) and Russia (4%).
Russia issued a QNet pyramid scheme fraud warning in October, 2022.