You have probably heard that case studies are a powerful marketing tool that companies use to showcase their services and expertise. In our market, in Ukraine, they are used by everyone from hairdressers to high-tech IT companies. In this column, as a content writer for an advertising agency, I will explain this phenomenon and delve into what case studies are, the different types they can take, and how to write them. Throughout the article, I will draw on my own experience and reference materials in which I have been involved in writing.
What is a Case Study as an Article?
A case study is a genre of commercial content in which the author describes a specific project or work situation. A case study is not always a text; it can be a video with a narrator or without one, an infographic for Instagram, recorded videos for TikTok, or a dedicated landing page for a specific case to make it highly interactive and visually appealing.
All of these creations can be considered case studies if they exhibit certain genre-specific features, namely:
The story of the project is narrated from the perspective of the executor.

There is a client with a specific task.

There is a result achieved by the executor, and it is presumably satisfactory to the client, as they allow it to be shared with a wider audience.
If these points align, we have a case study regardless of the niche it belongs to.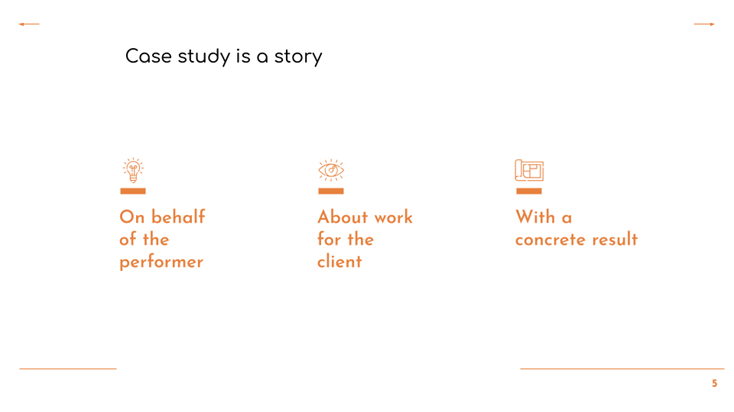 For example, a gasoline supplier can share on their website how they received an order for 100,500 tanker trucks for their new brand of gas stations, and despite logistical challenges, the gasoline was successfully delivered. This would be a case study.
If the same story about the fuel delivery is described by the client, it would likely be a testimonial. And if journalists take up the description (on their own initiative, not for "native" advertising), it would most likely be an investigative genre.
Why Companies Should Write Case Studies
This question is often posed by technical specialists whose work you want to describe. Based on my experience, I have found that these specialists often find themselves trapped in their own knowledge bubble – what they consider a "30-minute job with nothing to describe" turns out to be the application of cutting-edge technology not accessible to everyone yet.
Therefore, I have developed a detailed answer to the question of why write case studies, and I will share with you the arguments for whom and why case studies are valuable.
For attracting new clients: Potential clients will see the cool projects we are doing and will want to achieve similar impressive results themselves. Therefore, we need to describe everything we have done exceptionally well.

For current clients to improve their campaigns: By describing how we did a great job for one client, we can approach all the others and offer them the same. Additionally, new approaches and technologies are described not just in words but with specific screenshots and diagrams.

For authors to build personal branding: In our agency, we credit the person who wrote the case study: the one who presented it at an internal event or worked directly with the content writer on the text. In the future, the author can include "author of industry articles" in their biography, and it will be a sincere truth. If you don't attribute authorship to the articles on the company's website or sign them collectively as "we, the company," it can negatively affect indexing.

Overall, for your service market: When your competitors see that you have impressive results, they will try to replicate them. If they succeed, the market you work in grows and becomes more prestigious, which benefits all the companies in it. If your competitors can't replicate your success, they may turn to you for consultation, and eventually, the industry will continue to grow.

For subcontractors: Regardless of how long and comprehensive the production cycle is, every company has subcontractors or suppliers at certain stages, and it wouldn't hurt to publicly thank them for their work. Even if it's a case where a small startup praises a huge corporation for their excellent equipment, it can be an opportunity to get acquainted and receive additional bonuses in the future.
Case studies are also often written for generating traffic, obtaining backlinks, improving website's Domain Rating (DR), and similar content-related metrics. I won't undermine their importance because for many content writers, these metrics are KPIs.
However, let's be honest, they are secondary. If clients, competitors, and the author's friends in social networks read the case study, it will find its place on the graphs in Google Analytics and Search Console.
Therefore, creating marketing case studies is a win-win-win-win situation from all sides. So, let's delve into how to create them.
Types of Case Studies
I wouldn't be surprised if several coursework assignments in PR faculties were dedicated to this question, but I intentionally avoided searching for them to avoid confusion for myself and the readers.
Below is my own classification of what I do myself and what I see in colleagues' work in the market.
At newage., we usually use process-oriented cases and experiments because we work with advanced Google tools that require additional descriptions and explanations.
How to Write a Case Study
The structure of case studies can vary depending on the niche, work specifics, platform where the material will be published, and many other factors. However, if we disregard all additional variations, there is a minimum set of components that should be included in a case study.
Consider the following list as a Christmas tree that everyone can decorate and customize to their liking, but without the actual Christmas tree, it won't work.
About the Client: Provide the name, niche, and information about the company. Optionally, include official website credentials that demonstrate the level of companies you work with.

Task or Objective: Describe what your client wanted. Whether it's a new website, CRM setup, or establishing top-of-mind position in their niche, explain the specific work you had to do and the criteria for measuring the project's success.

Work Process: This is the main part of the case study where you demonstrate your professionalism and competence. Explain what exactly you did, which tools you used, and why.

Results: This is an essential part where you show that all the actions described earlier led to something. Results are usually presented in objectively measurable numbers that correspond to the client's objectives. For example, if the client wanted a website as quickly as possible, the result should be measured in days from order placement to project delivery. If the objective was to increase brand awareness through media advertising, provide data from the Brand Lift study as a result.

Client's Feedback: Publishing information about the client without their consent is, at best, considered bad manners and, at worst, can lead to lawsuits for sharing confidential information. Therefore, make sure to show the case study to the client before publication and ask them to write a few kind words about your cooperation.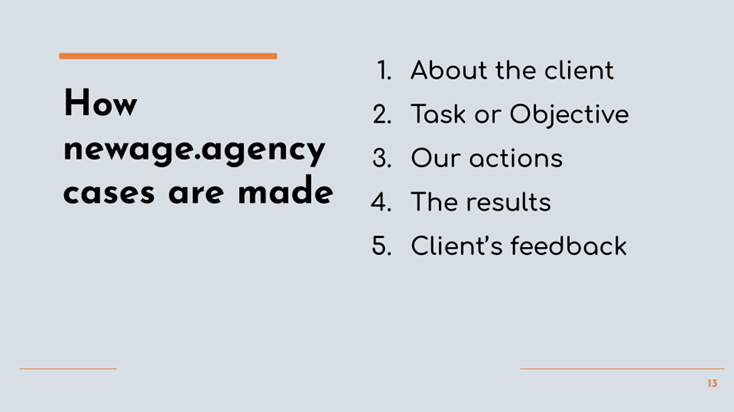 It may seem like a too standardized approach, and not all case studies can look so similar. But I repeat, this is a super basic structure to which everyone can add anything at their own discretion.
You can focus on specific tools or provide a detailed description of the preparation process for the work. You can add conclusions from each point or describe the nuances of your back office work if they helped execute the project.
Every case is a story, and stories are cyclical and similar throughout the ages. Thousands of years ago, the fight against a lion was a heroic epic, and now it can become a case study on a veterinary clinic's website, but the structure will remain the same.