Less than a month after telling Daxio victims to "get the fuck out", new CEO Robert Malkvist is already feuding with founder Frode Jorgensen.
Communications between the pair have broken down to the extent Malkvist is now publicly shaming and threatening Jorgenson on social media.
Unfortunately I don't have specific context on the beef between Malkvist and Jorgensen. Claims be Malkvist however suggest it relates to an unsigned contract between the parties.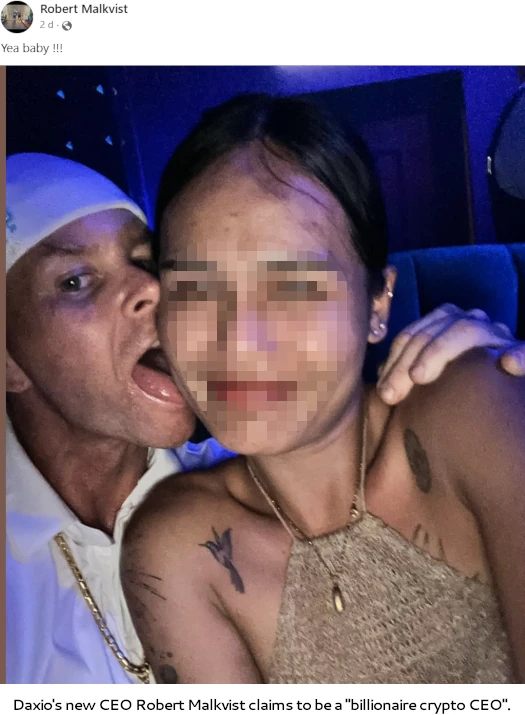 As late as June 10th everything appeared to be fine between Jorgensen and Malkvist;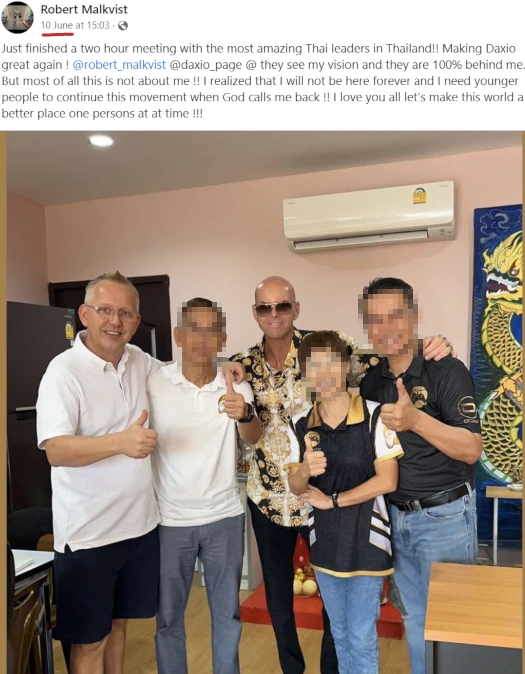 Sometime after that communication broke down. On June 16th, Malkvist started ditching scheduled Daxio webinars;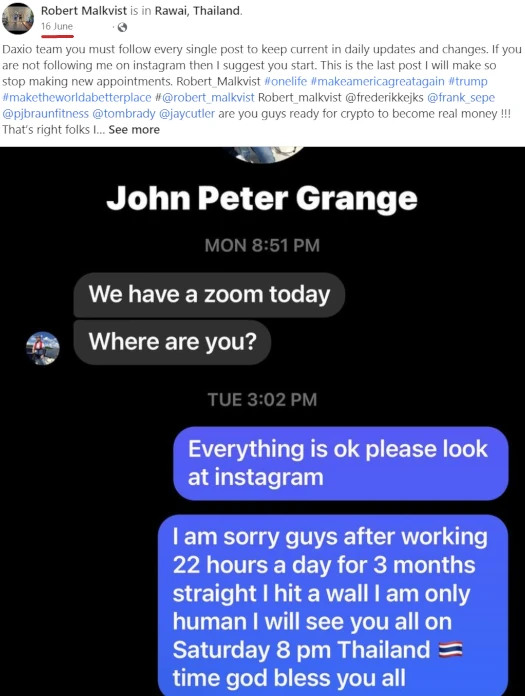 A Daxio webinar did go ahead on June 17th, the end-result appearing to be a rift between Malkvist and Jorgensen.
On June 22nd Malkvist claimed he had given Jorgensen "until 9pm Thailand time to sign" a contract.

On June 22nd, it emerged Jorgensen was dodging Malkvist and Daxio investors.
No signature no 150 million!! #god #thief #dead you explain to all of Daxio why they are not getting paid !! I want my 1 million transferred back to my account now !!

Don't make me mad you don't want to see me mad !! Boom !! That's how I roll !! I will bankrupt Daxio and take everyone from you and start my own legal platform and register this company in the USA.
Former Belgian OneCoin scammer Laurent Louis popped up in the comments. First to remind Malkvist of his promises, then to confirm he too couldn't get in touch with Jorgensen.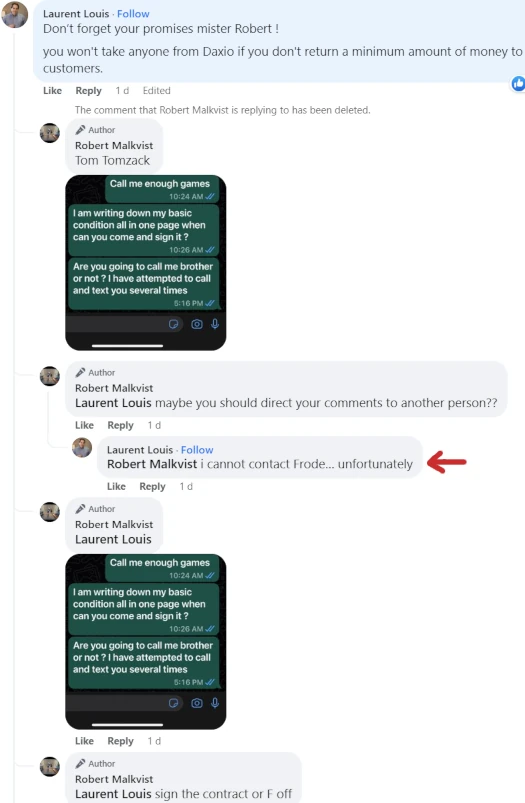 Later the same day Malkvist posted a followup;

Let's see folks if Frode is what the news media in Thailand have been reporting on him. I did not sign any legal documents protecting you from me !!

I will file a lawsuit for fraud and damages here in Thailand!! Trust me you don't want to spend a day in a Thai jail.

Remember you are here as a guest of Thailand you have no rights here especially stealing from the Thai people or government.

Don't make me angry you don't want to see me angry I am your worst nightmare!!!
In response to comments from Daxio investors, Malkvist confirmed Daxio investor funds are "gone". He also suggested Jorgensen was facing "arrest for fraud".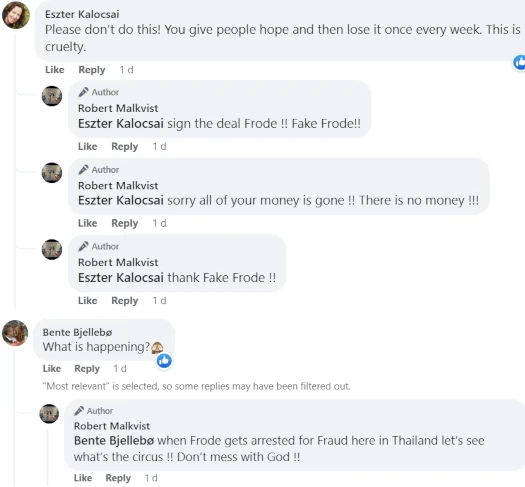 After threatening to beat up Floyd Mayweather, on June 23rd Malkvist confirmed whatever contract he was talking about still hadn't been signed.

Breaking news all of your money was stolen by Frode!! Not Luna !!

You all signed a disclosure that allows the Leaders to steal your money!! Well folks not only did I not sign shit I will use the USA lawyers FBI & CIA to conduct a forensic investigation on this Crypto scam!!

Together with the CIA & FBI here in Thailand they will work closely together to make sure not another scam takes place here or anywhere on this planet!!
Five hours ago Malkvist declared Daxio's fourth Ponzi reboot was "dead".

Jorgensen went dark on social media on May 4th. His current status remains unknown.