Metaverse Foreign Exchange Group has received a securities fraud warning from Ontario.
As per the Ontario Securities Commissions' June 30th warning;
Metaverse Foreign Exchange Group Inc. … is not registered in Ontario to engage in the business of trading in securities.
This is the equivalent of a securities fraud warning in other jurisdictions.
Metaverse Foreign Exchange (MTFE) is a Dubai Ponzi that pretends to be based out of Canada.
MTFE solicits investment in tether on the promise of a 3% to 8% daily passive return.
MTFE is headed up by Bangladesh national Masud Al Islam.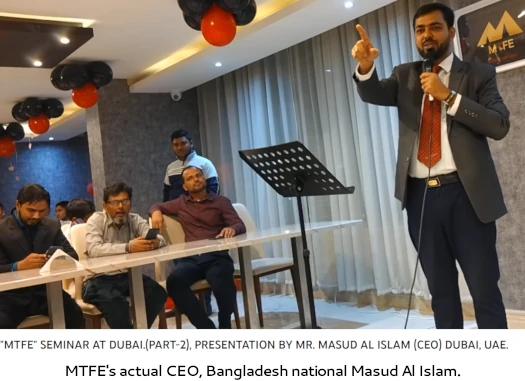 This lends itself to MTFE primarily targeting Bangladesh and neighboring countries.
As of June 2023, SimilarWeb tracked top sources of traffic to MTFE's website as Sri Lanka (23%), Bangladesh (21%), India (17%), Nigeria (7%) and the UAE (5%).
MTFE is not registered to offer securities in any jurisdiction. The company commits securities fraud and operates illegally in every country it solicits investment in.