Lovvare operates in the nutritional supplement MLM niche. The company provides an Delaware corporate address on its website.
Lovvare's Delaware address is used by multiple businesses, suggesting it belongs to a shell company agent.
This ties into Lovvare Inc., a Delaware shell company incorporated through United Corporate Services, Inc. in August 2022.
A Utah "warehouse address" also provided Lovvare's website belongs to ShipCentral, a fulfillment services company.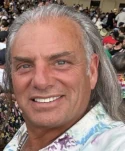 Heading up Lovvare, at least officially, is CEO John Altshuler (right).
Prior to Lovvare, which appears to have been set up in or around July 2022, Altshuler was BlackOxygen Organics' Master Distributor: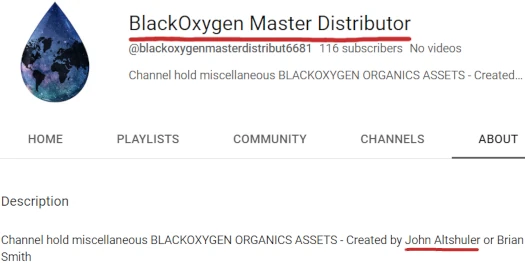 In September 2020, Altshuler along with partner Brian Smith qualified at CEO.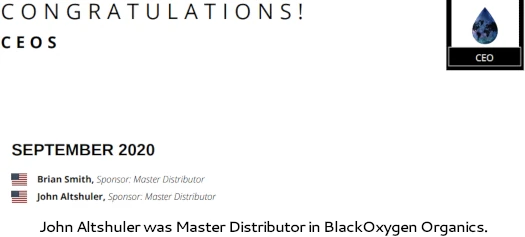 CEO was the fifth-highest rank in BlackOxygen Organics' compensation plan.
Altshuler was fairly active in BlackOxygen Organics. After it was shut down in November 2021 however, Altshuler seems to have gone to some effort to delete any public association.
Altshuler's Lovvare corporate bio credits him as a "Master Distributor taking a company from $0 to 4 million a month in 2+ years", but BlackOxygen Organics isn't mentioned.
All videos from Altshuler's BlackOxygen Organics Master Distributor YouTube channel have also been deleted.
Outside of BlackOxygen Organics, Altshuler made a name for himself in Excel Communications and Amega Global.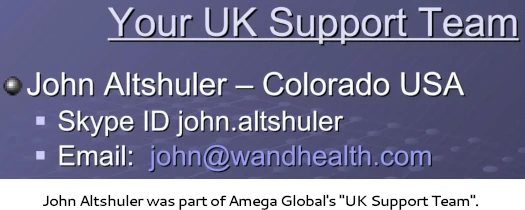 Excel Communications was a wireless MLM company that went bankrupt in 2004
Amega Global marketed $298 magic crystal wands and collapsed in August 2011.
Although he's not credited as an executive, BlackOxygen owner and CEO Marc Saint-Onge does make an appearance as formulator of Lovvare's fulvic acid supplements.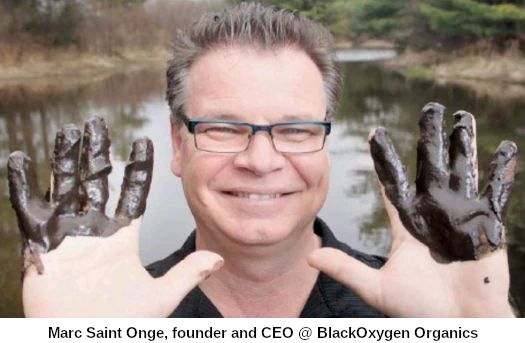 I've done a bit more research into this and am confident that Saint-Onge actually owns and operates Lovvare.
This is immensely problematic for several reasons, which we'll get into in the conclusion of this review.
Read on for a full review of Lovvare's MLM opportunity.
Lovvare's Products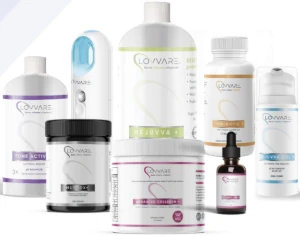 Lovvare's product range can be divided into three categories:
supplements shipped through ShipCentral;
fulvic acid products sourced from Marc Saint-Onge's toxic bog in Canada; and
a micro mister
ShipCentral Supplements
ShipCentral market an "on-demand supplement fulfillment service".
On Demand Fulfillment offers more than 100 top selling products. We are always in stock and ready to ship your private label orders today.

Imagine launching a website with over 100 products for sale from the get go, with minimal overhead and no risk!
ShipCentral also offers shipping logistics for externally sourced products.
Whether Lovvare have white labelled through Ship Central or are just using their shipping service isn't disclosed.
Advanced Collagen+ – "a cellular rejuvenation blend comprised of some of the most effective ingredients studied to improve collagen synthesis to turn back the signs of aging optimally", retails at $69.99 for a 15 day supply
Collagen Serum+ – "utilizes a powerful blend of nano-silver, marine collagen peptides, and two types of hyaluronic acid to rejuvenate and restore a youthful complexion", retails at $79.99 for a 1 oz. bottle (30 ml)
Rejuvva+ – "developed for times when your immune system needs additional assistance", retails at $59.99 for a 16 oz bottle (473 ml)
Rejuvva Gel+ – "can be applied to cuts, scrapes, burns, acne and any skin sensitivities", retails at $49.99 for a 3.38 oz bottle (100 ml)
Tone Active+ – "contains 32 PPM Triple Action Nano-Silver technology for maximum health benefits", retails at $34.99 for an undisclosed size bottle
Trim Biotic+ – "delivers a complete blend of prebiotics and probiotics as well as the added benefits of Aloe, Psyllium, Turmeric, Slippery Elm and Inulin to help get you moving", retails at $49.99 for 60 capsules
Marc Saint-Onge's bog products
MudTox+ – "a powerful blend of natural ingredients designed to purify, detoxify, and rejuvenate", retails at $49.99 for a 200g canister
Humic Essentials+ – "a blend of powerful minerals and antioxidants that provide essential nutrients our bodies require to function at optimal levels", retails at $89.99 for a pouch of 60 tablets
Micro Mister
Lovvare's micro mister is filled with 25 mls of "Triple Action Nano-Silver" and is supposed to be refilled with Rejuvva+.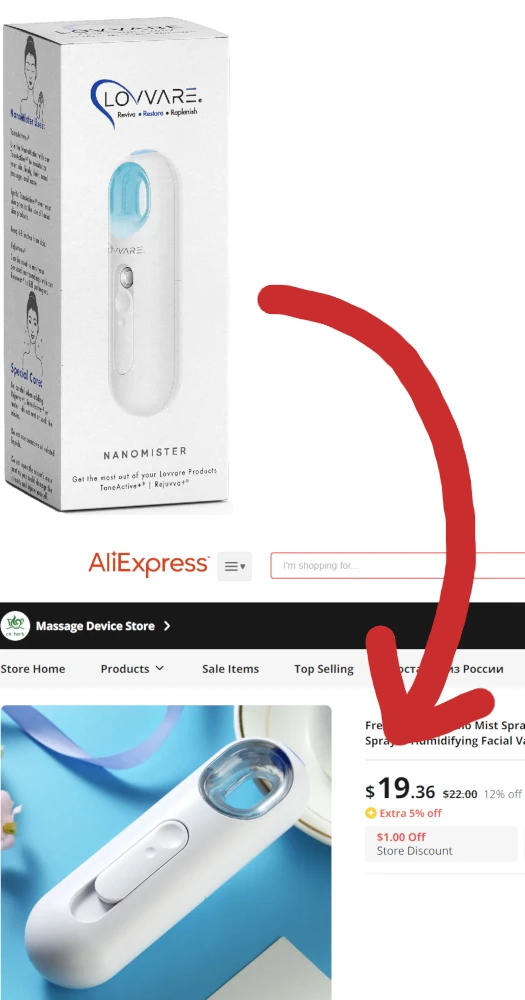 The mister itself appears to be sourced from dropshippers in China.
Lovvare's Compensation Plan
Lovvare's compensation plan pays on the sale of products to retail customers.
Residual commissions and a Matching Bonus are paid out via binary and unilevel teams respectively.
Additional Rank-based bonuses are also available.
Lovvare Affiliate Ranks
There are thirteen affiliate ranks within Lovvare's compensation plan.
Along with their respective qualification criteria, they are as follows:
Brand Partner – sign up as a Lovvare affiliate
Team Partner – generate 500 GV
Senior Partner – generate 1000 GV
Executive Partner – generate 2500 GV
Director – generate 5000 GV
Team Director – generate 15,000 GV
Senior Director – generate 30,000 GV
Executive Director – generate 50,000 GV
Elite – generate 100,000 GV
2 Star Elite – generate 250,000 GV
3 Star Elite – generate 500,000 GV
4 Star Elite – generate 1,000,000 GV
5 Star Elite – generate 2,000,000 GV
GV stands for "Group Volume". GV is the sum total of PV generated by a Lovvare affiliate and their downline.
PV stands for "Personal Volume". PV is order volume generated via sales to retail customers and an affiliate's own purchases.
Note that for the purpose of rank qualification, no more than 50% of required GV can be sourced from any one recruitment leg.
Retail Commissions
Lovvare affiliates earn commissions on the sale of products to retail customers.
Lovvare calculates retail commissions as 50% of retail sales volume generated.
MLM Commission Qualification
To qualify for MLM commissions, a Lovvare affiliate must be either:
purchasing 40 PV or more of product a month; or
have referred two retail customers who are each ordering 40 PV or more of product each month
Residual commission qualification requires recruitment of two MLM commission qualified affiliates.
These recruited affiliates must be placed one on each side of the binary team to count.
Recruitment Commissions
Lovvare affiliates earn 50% on order volume by personally recruited affiliates, up to 60 days from the date of recruitment.
There is also an upline component to recruitment commissions:
10% is paid to the first upline (the affiliate who recruited the affiliate generating order volume)
10% is paid to the second upline
5% is paid to the third and fourth upline
Residual Commissions
Lovvare pays residual commissions via an MLM compensation structure.
A binary compensation structure places an affiliate at the top of a binary team, split into two sides (left and right):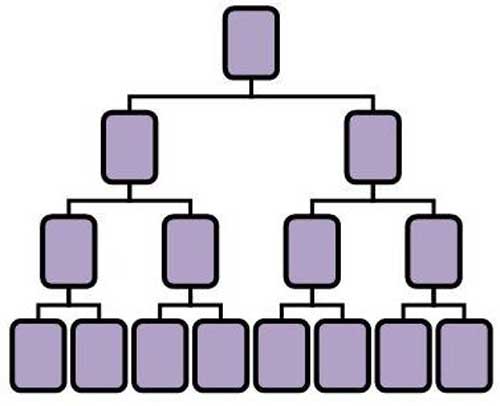 The first level of the binary team houses two positions. The second level of the binary team is generated by splitting these first two positions into another two positions each (4 positions).
Subsequent levels of the binary team are generated as required, with each new level housing twice as many positions as the previous level.
Positions in the binary team are filled via direct and indirect recruitment of affiliates. Note there is no limit to how deep a binary team can grow.
At the end of each month Lovvare tallies up qualifiable sales volume on both sides of the binary team.
Affiliates are paid up to 20% of qualifiable volume generated on their weaker binary team side:
Brand Partners through Executive Partners earn a 10% residual commission rate
Directors through Executive Directors earn a 15% residual commission rate
Elites through 5 Star Elites earn a 20% residual commission rate
Once paid out on, weaker binary team side volume is matched against the stronger side and flushed.
Any leftover volume on the stronger binary team side carries over.
Note that residual commissions are capped for all Lovvare affiliates at $200,000 a month.
Matching Bonus
Lovvare pays a Matching Bonus on residual commissions earned down three levels of recruitment (unilevel):

30% match on level 1 (personally recruited affiliates)
30% on level 2 and
15% on level 3
Note that a Lovvare affiliate must be ranked at Executive Director to earn the matching Bonus on level 2. 2 Star Elite is required to earn on level 3.
Product Credit Bonus
Lovvare rewards Director and higher ranked affiliates with a monthly product credit bonus:
Directors receive 50 product credits a month
Team Directors receive 100 product credits a month
Senior Directors receive 150 product credits a month
Executive Directors receive 200 product credits a month
Elites receive 250 product credits a month
2 Star Elites receive 300 product credits a month
3 Star Elites receive 400 product credits a month
4 Star Elites receive 500 product credits a month
5 Star Elites receive 1000 product credits a month
5% of personal autoship, referred retail customer autoship and recruited affiliate autoship volumes are also awarded as product credits (note this is for all Lovvare ranks).
Fast Track Bonus
The Fast Track Bonus is a rank qualifying incentive.
Lovvare affiliates earn the Fast Track Bonus by qualifying as high as Elite within 60 days of signing up:
qualify at Director within 60 days of signing up and receive a $500 Fast Track Bonus
qualify at Team Director within 60 days of signing up and receive a $1500 Fast Track Bonus
qualify at Senior Director within 60 days of signing up and receive a $3000 Fast Track Bonus
qualify at Executive Director within 60 days of signing up and receive a $5000 Fast Track Bonus
qualify at Elite within 60 days of signing up and receive a $15,000 Fast Track Bonus
Note that only the highest achieved rank within the 60 day qualification period is paid out on.
Rank Achievement Bonus
Lovvare rewards affiliates for qualifying at Team Partner and higher with the following one-time Rank Achievement Bonuses:
qualify at Team Partner and receive 50 product credits
qualify at Senior Partner and receive 100 product credits
qualify at Executive Partner and receive 250 product credits
qualify at Director and receive $500
qualify at Team Director and receive $1500
qualify at Senior Director and receive $3000
qualify at Executive Director and receive $5000 over 2 months
qualify at Elite and receive $15,000 over 3 months
qualify at 2 Star Elite and receive $50,000 over 5 months
qualify at 3 Star Elite and receive $150,000 over 7 months
qualify at 4 Star Elite and receive $250,000 over 9 months
qualify at 5 Star Elite and receive $500,000 over 12 months
Joining Lovvare
Lovvare affiliate membership is tied to the purchase of a Partner Pack:
Foundation Partner Pack – $199, includes 3 products and 50 product credits
Launch Partner Pack – $299, includes 7 products and 100 product credits
Momentum Partner Pack – $599, includes 14 products and 500 product credits
Lovvare Conclusion
Upon learning of Lovvare selling Marc Saint-Onge's bog products, I immediately assumed he was running the company.
The problem was proving it.
The first thing I noticed was, prior to April 2023 or so, Lovvare's original compensation plan was closely aligned to BlackOxygen Organics':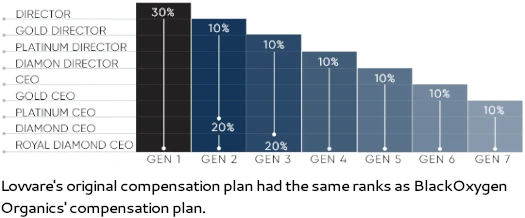 The next thing I noticed was an Ontario, Canada address on one of Lovvare's products:

I felt I was getting closer but this still wasn't quite enough. We already knew some of Lovvare's products were coming from Saint-Onge in Canada. Maybe that was the intention of the label.
Then I found the same address being used by Lovvare on their website: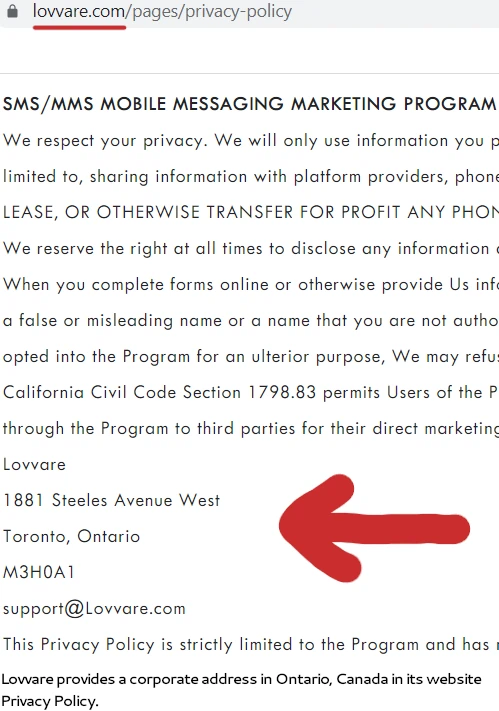 Jackpot.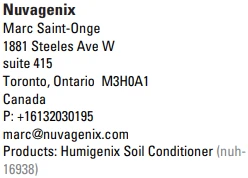 This address belongs to Saint-Onge and he's used it in the past for business ventures (see right).
To summarize, we have Lovvare as a company using one of Marc Saint-Onge's business addresses in Ontario, Canada.
I don't know the specific arrangement John Altshuler and Saint-Onge have. For reference though, Saint-Onge ran BlackOxygen Organics with partner Emilio Carl Garibaldi through the shell companies "11578243 Canada Inc." and "11203452 Canada Incorporated".
What does seem clear though is that Lovvare is a reboot of BlackOxygen Organics still under the control of Saint-Onge.
Why does this matter?
Because BlackOxygen Organics shutting down in 2021 was a disaster.
BlackOxygen Organics caught traction in the midst of the COVID-19 pandemic. At its peak, BlackOxygen Organics distributors were running around the internet pitching Saint-Onge's mud as a cure-all for everything.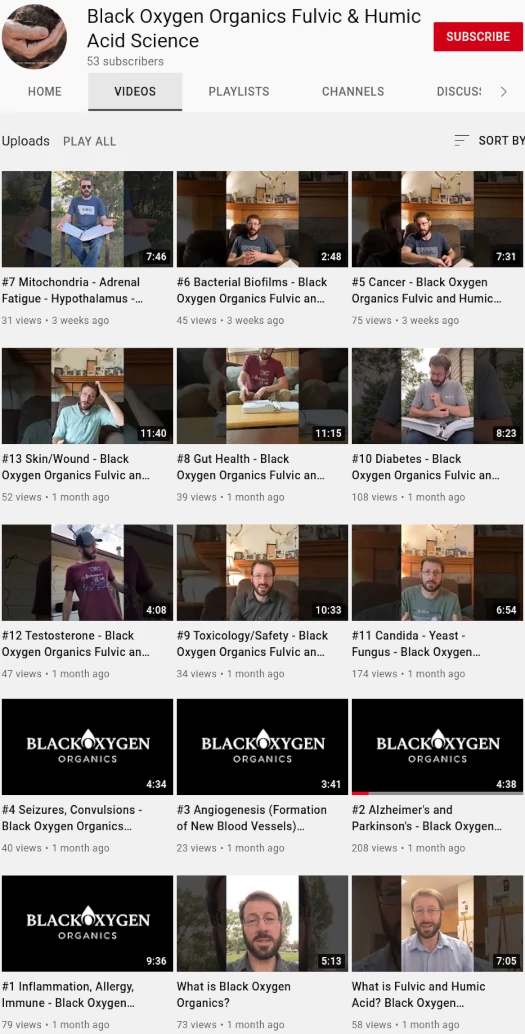 And this was pushed top-down from BlackOxygen Organics corporate: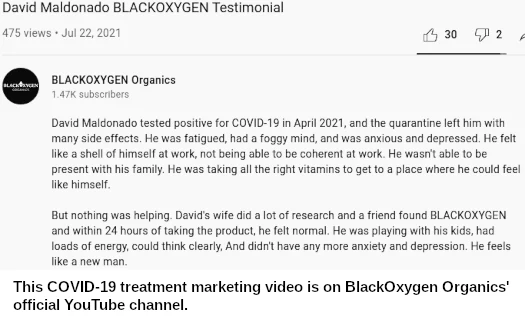 This is who Marc Saint-Onge is. And, as BlackOxygen Organics' Master Distributor, it's also who John Altshuler is.

I want to make it clear that, within the context of BlackOxygen Organics, it's not Saint-Onge's and Altshuler's political beliefs that's the problem.
The problem is making completely unsubstantiated medical claims to market Saint-Onge's products is illegal.
Notwithstanding the deplorable ethics of preying on consumers with absolute nonsense during a global pandemic.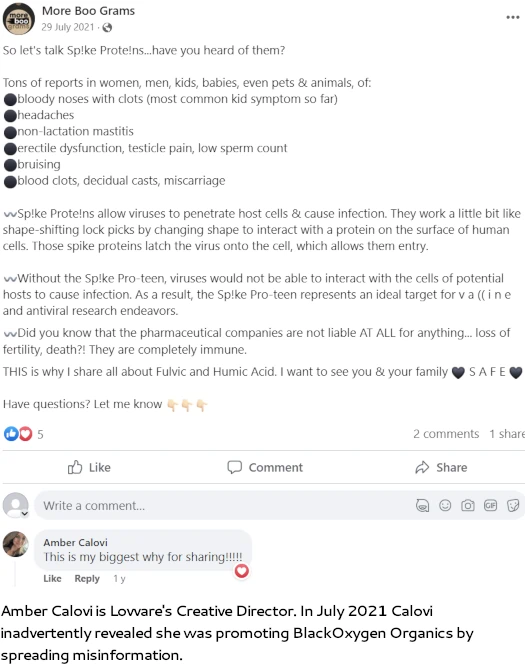 Then there was the fulvic acid itself. BlackOxygen Organics' bog mud was sourced from Moose Creek bog, on which Saint-Onge holds 25 year extraction rights.
Lovvare doesn't specify which Canadian bog their fulvic acid products are sourced from:
Where is Humic Essentials+ sourced from?

From Canada with a proprietary blend formulated for Lovvare with an accompanying COA.
It's a safe bet this is Moose Creek bog – which matters because Moose Creek Bog sits down the road from a hazardous solid waste landfill and processing facility.
And this brings us to why BlackOxygen Organics shut down in 2021.
In August 2021 the FDA sampled BlackOxygen Organics' Fulvic Care Powder at the Canadian border. The FDA's testing revealed "elevated levels of lead and arsenic".
This resulted in the FDA issuing an import ban on BlackOxygen Organic's Fulvic Care Powder. Distributed Fulvic Care Powder was supposed to be subject to a recall.
Saint-Onge didn't issue the recall and ignored the ban. BlackOxygen Organics illegally shipped Fulvic Care Powder to US residents after September 14th.
BlackOxygen Organics attempted to keep the FDA's actions a secret, going so far as to terminate distributors who discussed it.
Health Canada also issued a recall on BlackOxygen Organics' products in September 2021.
BlackOxygen Organics is recalling all lots of these products due to potential health risks which may be higher for children, adolescents, and pregnant or breastfeeding women.

The products are being promoted in ways and for uses that have not been evaluated and authorized by Health Canada.

Stop taking these products. Do not administer the products to children or adolescents.
In October 2021 BlackOxygen Organics threatened legal action against YouTuber Savannah Marie. Marie, among other things, had been discussing suspected health hazards tied to BlackOxygen Organics' products.
On November 19th, a civil class-action was filed, alleging BlackOxygen Organics' products "contain unsafe levels of toxic heavy metals that render them unsafe and unfit for their intended use."
As of July 2023, the class-action litigation is still playing out.
In November 2021 the FDA contacted Saint-Onge over failure to comply with the ordered recall and import ban.
Saint-Onge's response was to shut BlackOxygen Organics down on November 23rd.
The announcement was abrupt and, a month before Christmas, screwed over distributors financially.
Saint-Onge failed to inform consumers about the health hazard he'd created and disappeared.
A defamation lawsuit, filed after the fact, revealed Saint-Onge refused to issue the ordered recall because nobody had yet died.
It was against that horrific backdrop that the FDA finally went public on December 4th, 2021.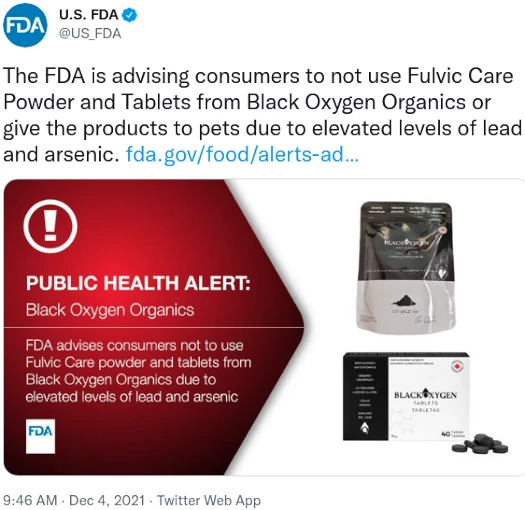 In mid 2022 it emerged Youngevity was likely selling Saint-Onge's toxic bog dirt – but only as a face mask.
We haven't seen Saint-Onge selling consumable toxic bog dirt until Lovvare's Humic Essentials+.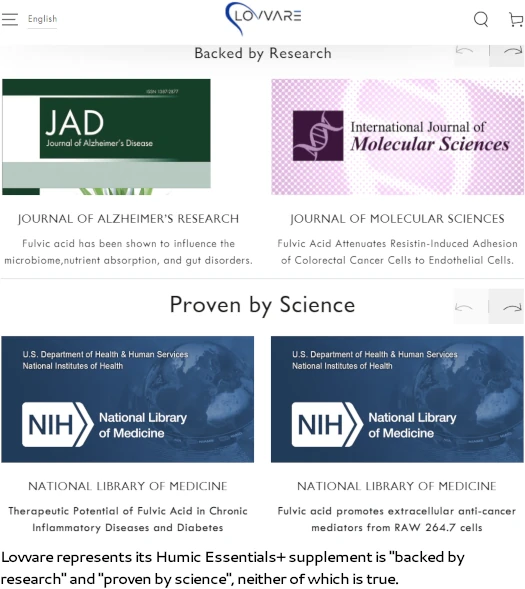 While he hasn't publicly addressed BlackOxygen Organics selling contaminated supplements, Saint-Onge did briefly discuss lead and arsenic in a private Lovvare launch webinar (courtesy of Mombie);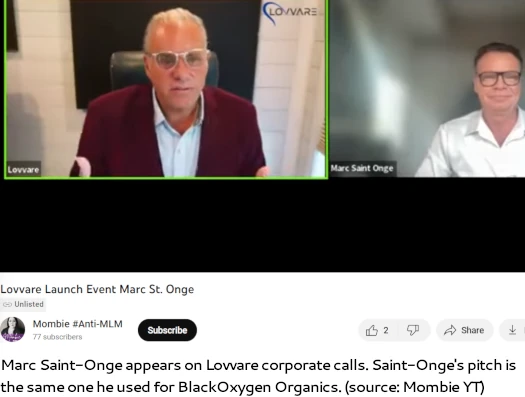 [25:44] Well, what we're doing now is we're doing some analysis on the content of the fulvic and humic and we make sure that, y'know, there's standard levels of all the minerals.

There's good minerals and bad minerals. There's trace minerals, macro elements, ion, nano, there are all kind of them. And there's even some inorganic material in the product.

We want to maintain a high standard so we maintain the fact that we do have CoAs. And now we're looking at the evolution of how fulvic and humic works.

There's organic and inorganic arsenic. There's lead and then there's certain levels. You can't shy away from that because it's earth.

Those elements are in all natural products and it's just to be able to manage it to create a dosage that actually has the standard levels and the lower levels. And that's what we're able to do now.
"CoA" stands for certificate of authenticity. It's noted that at time of publication no CoA for Humic Essentials is provided on Lovvare's website.
Furthermore, Lovvare advises;
THIS ORDER WILL BE SHIPPED WITHIN 30 DAYS OF THE ORDER DATE, PROJECTED TO BE  TO LATE JULY AND IS SUBJECT TO CHANGE – PROCESSING THIS ORDER IS AN ACKNOWLEDGEMENT OF DELAYED SHIPPING.
Whether these delays are related to Humic Essential's missing CoA's or regulatory concerns is unclear.
I don't usually go this hard on someone personally but, in my opinion based on his past conduct, Marc Saint-Onge has certified himself as a deceitful public health menace.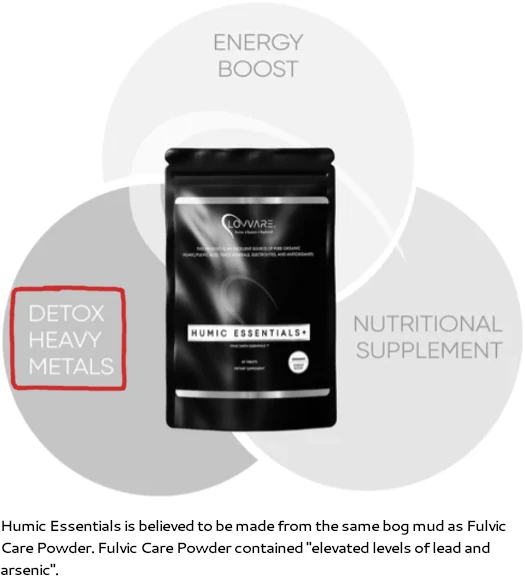 The FDA import ban and Canada Health recall was nowhere near enough. And after laying low for half a year, Saint-Onge launched Lovvare – with the ultimate aim of resuming sale of potentially contaminated supplements to US and Canadian consumers.
That, and that alone, is reason enough to avoid Lovvare and Saint-Onge's bog mud products.
For completeness, it's noted that Lovvare doesn't have any retail volume qualifiers in its compensation plan.
Distributors are incentivized to self-fund commission qualification, by way of Lovvare penalizing retail volume with a 100% penalty (40 PV personal ordervs. 80 PV combined retail orders).
This lends itself to Lovvare operating as an autoship recruitment scheme, likely full of the same lunatic promoters BlackOxygen Organics attracted.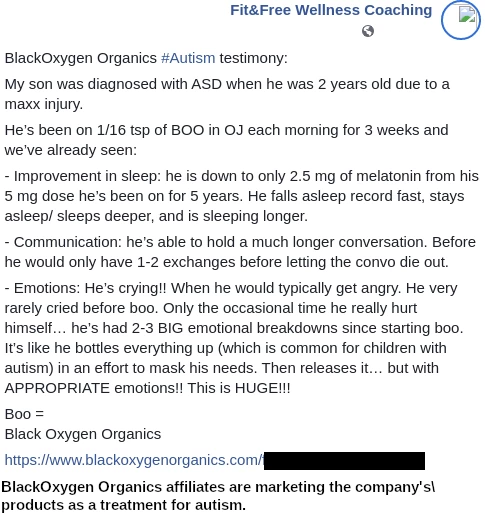 From a personal health perspective, even if you mistakenly believe fulvic acid is a miracle cure, it's not worth exposing yourself to lead, arsenic and who knows what else.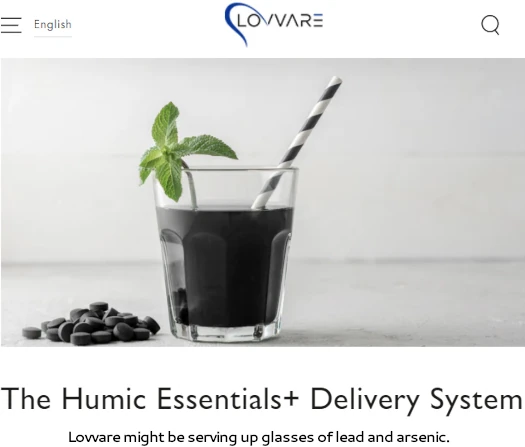 From an MLM company perspective, waiting for the FDA, Health Canada or even the FTC to move in again isn't the foundation of a long-term business.