BeeKonnected fails to provide ownership or executive information on its website. At least not directly.
Marketing videos on BeekKonnected's website reveal the company was cofounded by Tonya Hofmann and Johnny "JR" Read.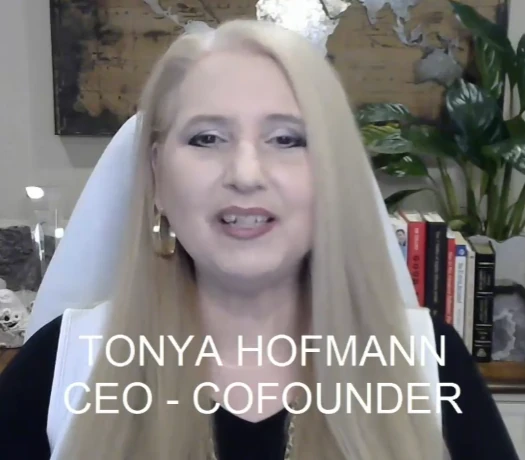 I wasn't able to put together an MLM history on Hofmann. Her LinkedIn profile however suggests she has a background in marketing.
Johnny Read's LinkedIn profile ties him to BTG180.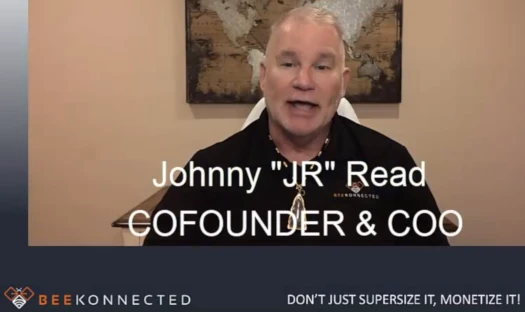 BTG180 was Robert Craddock's attempt to reboot the Zeek Rewards Ponzi scheme. Whether Read was also a Zeek Rewards investor is unclear.
There are some other companies listed on Read's LinkedIn but these are all long-gone. Read purportedly signed on as COO of BeeKonnected in February 2020.
Both Hofmann's and Read's LinkedIn profiles place them in the US state of Texas.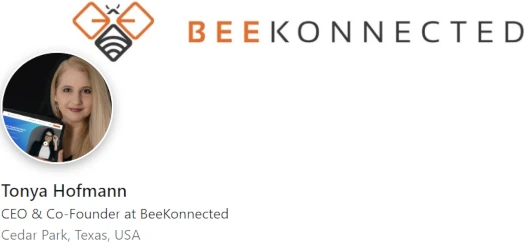 It follows that BeeKonnected is also based out of Texas.
That said BeeKonnected's website terms and conditions cites BK Worldwide Inc., which as far as I can tell is a Nevada shell company.
Read on for a full review of BeeKonnected's MLM opportunity.
BeeKonnected's Products
BeeKonnected offers a marketing suite it claims is "the ultimate social business platform".
At the center of this is a web conference platform, with an emphasis on monetization.
MULTIPLE WAYS to Persuade Your Participants To Buy Faster

BeeKonnected offers a seamless and transparent approach to display a "Call-To-Action" (CTA) for offers during live presentations in many ways without the "clunky" traditional method of posting a link in the chat like Zoom.
BeeKonnected's marketing primarily focuses on differentiating itself from Zoom: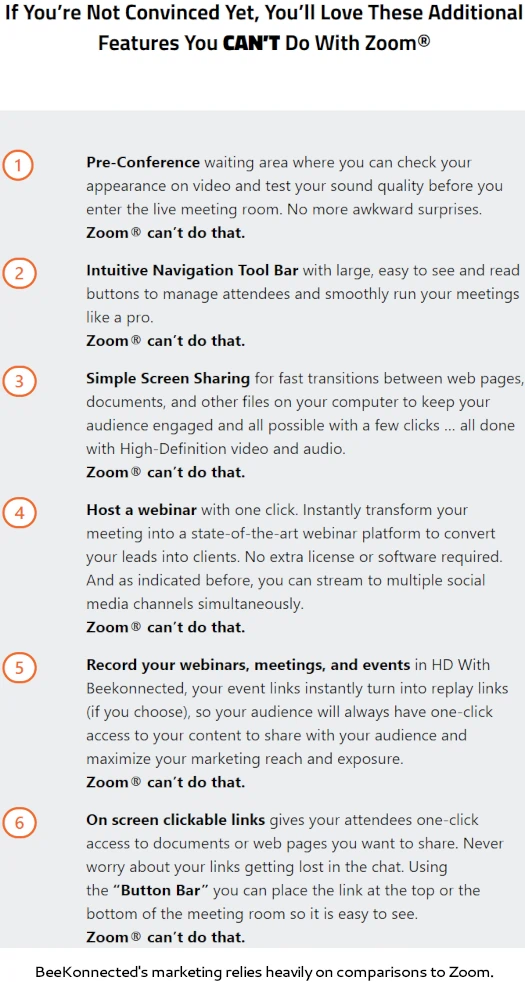 BeeKonnected's marketing platform is available at three price-points:
BeeFree has no cost and provides access to:
90 minute video meetings
multi-site streaming (simultaneous streaming across multiple platforms)
post and chat functionality
lead generation "using A.I. technology"
"join groups and shows"
Pro Membership is $19.95 a month and adds:
removal of video meeting length restriction
ability to brand meetings
private/public groups
information sent to group participants
"organic leads"
lead generation with "speaking opportunities
Platinum Membership is $49.95 a month and adds:
"webinars designed to sell more"
call to action functionality
live broadcasting with over 1000 attendees
replay functionality
100 GB recording storage
"monetize your following"
access to BeeKonnected's MLM opportunity
BeeKonnected's Compensation Plan
BeeKonnected affiliates earn commissions on sales to retail customers and recruitment.
BeeKonnected pays retail and recruitment commissions down two levels of recruitment (unilevel).
Retail Commissions (Pro Membership):
$2 a month on level 1 (personally referred retail customers)
$2 a month on level 2
Recruitment Commissions (Platinum Membership):
VIP Bonus Pool
BeeKonnected takes 10% of company-wide revenue and places it into a VIP Bonus Pool.
Affiliates can purchase shares in the pool for $1000 each.
If a BeeKonnected affiliate recruits an affiliate who invests, they receive $100 per $1000 invested.
Joining BeeKonnected
BeeKonnected affiliate membership costs $49.95 a month.
If a BeeKonnected affiliate recruits and maintains three affiliates (Platinum Membership), this is reduced to $24.95 a month.
If a BeeKonnected affiliate invests $1000 or more, Platinum Membership fees are waived for life:
The BeeKonnected Crowdfunding Unit-License Holder will also receive a lifetime Platinum Level membership or be upgraded to lifetime and never have to pay for a BeeKonnected membership fee.
BeeKonnected Conclusion
As a Zoom competitor that claims to offer more, the litmus test for BeeKonnected is how it emerged from the COVID-19 pandemic.
I don't know if it was launched as a COVID-19 business but BeeKonnected launched in early 2020, as COVID-19 was taking off around the world.
Over the next few years online communication companies like Zoom saw explosive growth due to global lockdowns and "work from home".
BeeKonnected markets itself as a better alternative to Zoom. Yet as of July 2023, BeeKonnected only has a few thousand monthly visits to its website.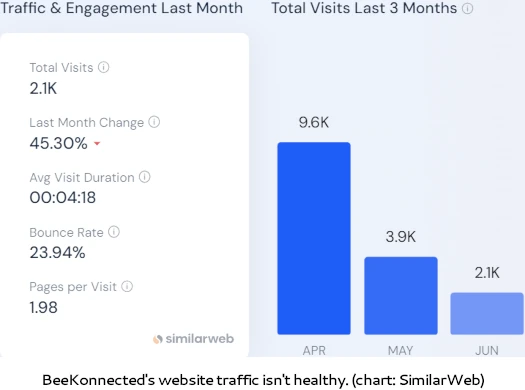 If BeeKonnected didn't take off during the most heavy use of online communication in history, it's probably not going to happen.
I suspect BeeKonnected failing to take off is either due to the offered services being subpar compared to Zoom, and/or a pricing issue.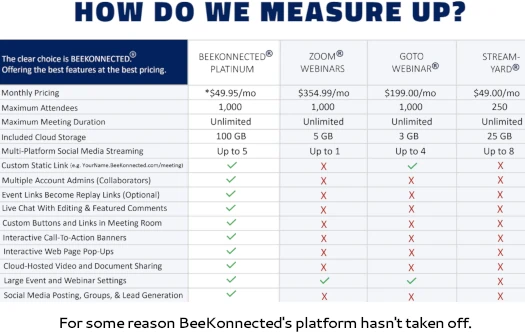 Regardless, over three years in BeeKonnect has proven itself to be a hard sell. In other words, BeeKonnect isn't retail viable.
With that established, what we're left with is BeeKonnect Platinum Members recruiting Platinum Members.
With BeeKonnected Platinum Members equating to affiliates, this is a defacto pyramid scheme.
Attached to this we have the VIP Bonus Pool, full details of which are provided below: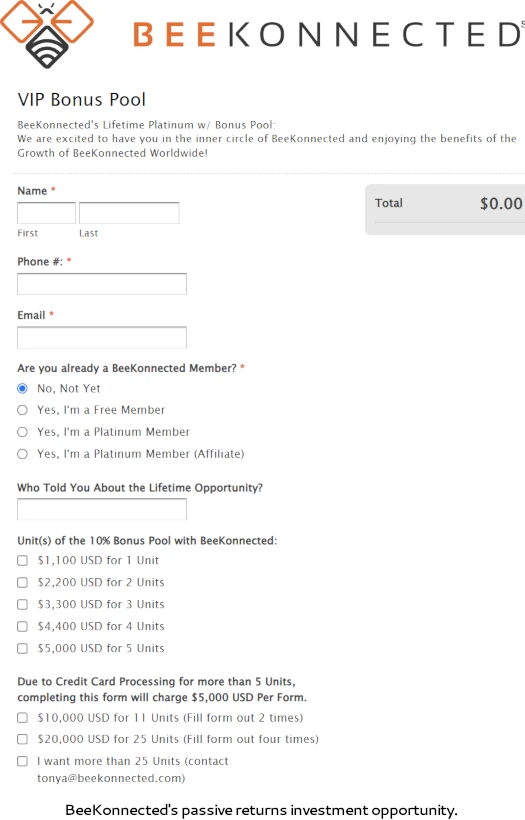 BeeKonnected is offering $1000 shares on the promise of a passive return.
This is an agreement between BeeKonnected, a subsidiary of BK Worldwide Inc. and Signee, who is referred to as the BeeKonnected Crowdfunding Unit-License Holder.

10% of All Net Profits from all New and Residual Income that is taken in from Membership Sales during that quarter will be paid out and divided equally to the Unit-License holders of this Bonus Pool per % units owned.

All Payments for the Bonus Pool will be paid quarterly on the 5th of the month for the quarter's activities.

This bonus pool is for the life of the company and receives the same Unit-License in this Bonus Pool in case BeeKonnected is Purchased or goes through an IPO.
This is a securities offering and, with BeeKonnected being a US MLM company, needs to be registered with the Texas State Securities Board and SEC.
BeeKonnected provides no indication it has registered its securities offering with the TSSB.
A search of the SEC's Edgar database reveals neither BeeKonnected or Tonya Hoffman are registered.
This means that, on top of running a defacto pyramid scheme, BeKonnected is committing securties fraud.
In summary, BeeKonnected's MLM opportunity consists of a failed online communication platform, a suspected pyramid scheme and verifiable securities fraud.
Avoid.