Explore the essential customer service marketing trends that can transform your strategy and boost customer loyalty. Create an impactful customer experience.
Customer service isn't just about solving problems and answering questions. 
It's also about creating a positive impression and building a loyal relationship with your customers. 
That's why customer service marketing trends are essential to know and follow in today's competitive business environment. 
In this article, we'll explore some of the best customer service marketing trends that can help you stand out from the crowd.
These trends provide practical tips and ideas to achieve your goals, whether that's:
Improving your online reputation
Increasing your customer retention
Generating more referrals 
So, let's dive in and discover the 4 best customer service marketing trends to know in 2023.
Crucial Customer Service Marketing Trends to Embrace in 2023
Today's customers have high expectations and many options to choose from. 
By leveraging the right customer service strategies and technologies, companies can go beyond transactional exchanges to create meaningful relationships.
Let's get started.
1. Harnessing the Power of Social Media and Online Reviews
Social platforms like Twitter and Facebook are indispensable channels for brands to directly engage with their audience in real-time. 
Integrating these platforms into customer service strategies enables immediate response to complaints, questions and feedback right where conversations are happening. 
Online reviews are also becoming increasingly important, with over 90% of consumers reading them before making purchase decisions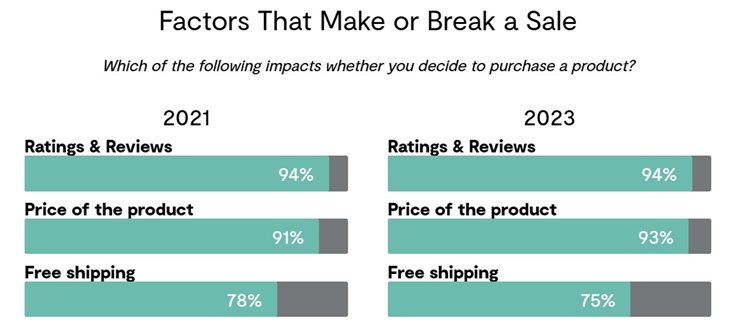 Image via PowerReviews
Consider showcasing the positive feedback you get from satisfied customers on social media to increase trust, credibility, and social proof. 
You can embed Google reviews on your website and share high-rated reviews on Facebook to share proof of customer satisfaction. Tools like Taggbox not only help you share reviews but also monitor and respond to them. 
Monitoring review sites and promptly responding to feedback demonstrates that you value input, which improves your reputation.
2. Tailoring Experiences through Personalization and Segmentation
One of the most important customer service marketing trends to embrace is personalization and segmentation.
Thanks to advanced analytics and AI solutions, brands can now provide hyper-personalized interactions catered to individual consumers. 
Instead of a one-size-fits-all approach, forward-thinking companies are leveraging data to segment users and tailor experiences.
For example, customers may see customized landing pages, product recommendations and promotions based on attributes like demographics, purchase history, and channel preferences. Personalized product recommendations can:
Improve user experience
Increase conversion rates
Decrease shopping cart abandonment
Augment average order values
Powerful customer service software is making it easier to gather data and gain insights to enable this level of personalization. 
Features like chatbots that use Natural Language Processing (NLP) can understand customer questions and automate responses. Customer Relationship Management (CRM) integration links support interactions to customer profiles. 
With streamlined workflows and automation, agents can focus on resolving problems and complex issues faster. In turn, customer satisfaction, retention and referrals improve. 
Investing in the right customer service software pays dividends through better experiences.
3. Engaging Your Audience with Visual Content and Video
Simply communicating through text is no longer enough to capture attention in an increasingly visual world.
Instead, creative visuals, videos, and other multimedia that align with your brand storytelling are doing better at driving engagement.
Video in particular has become a hugely popular and effective medium for customer service and marketing. According to a Wyzowl survey, 91% of consumers want to see more video content from brands in 2023.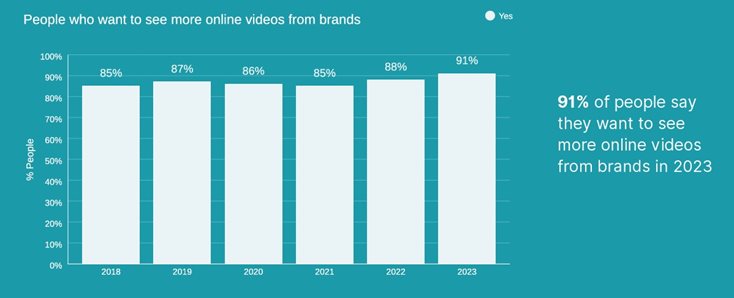 Image via Wyzowl
Some ways you can visually communicate with your customers include:
Explainer videos
Online tutorials
Testimonials
Webinars
However, creating high-quality video content can be challenging and time-consuming, especially if you don't have the skills or resources to do it in-house.
That's why many businesses choose to outsource video editing to professional agencies or freelancers. 
By outsourcing video editing, you save time, money and resources, and focus on your core business activities. 
You also benefit from the expertise and experience of video editors who can enhance the quality and creativity of your videos. This makes them more appealing and impactful for your target audience.
4. Crafting Seamless Customer Experiences Across Channels
Focusing on customer experience is yet another of the most critical customer service marketing trends you must apply.
Customers today expect more than just a product or service. They want a seamless and satisfying journey across different channels and devices. 
To meet this expectation, design your website, mobile app, social media, email, and other touch points with the customer in mind. Ensure they're easy to use, fast, secure, and consistent.
Joining relevant industry groups and sharing valuable content positions your brand as a thought leader. 
In fact, a presence on professional platforms like LinkedIn can allow potential customers to evaluate your service levels before purchasing. So, don't neglect monitoring and responding to LinkedIn comments on your company page. 
Remember, customers are engaging daily with brands across multiple devices, platforms and channels. This makes shaping cohesive omnichannel experiences essential for any organization.
You can use blogs, videos, podcasts, webinars, ebooks, and more to showcase your expertise and solutions. Let your target demographic's preferences guide you accordingly. 
Leverage the right prospecting lead generation tools to enjoy a constant flow of high-quality leads for your business.
Customer Service Marketing Trends: Key Takeaways
Delivering exceptional customer experiences in the digital age requires brands to continually adapt and innovate. 
They can do so by leveraging the latest technologies and strategies around social engagement, personalization, omnichannel experiences and rich content. This can help them provide the tailored service and interactions that consumers have come to expect. 
Focusing customer service and marketing initiatives around these key trends will be crucial for building brand loyalty and advocacy moving forward.