Over the past few days eighteen QNet scammers have been arrested in India.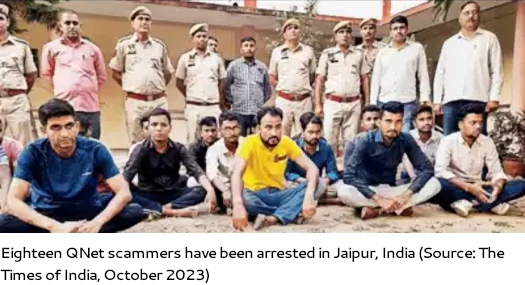 On October 21st police arrested seventeen people in Jaipur for promoting QNet.
Quoting Rashi Dudi of DCP (North), the Time of India reports;
Police had received information about a company named QNet Vihaan, which is already banned, and its associates duping people by selling their products.

Vinod Saharan, a resident of Hanumangarh, was running the racket.
Luxury cars and promotional material were also seized.
This was followed up by another arrest on October 22nd of Madhvi Padvekar, again in Jaipur.
The city police said that they have frozen 20 bank accounts associated with the scam and arrested 18 persons so far.
Jaipur Police were purportedly tipped off after the QNet scammers recruited two government officials.
QNet is officially banned in India for being a pyramid scheme. This has prompted a long list of various shell companies the scam continues to be marketed under.
Following the arrest of three QNet executives under Vihaan Direct Selling India back in May, QNet is now going by "QNet Vihaan".
Instead of addressing the millions Indian authorities have seized from the company and ongoing arrests, QNet is busy paying off Ted Nuyten's BusinessForHome for spam.
In what is assumed to be a contractual obligation between BusinessForHome and QNet, every time there's an arrest or enforcement action against the scam, BusinessForHome publishes a marketing fluff piece.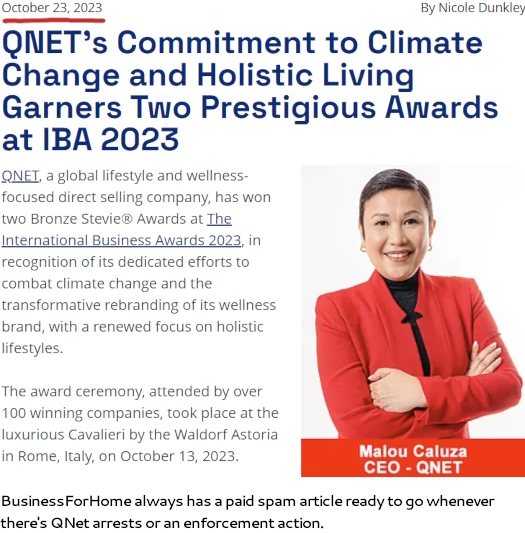 Above is a BFH article published by Nicole Dunkley on October 22nd, reporting on QNet buying itself a pointless business award.
As per the aforementioned contractual obligation, BusinessForHome never reports on QNet arrests of enforcement actions. In other words, the publication is paid to cover up fraud.
This is an ongoing problem but, with respect to QNet, is of particular concern. QNet turns a blind eye to human trafficking in Africa and illegal operations in India.
QNet is run by Malaysian national Vijay Eswaran (right).
Eswaran is a Malaysian national who Malaysian authorities, as long as QNet isn't promoted in Malaysia, do nothing about.
SimilarWeb tracked just under half a million visits to QNet's website in September 2023. Top sources of traffic are India (34%, down 30% month on month), the UK (9%, down 17% month on month), Brazil (8%, down 13% month on month) and Russia (7%, up 40% month on month).
The Central Bank of Russia issued a QNet pyramid scheme fraud warning in October 2022.
Another country QNet is growing in is India's neighbor, Pakistan. Pakistan was the fifth largest source of traffic to QNet's website for September 2023, coming in at 6% (up 29% month on month).