Dennis Dvorin has pled guilty to criminal charges related to the Infinity2Global Ponzi scheme.
On November 17th, Dvorin pled guilty to one count of securities fraud.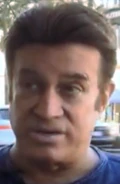 Through his plea deal Dvorin (right) agrees that, as part of the Infinity2Global Ponzi scheme, he
promoted Emperor positions as a "security," that is, an instrument to participate in a profit-sharing agreement in which Emperors would share in the profits of the i2G online casino.

Through purchase of these securities, that were not registered on a national securities exchange, investors were promised passive income whereby the investor did not have to recruit any additional members into the I2G business venture in order to profit, but would share in 50% of the online casino's profits for life.

Defendant knew, but did not disclose, that the only way to profit from the purchase of an Emperor position was to gain commissions by selling additional Emperor positions, a business model commonly (and accurately) described as a pyramid scheme.

The defendant caused others to use the mail, in furtherance of the scheme, specifically by mailing cashier's checks in the amount of $5,000 or more for the purchase of Emperor positions to defendant (Richard) Maike's home address in Owensboro, Kentucky.
Dvorin's original indictment alleges he stole $570,000 through Infinity2Global.
A November 17th Proposed Agreed Order of Restitution, if approved, would see Dvorin jointly liable for $3.9 million in restitution.
Dvorin's sentencing hasn't yet been scheduled but he's facing a maximum 5 years in prison and $250,000 fine.
Dvorin's Infinity2Global co-conspirators have been convicted and sentenced to 2.5 to 10 years.
Barnes and Hosseinipour have an appeal against their conviction pending.